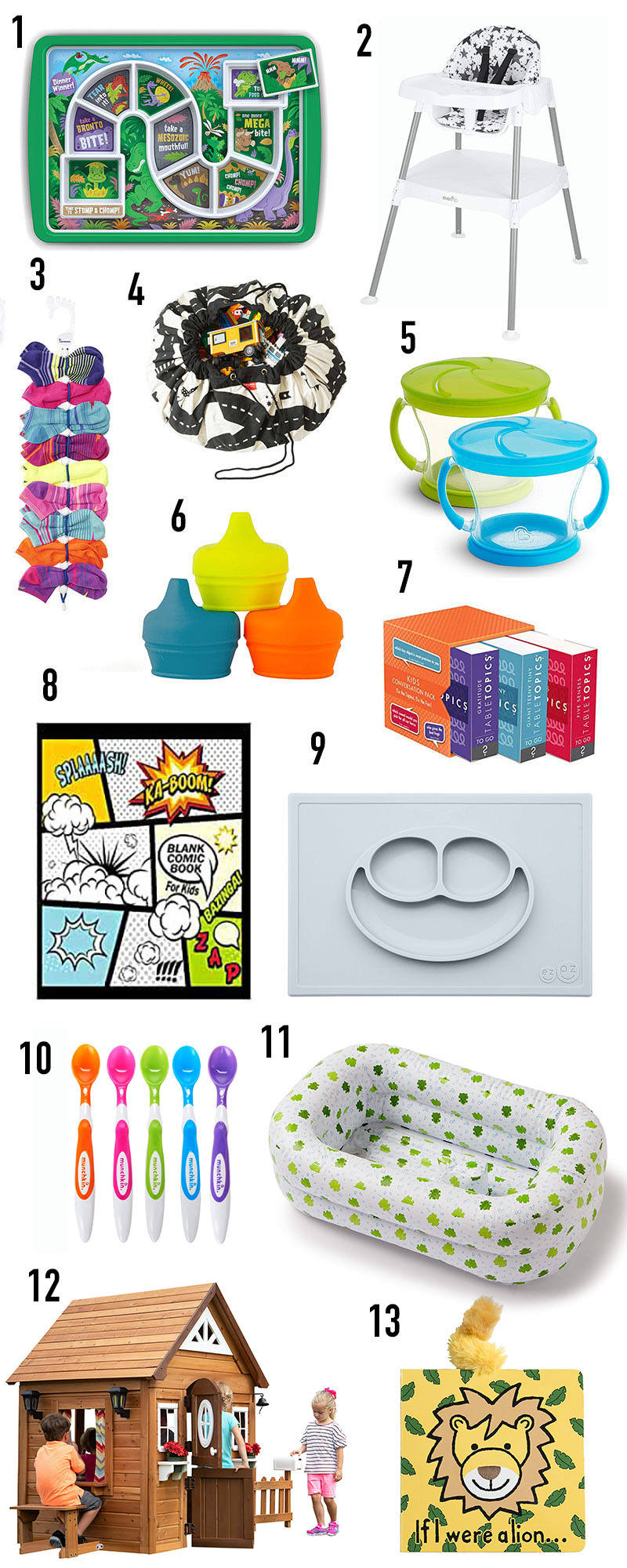 Just a few of our favourite Amazon finds over the years…these have made our life with four kids a smidge easier 😉
1. Dinner Winner Tray – These are great for picky eaters! These turn mealtime into a fun game because each square they finish leads to their surprise treat at the end!
2. 4 in 1 Highchair – This can be used four ways: As a highchair, baby dining chair and tray, toddler stand alone chair or big kid table and chair!
3. Sock Organizer – Our kids lose so many socks and this handy gadget helps keep them all together. You can even throw it in the washer so they all stay together and you don't have to bother folding them after. It hangs up in the closet and keeps all your socks organized.
4. Play and Go Storage Bag – This is an awesome 2 in 1 product! You can store cars, lego, blocks and all sorts of toys in the bag and when you're ready to play it opens up into a play mat. Our favourite is the race car track design. This is such a great storage solution for small toys.
5. Snack Catchers – these are great for babies and toddlers. You put their snacks inside and the soft silicone flaps stops the food from spilling.
6. Silicone Sippy Cup Lids – We LOVE these lids! They're easy to throw on most cups so you can avoid spills. We take them to restaurants in our restaurant bag so we don't need to worry about the kids making a mess if they don't have cups for kids on hand.
7. Table Topics – This is a fun game to play with your kids at the dinner table or on road trips. They have great conversation starters and our kids really enjoy when I bring these out and go around the table.
8. Blank Comic Book – We keep these in our restaurant bag. The pages inside look like a comic book with bubbles to write in and blank squares to draw in so your kids can create their own comic.
9. One Piece Silicone Place Mat – These have a built in plate and stick to your table so they stay in place and cause less spills. They can also be thrown into the dishwasher making them very easy to clean. HIGHLY recommend if you have a baby or toddler!
10. Soft Tip Infant Spoons – Under $6, these are the perfect size for baby and easy for them to grip.
11. Inflatable Bath Tub – Great for babies because there is a saddle horn on the bottom so they can sit up without slipping!
12. Cedar Playhouse – If you head over to my Tik Tok profile I did a video showing how we gave our cedar playhouse a makeover. It's a beautiful white with a sage green door and charcoal shingles now. It's amazing what a few coats of paint can do!
13. Touch and Feel Books – Jelly Cat makes the best sensory books for toddlers and babies. They have a ton of different animals to choose from, they're easy for little ones to hold and sometimes you can find them in a set of five on Amazon.