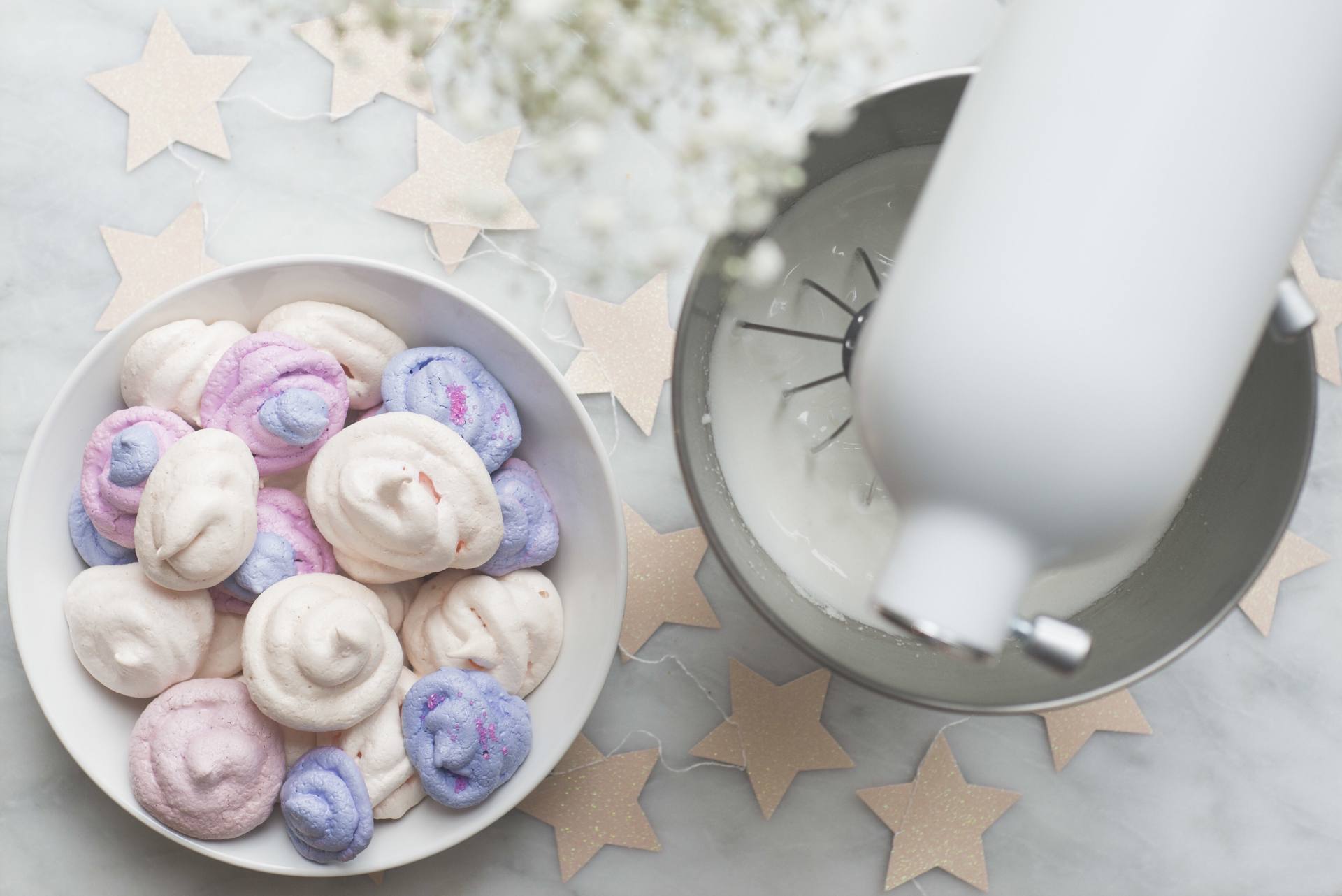 This past weekend we celebrated Zoë's birthday, how is my baby 3 already?! I asked her what kind of party she wanted to have and she responded "Unicorn and ponies" so that was the theme…a pony and unicorn filled birthday. Everyone came dressed in unicorn colours and we had a feast of treats that included unicorn cake, popcorn and my personal favourite…"unicorn poop" meringues! They were a huge hit with everyone so I thought I'd share the recipe so you could give them a try.
First off, let me just say that if you're making meringues (or doing any baking for that matter) investing in a good mixer is a must! I use the Kitchen Aid Artisan® Mini Stand Mixer. It's smaller than the classic mixer but offers the same power and functionality as the original and it still fits all standard KitchenAid attachments which is great. Baking aside though, we also use it for meal prep and one of our favourite attachments is the Fresh Prep Slicer and Shredder. It makes meal prep a breeze by adding freshly sliced or shredded ingredients to salads, entrees and appetizers so if you're in the market for a good mixer, I highly recommend investing in this one.
Unicorn Poop Recipe
Ingredients
3/4 cup of egg whites
1 1/2 cups of superfine sugar
1 tsp of vanilla extract
Pink food colouring
Blue food colouring
Directions
Preheat oven to 225 degrees F.
Pour egg white into Kitchen Aid Artisan® Mini Stand Mixer bowl and whisk on high until soft peaks form. Slowly add sugar and whisk on high until the sugar is completely dissolved and no longer granulated.
Add vanilla extract and 3 drops of pink food colouring and continue to whisk on high for 5 minutes.
Add half of the pink meringue mixture to a sandwich bag and cut a small tip off the end. Messily swirl meringue onto a pan lined with parchment paper, leave about an two inches of space between them.
Add two drops of blue food colouring to remaining mixture and whisk on high for one minute.
Add mixture to sandwich bag, cut small tip off the end and messily swirl remaining meringue onto a second pan lined with parchment paper.
Bake for 75 minutes.
Remove from heat and let stand for an hour, then enjoy!
Let me know if you give this recipe a try! I'd love to hear what you think and if you enjoy this special treat as much as we do.