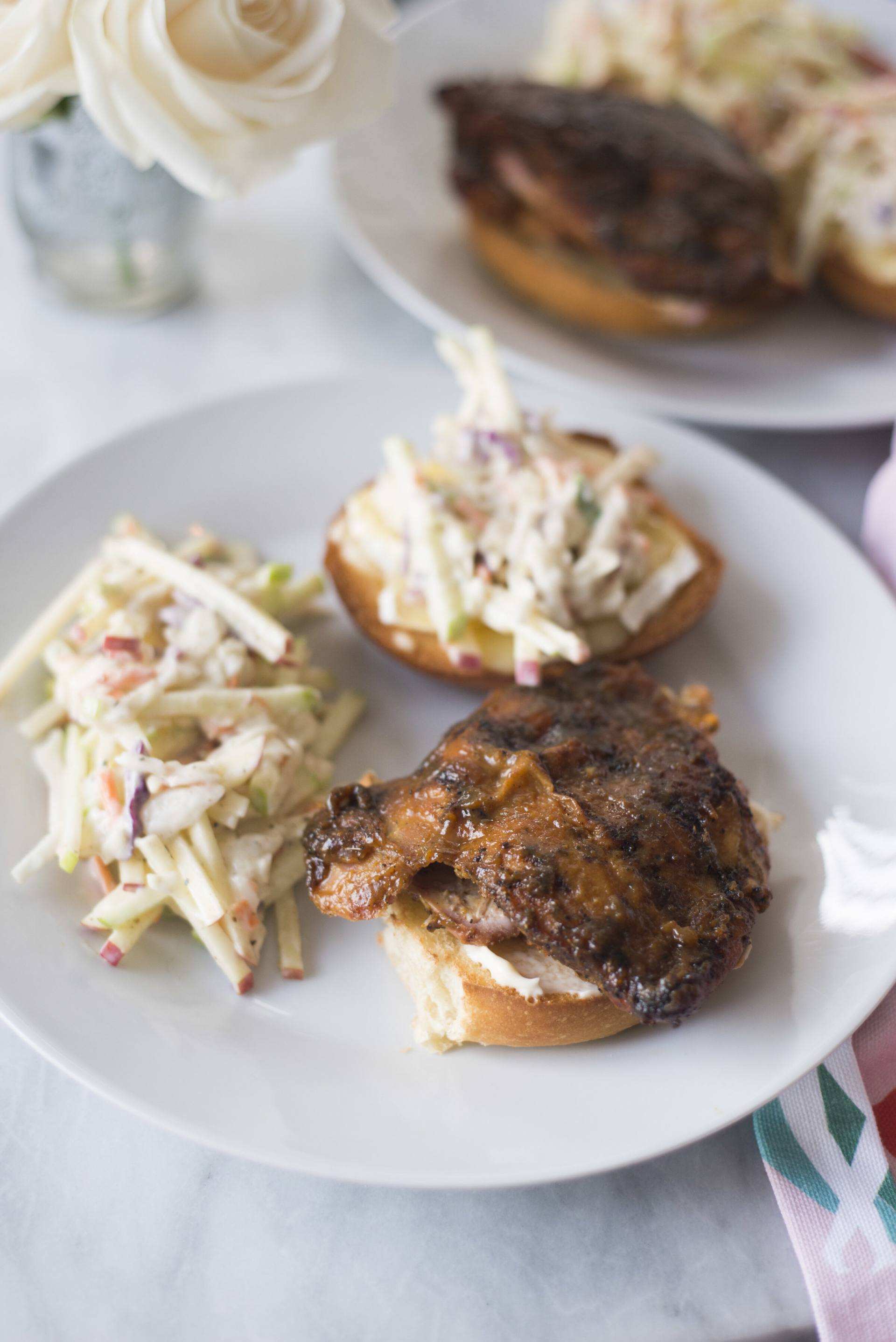 We love grilling outside in the summer and often like to slow roast a whole turkey on our BBQ spit. Have you ever tried barbecuing a turkey? I know it's common for people to think of Turkey as a meat centred around holidays but it's so versatile and can be used in a ton of recipes that your family can enjoy on a regular basis.
One of our favourite recipes are these Tasty Turkey, Brie and Apple Slaw Burgers. They are always a hit with the whole family and super easy to make. We roast a whole turkey and use the thigh for the burgers and then repurpose the rest of the meat into lots of other meals like turkey and sweet potato sliders, turkey taco salad and so many more yummy meals, like THESE. Turkey is such a great source of protein that's low in fat and packed with nutrients, a true superfood. Do you cook with turkey on a regular basis? Id love to hear your favourite recipes. Let me know if you give this one a try:
Turkey, Brie and Apple Slaw Burgers
Ingredients
Turkey
13 to 15 pound turkey
Canola oil
Salt and pepper to taste
Sauce
1/2 yellow onion (grated)
3 Tbsp of butter
3 cloves garlic
1/2 cup brown sugar
1/3 cup yellow mustard
1/3 cup apple cider vinegar
1 Tbsp dry mustard
1 tsp thyme
1 tsp crushed chilli flakes
Salt and pepper
Apple slaw
2 Tbsp apple cider vinegar
2 Tbsp white sugar
4 Tbsp mayonnaise
1 tsp dry mustard
1/2 tsp celery salt
1/2 a Granny Smith apple julienned
1/2 a red apple julienned
1/2 a bag of prepared cabbage coleslaw
pepper
Directions
Apple Slaw
1 Add vinegar, sugar, mayonnaise, dry mustard, celery salt and pepper in a medium bowl and stir to make dressing.
2 Toss red and green apples and coleslaw mix to coat. Set aside in the fridge.
Turkey
1. Pat the turkey dry with paper towel then brush to coat in canola oil and Salt and pepper. Let sit at room temperature 15 to 20 mins.
2. To make the sauce: Sauté grated onions in 1/2 butter until soft add the garlic and cook until fragrant 2 1/2 to 3 mins. Add the rest of the butter and all the other sauce ingredients. Simmer for 20 mins.
3. Preheat on high temperature (between 15 and 20mins) and prepare your bbq for your turkey to go on the rotisserie. Tie the legs and wings tight to the body with food grade twine. Slide the rotisserie shaft through the turkey securing it between the forks. It's important for the turkey to be balanced on the rotisserie this will insure even cooking and prevent your turkey from flopping around. Insert the rotisserie shaft into the electric motor and roast on high heat 550 to 600 f for 25 to 30mins then turn heat down to 350 f and continue to roast basting your turkey with sauce every 20 mins until the turkey reaches an internal temperature of 165 f.
4. Remove thighs and slice thickly for burger.
5. Toast buns with Brie slices, top with turkey and apple slaw. Enjoy!
I have partnered with YMC and Turkey Farmers of Ontario and have received compensation for this post. All opinions are my own.