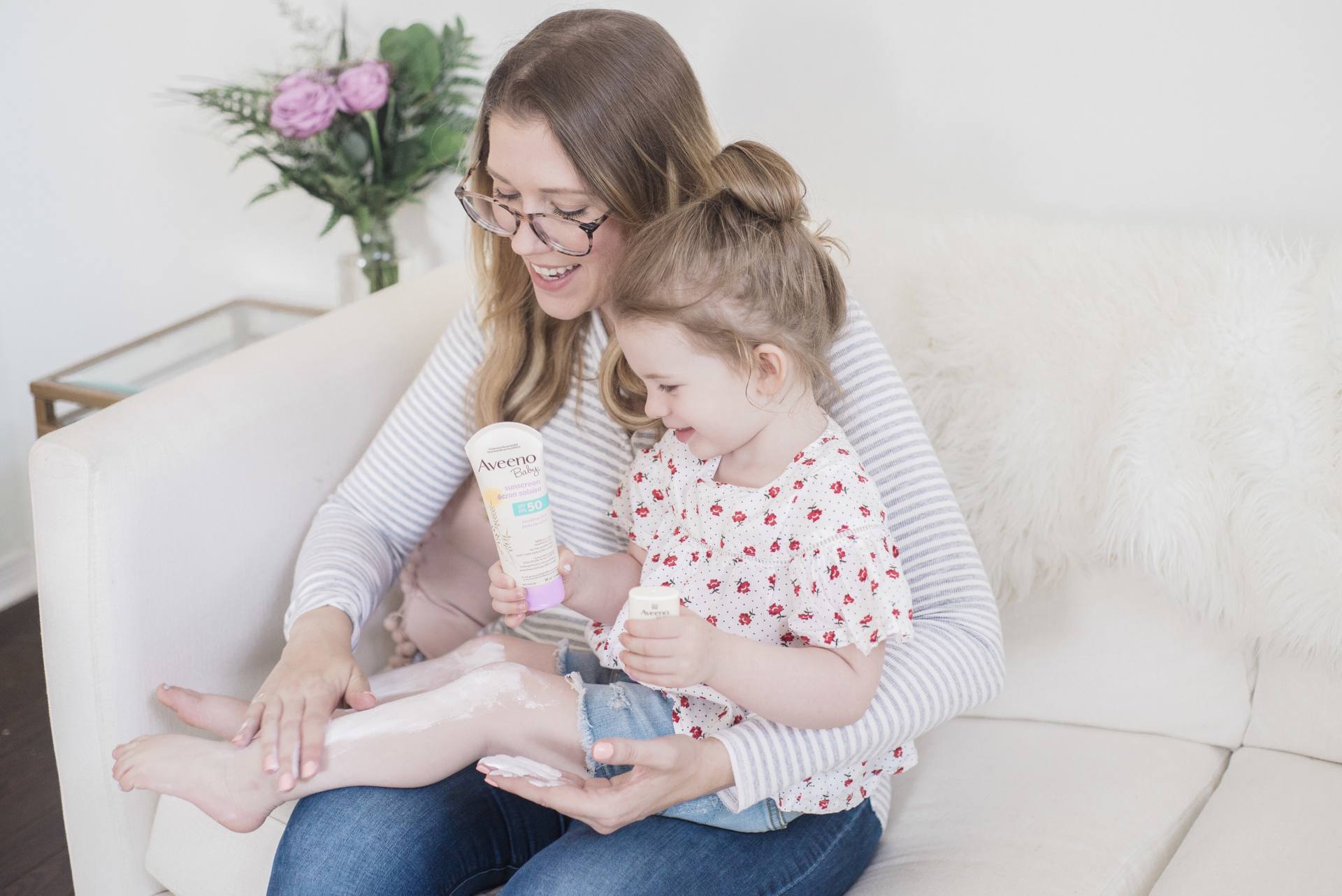 This post was sponsored by AVEENO® BABY® Sunscreen however all thoughts and opinions are completely my own.
Who's ready to kick off summer this Victoria Day long weekend?! We have big plans that will include lots of lounging in the sun with the kids and I couldn't be more excited. It feels like summer took wayyy too long to get here this year so I'm really looking forward to spending some family time outdoors this weekend. While we're on the topic of sunny summer days, I want to share our favourite sunscreen products with you, so you can pick some up before the long weekend begins. Trust me, you're going to love these for the kids!
Every day, before I get the kids dressed in the morning, I lather them up with sunscreen, so I don't forget. We just started using the AVEENO® BABY® Sensitive Skin Face Sun Stick SPF 50 and let me tell you, it's so much easier to apply sunscreen on the kids' faces now. No more mess and stinging eyes…every mom's dream! I'm glad there's a product out there that makes sunscreen application easier on the kids' faces because they used to constantly be in tears when product would get in their eyes. Not anymore! It's also the perfect size to throw in your purse so you can reapply throughout the day without carting a big tube around. Super handy if you're headed out this long weekend!
We've also been using AVEENO® BABY Mineral Sunscreen SPF 50, which we apply everywhere but the face. It's the #1 pediatrician recommended baby skin care brand, so I know it'll be safe to use on the kids. This is always something I look for when purchasing sunscreen. Our kids are all fair and have really sensitive skin, so I want to make sure I'm buying products that are safe and won't irritate them. This AVEENO® sunscreen uses 100% naturally-sourced zinc oxide, a natural UVA / UVB filter, for effective sun protection. It also locks in moisture and nourishes and soothes my kids' delicate skin with ACTIVE NATURALS® Oat.
Have you tried the AVEENO® BABY® Sensitive Skin Face Sun Stick SPF 50 yet? If you haven't yet, I'm telling you, it'll make sunscreen application with the kids SO much easier. I hope everyone has a safe and fun long weekend!
Want a chance to win?!
I'm giving away THREE sets of AVEENO® BABY Mineral Sunscreen SPF 50 and AVEENO® BABY® Sensitive Skin Face Sun Stick SPF 50, each set is valued at $35 CAD.
To enter:
Simply comment on this post and let me know your plans for the summer. Good luck! Giveaway ends May 25 2018.
I am operating this giveaway on my own! Winners will be asked to fill out a release form to claim their prize!