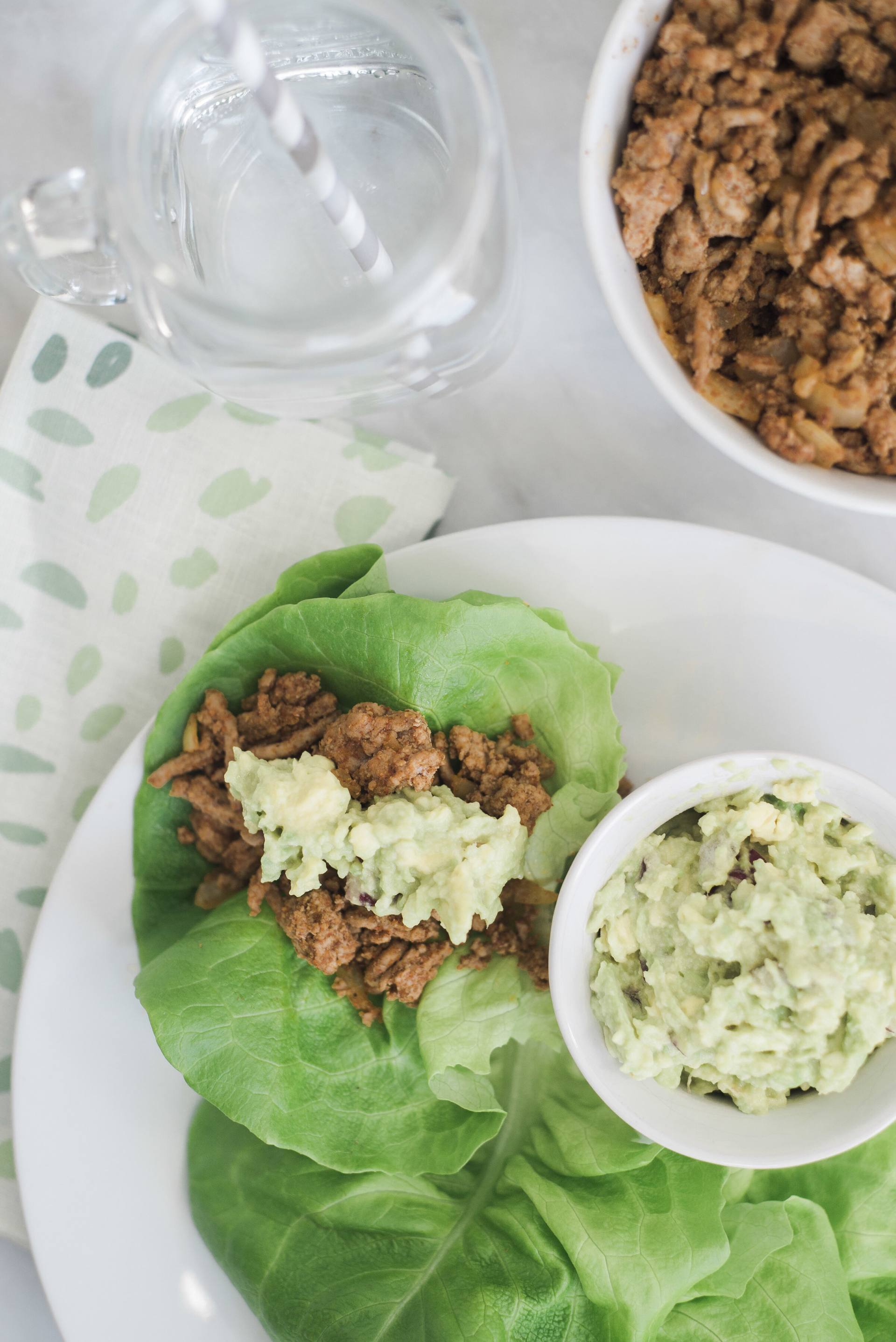 These turkey tacos are guaranteed to be a hit with the whole family! As you know, I've been on a 30 day challenge with Arbonne trying to make some serious lifestyle changes. This isn't sponsored nor do I sell the product but I really wanted to share my journey as this is something that's really been working for me. I've been replacing two meals a day with their chocolate shakes, packed full of veggies and loving the results so far. Sticking to the 30 day challenge meal plan has also helped huge. I've always associated healthy eating with"bland" meals but have finally changed my perception – healthy doesn't mean boring. There are so many ways to spice up your meals and a variety of different recipe ideas that will leave you completely satisfied!
This post will kick off a healthy eating series where I'll be sharing meals that are not only good for you but also taste great! So, what's on the menu tonight? Delicious turkey tacos in butter lettuce cups!
Ingredients
Butter Lettuce Cups
1 pound of ground turkey
1/2 yellow onion chopped
2 tbsp olive oil (divided)
1 Avocado
1/4 red onion chopped
Handful of Cilantro, chopped
1/2 lime
1 tsp of cumin
1 tsp of garlic powder
1 tsp onion powder
Taco Seasoning
2 tbsp of chilli powder
1 tbsp garlic powder
1 tsp onion powder
1 tsp ground cumin
1/4 tsp crushed red paper flakes
Directions
Cook yellow onion in 1 tbsp of olive oil on medium heat in a small frying pan until soft.
Cook ground turkey with 1 tbsp of olive oil until browned, drain the fat.
Add softened onion and taco seasoning to turkey mixture and stir until combined.
In a small bowl combine avocado, lime juice from 1/2 lime, cilantro, cumin, garlic powder and onion powder. Mash together until mixed evenly.
Wash butter lettuce cups.
Voila! Add turkey taco mixture on to lettuce cups and top with your guacamole. Also tasted great when garnished with sliced grape tomatoes. Enjoy!
What our your favourite clean eating recipes? I'd love to hear your favourite so we can add them to our dinner mix!
Also, I often get many questions about food photography and what camera we use. I use a Canon Rebel T5i and would love to help you get started with an awesome photography package. I've teamed up with some of my favourite bloggers to giveaway a Canon Rebel Kit, Kate Spade Handbag and Kate Spade Scarf! Enter using the rafflecopter below! Contest runs until Feb 12 2017 and open to Canada and the US. Good luck!