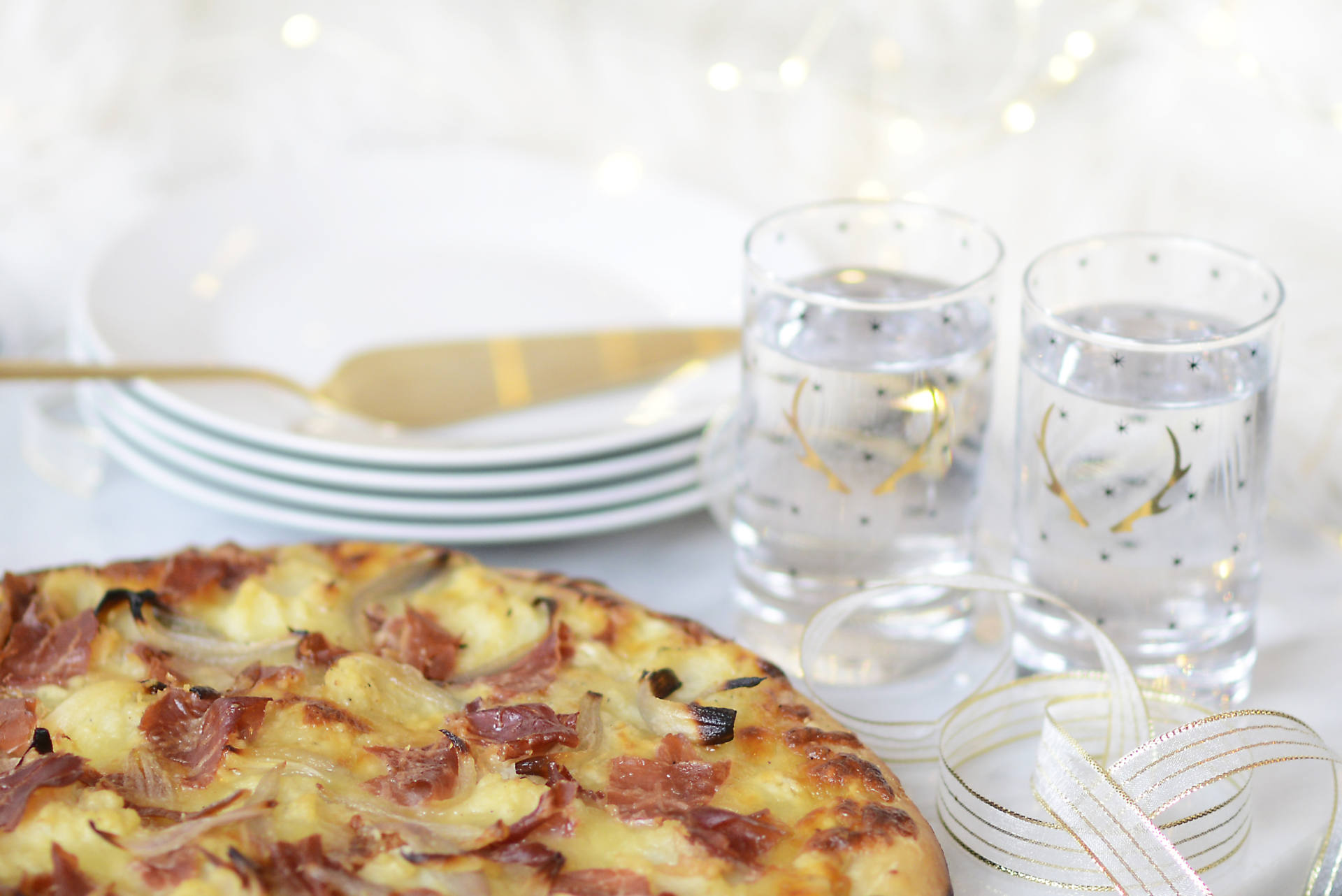 Prosciutto, mashed potatoes, pizza…just a few of our favourite foods and when you combine them all they make one heck of a pizza! When we're entertaining friends and family over the holidays we like to switch things up and make a wide variety of dishes. Pizza is a great addition to any party and always a hit with the kids. It's easy to make, everyone enjoys it and this recipe offers a little bit more elegance than your regular ol' pizza! Perfect for holiday entertaining.
The prosciutto crisps are the perfect touch to this mashed potato pizza and offer a delicious crunch of flavour. It really makes the dish pop! I always use the San Daniele prosciutto because they have the greatest quality cured meats. When we're entertaining I only want to serve my guests the best of the best and San Daniele wins me over every time. Try the pizza, trust me, you'll know exactly what I'm talking about after the first bite!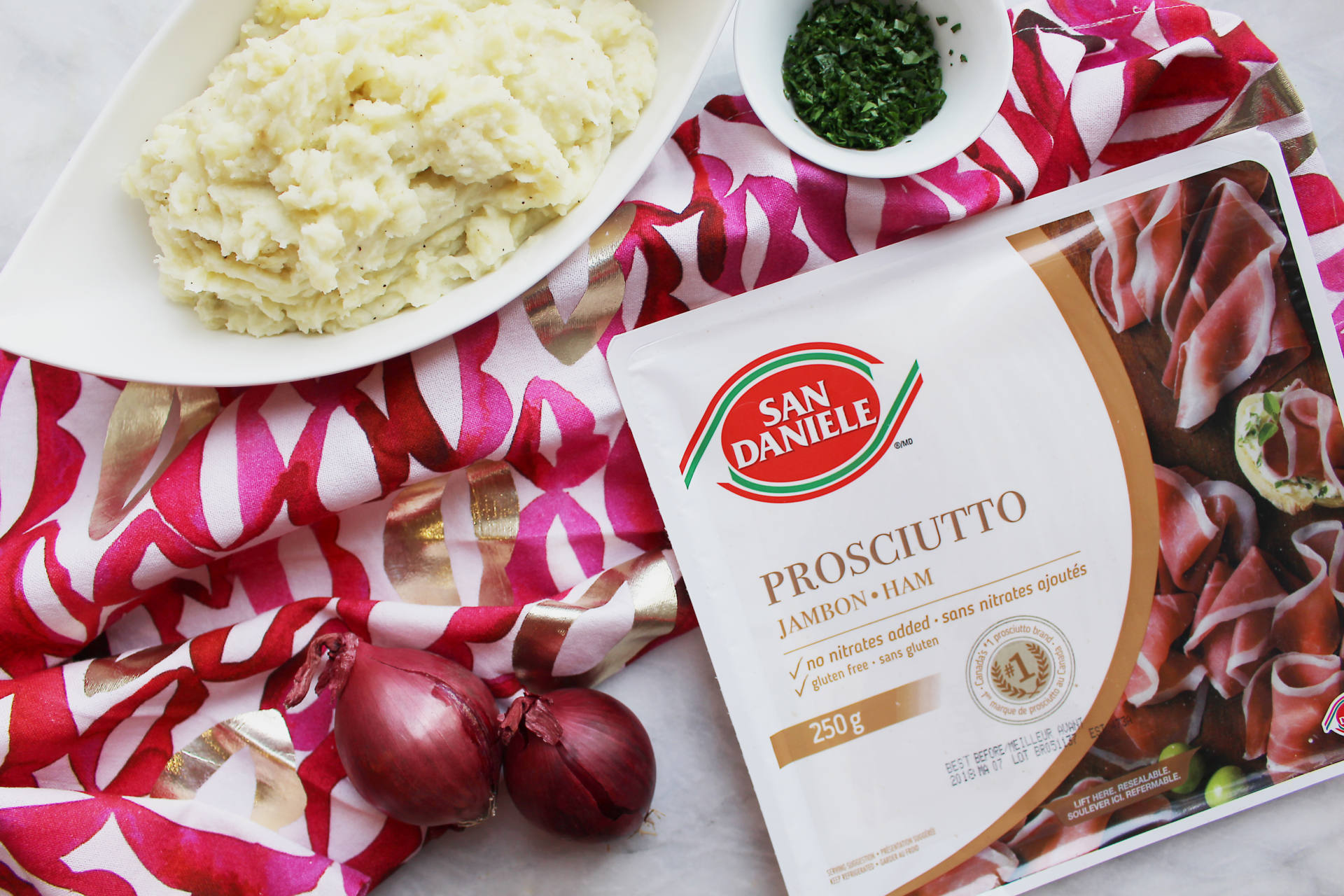 Prosciutto And Mashed Potato Pizza
Ingredients
Pizza dough (you can make this yourself or buy a ball at you favourite bakery)
10 slices of prosciutto (only because you're going to eat some of it before it even hits the pizza)
2 yellow (Yukon gold preferred) potatoes
1 head of garlic
1 3/4 cups heavy cream
2/3 cup crumbled gorgonzola cheese
2 shallots
1 cup grated mozzarella cheese
1 Tbsp minced Italian flat leaf parsley
2 Tbsp parmigiano cheese
Pinch of cayenne pepper
Pinch of nutmeg
tsp corn meal
Olive oil
Dash of salt and pepper
Directions
1. Take head of garlic and remove most of the paper skin leaving the head intact. Cut the top of the garlic head to expose the cloves and drizzle with olive oil. Wrap the head of garlic in tin foil and roast in the oven at 400 for approximately 45 min until garlic is soft.
2. In a heavy bottomed sauce pan on medium heat add 1 1/2cups of heavy cream and bring to a boil. Lower the heat and simmer until cream reduces by half aprox 25 to 30 min, stirring occasionally.
3. Take off heat and add Gorgonzola cheese, 1 Tbsp parmigiano, parsley, cayenne pepper, nutmeg, and dash of salt. Whisk until smooth. Set a side.
4. In boiling water add pealed potatoes cook until soft. Drain water and add the remaining 1/4 cup heavy cream, a splash of olive oil, salt and pepper, 5 cloves of roasted garlic and mash until smooth. Set a side.
5. On a parchment paper lined baking sheet arrange Prosciutto so it doesn't over lap on a single layer and bake at 400 for 7 to 10 min until cooked but not crisp. Take out and set a side.
6. Peel and cut shallots in half lengthwise. And slice lengthwise into wide slivers. Coat with a little olive oil and set aside.
7. Spread pizza dough evenly out on a
12 in round pizza pan dusted with corn meal. Brush dough with olive oil and let rest for 5min.
8. Spread Gorgonzola sauce evenly over the pizza dough then add layer of mozzarella. Add dollops of potatoes all over the pizza. Top with shallots and Prosciutto crisps and remaining Tbsp of parmigiano.
9. Preheat oven to 450 and bake until light brown crust forms on the potato layer and the Prosciutto is crisp between 10 to 15 mins. Serve and enjoy!
Want to recreate this delicious Prosciutto pizza?! Well I'd love to get you started by giving you the chance to win a Mastro Prize pack!! Entering is easy! Just tell me in the comments below your favourite pizza! Ends Dec 15 2017.
This post was sponsored by Mastro, all thoughts and opinions are my own.
*Congrats Keltie J, you won!*