With holiday parties in full swing All Clad and I thought it would be fun to partner up and share some tips on how to throw a successful fondue party with friends along with a delicious cheese fondue recipe! It will wow your guests, I promise! Also, make sure you read all the way to the bottom of the post because you'll find some exciting details on the #12DaysofAllClad giveaways and instructions on how to enter to win this beautiful fondue pot. All-Clad is always my first choice for cookware and this fondue pot is a dream to entertain with. You can use the insert on top of the stove making it so easy to create your Fondue recipe. It definitely makes for stress free entertaining!
Tips for throwing a successful Fondue party:
1. Prep your dippers ahead of time. Before your guests arrive have all of your veggies and meats shopped and ready to go. You can even do this the night before. It allows you more time to spend with your guests.
2. Make sure you provide a variety of different dippers that will appeal to everyone. Offer a plethora of different options for breads, meats and veggies so there is lots to choose from. The more the merrier!
3. Cover your table with a white tablecloth before setting up. Fondue can get messy and this makes for a quick and easy clean up.
4. Have fun with it! Set the mood by turning the fireplace on, pair with beer or wine and turn on some good music. Fonduing is meant to be an interactive and fun meal so keep it entertaining.
Now, for the recipe…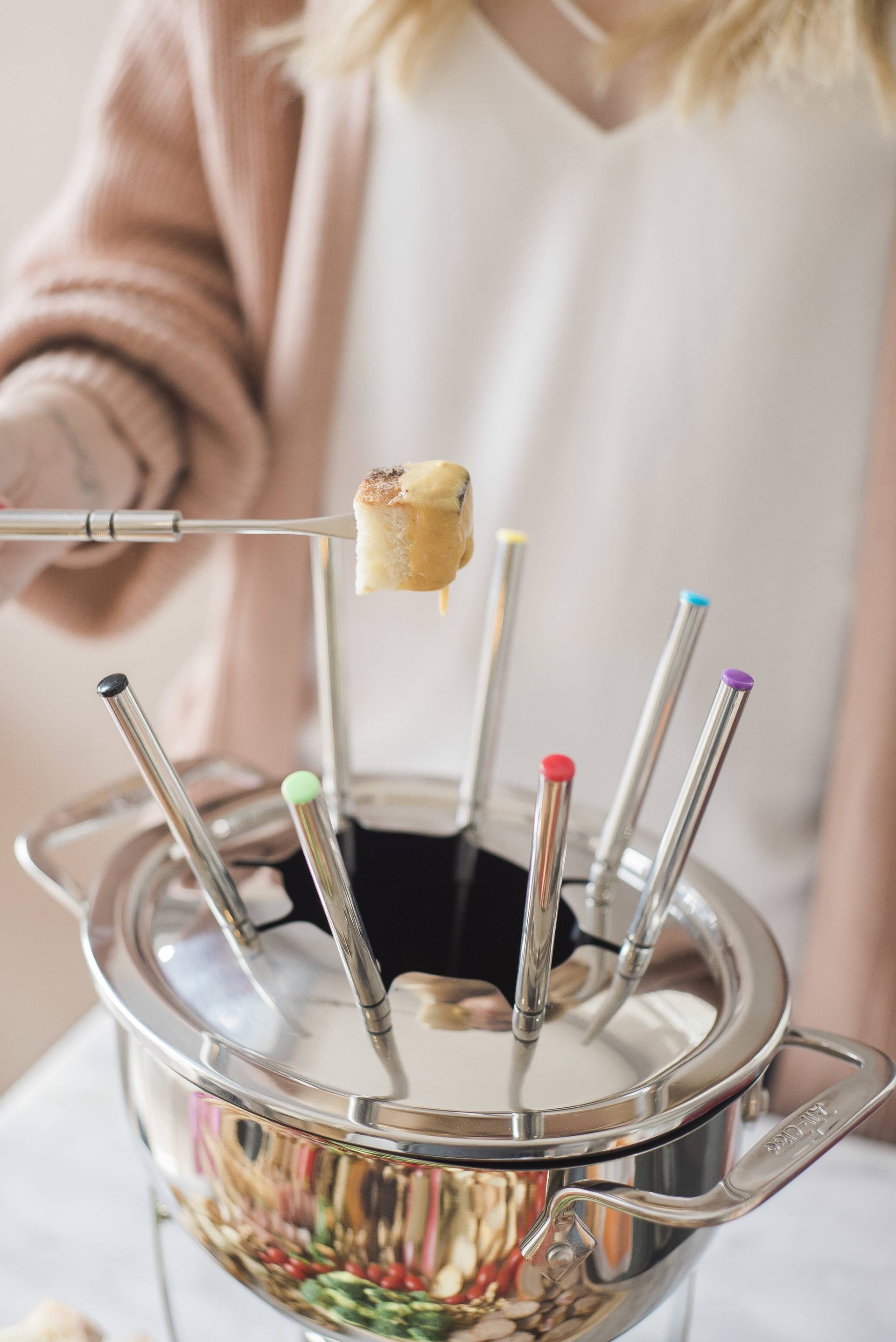 Delicious Beer and Cheddar Cheese Fondue
Ingredients
1 1/2 cups of light beer
2 tablespoons of all-purpose flour
2 1/2 cups shredded sharp cheddar cheese
2 tablespoons worshashire
1 teaspoon of dried mustard
Directions
1. Fill all Clad Fondue pot with water to water line in order to avoid scorching. Turn on burner to heat water. Place insert in pot.
2. Melt butter in medium sized pot until melted. Sift in flour and whisk together until there are no lumps. Slowly add beer and whisk together on medium heat.
3. Turn the heat to low and slowly begin mixing cheese into the beer mixture. Once melted, stir in the dry mustard and worshashire sauce. Stir until the cheese mixture has a smooth consistency. Taste and adjust the seasonings as desired.
4. Remove cheese sauce from stove top and pour it in All Clad Insert.
5. Pair this fondue with your favourite rustic bread (toast first) and crackers, season fruits and veggies (broccoli, asparagus, apple, grape tomatoes and roasted baby potatoes), sliced sausage is a great meat to add to your fondue spread. Enjoy!
Would you like to throw a fondue party with this awesome All-Clad set?! Well #AllCladHolidayHosting a 12 Days of Giveaways and partnering with 12 of your favourite bloggers from across Canada to share holiday recipes, hosting tips and seasonal inspiration featuring signature All-Clad products!
To Enter:
Head over to THIS Instagram Post and complete first steps there to enter.
Come back to this blog post and let me know you completed the entry and comment who you'd fondue with if you won.
Head HERE to complete your entry 
GOOD LUCK!!
Each day, bloggers willshowcase a specific All-Clad product and giveaway where one lucky follower will win the featured product…follow the hashtags to find the other 11 giveaways! #12daysofallcladd #allcladgiveaway
This Post was sponsored by All Clad however all thoughts and opinions are my own.