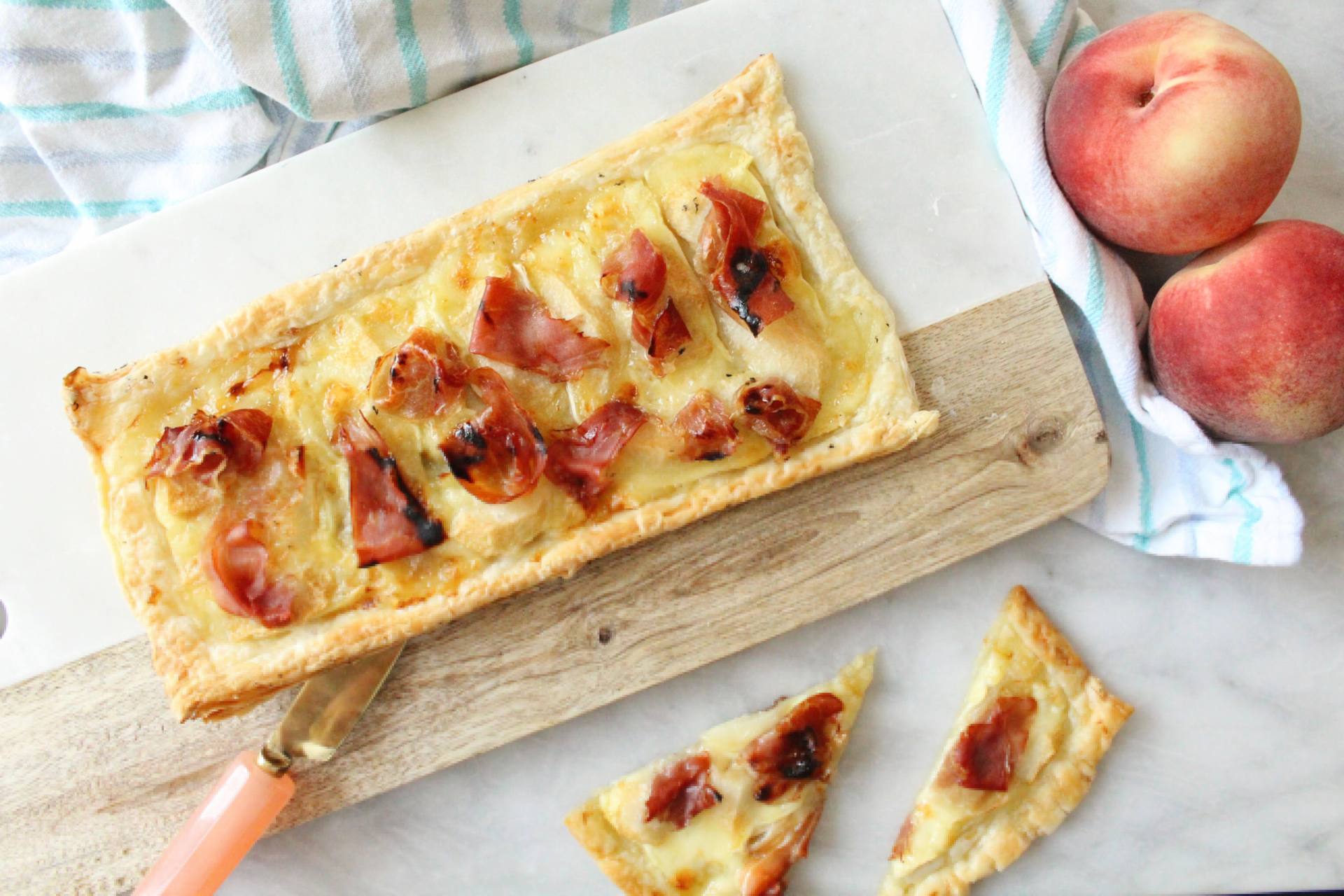 This has to be my favourite 'Go To' prosciutto cotto recipe! It's great for lunch or when you have company over and it always seems to be a hit with everyone. This Tart so easy to make, it's incredibly tasty and full of flavourful! Mastro has the best Prosciutto Cotto, it's full-flavoured Italian-style ham, it's so tasty and extra lean (click HERE for a $1 off coupon!). It's one of my favourite things to eat, followed by Brie and peaches so it's no wonder why I enjoy this recipe so much.
Ingredients
4 slices of Mastro Prosciutto Cotto
1 sheet of puff pastry (cut in half length wise)
1 Peach – peeled and sliced
1 small wheel of Brie – thinly sliced
2 tablespoons of honey
1/2 cup arugula (optional)
Directions
1. Preheat oven to 350 degrees
2. Roll out the two puff pastry sheets with a rolling pin and score the edges of the pastry 1 cm all around. Place pastries on parchment paper and then place on a baking sheet.
3. Place the Brie slices evenly over the Tart. Next, layer the peach slices over the Brie.
4. Drizzle 1 table spoon of honey over each Tart.
5. Tear the prosciutto cotto into smaller pieces and place on top of Brie and peaches. Bake in the oven for 10 minutes or until edges of Tart are golden brown.
6. Let cool for three minute, slice and serve! So yummy! If you'd like, you can add half a cup of arugula over top of he tarts once they've cooled down.
Hope you enjoy this delicious recipe as much as we do! Mastro and I would love to encourage you to get in the kitchen so we've teamed up to host a fun giveaway! The prize? A Tote Bag, Cutting Board and 3 x $1 off coupons! To enter, just let me know in the comments below your favourite prosciutto cotto recipe! Good luck 🙂 Winner announced 09/12/17.