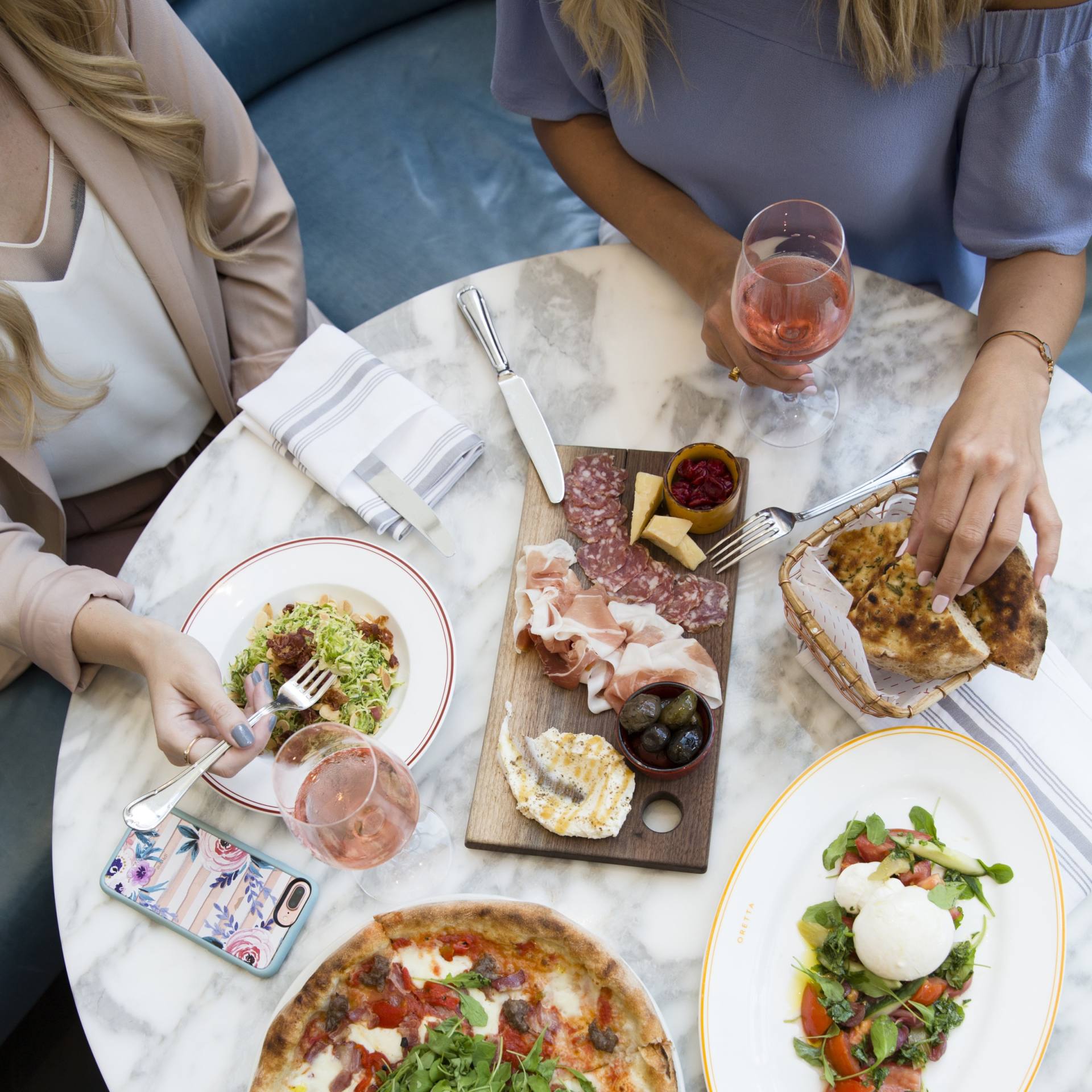 I'm sure you've seen this space all over the internet by now. Oretta. With their Instagram worthy interior and beautiful signature cocktails they've been winning the internet since they opened. I've been wanting to try out this restaurant for months so when Victoria asked to meet there for brunch and catch up I was REALLY looking forward to it. Great company and amazing food…there is no better way to spend a day off from mom duties.
As soon as you walk in your jaw will drop, I'm sure they get that a lot. Orettas interior is every Instagrammers dream. Blush pink walls, teal leather seats and gold accents, um HELLO beautiful! The whole space is such eye candy, if you haven't had a chance to check it out then you'll want to be adding this restaurant to your wish list.
Beautiful interior aside, let's talk about the food! I think its safe to say, and that we all know by now, that I love my food. I am quite the critic and it takes a lot to impress me. Trust me when I say this – Oretta will not disappoint your tastebuds. I actually don't know where to start, as I sit here salivating over these photos, wishing I was back there eating all of this deliciousness. We had so many dishes so it's going to be hard for me to narrow down my favourites…but I will try.
Buratta – My favourite cheese of all time. I always gravitate towards it and I'm usually impressed but at Oretta I love that they paired it with these juicy, unbelievably fresh veggies. They paired so well with the cheese and I really can't describe how fresh and flavourful this dish was. It's an absolute must.
Margarita Pizza – Always a classic and I never say no to pizza. Oretta knows what they're doing in the kitchen when it comes to pizza…SO yummy! It's probably a good thing that I don't live in the city or I would most likely be eating lunch at Oretta every day. They have nailed down the dough, sauce, cheese and basil ratio to absolute perfection.
Charcuterie with Foccacia – I have no words for Orettas foccacia, I'm pretty sure Victoria and I polished it off in record time…The foccacia paired with the charcuterie board was unreal. The bread was fresh out of the oven and paired with a swipe of ricotta and slice of prosciutto it may actually blow your mind.
Ricotta Pancakes – Who knew? It's no secret, I'm generally not a fan of pancakes but these definitely won me over. I may even admit that these were my favourite dish! It was love at first bite. I might need to convince Cory to take me there this weekend for bunch so I can get my fix!
Victoria and I were both blown away by all of the food. I can honestly say that I haven't been to a restaurant that knocked that many dishes out of the park in a very long time. If you live in Toronto or you're just visiting I highly recommend visiting this beautiful space. The food will definitely wow your tastebuds! If you've been to Oretta, I'd love to know your favourite dish.
Big thanks to Scott Ramsey for helping us capture our experience!