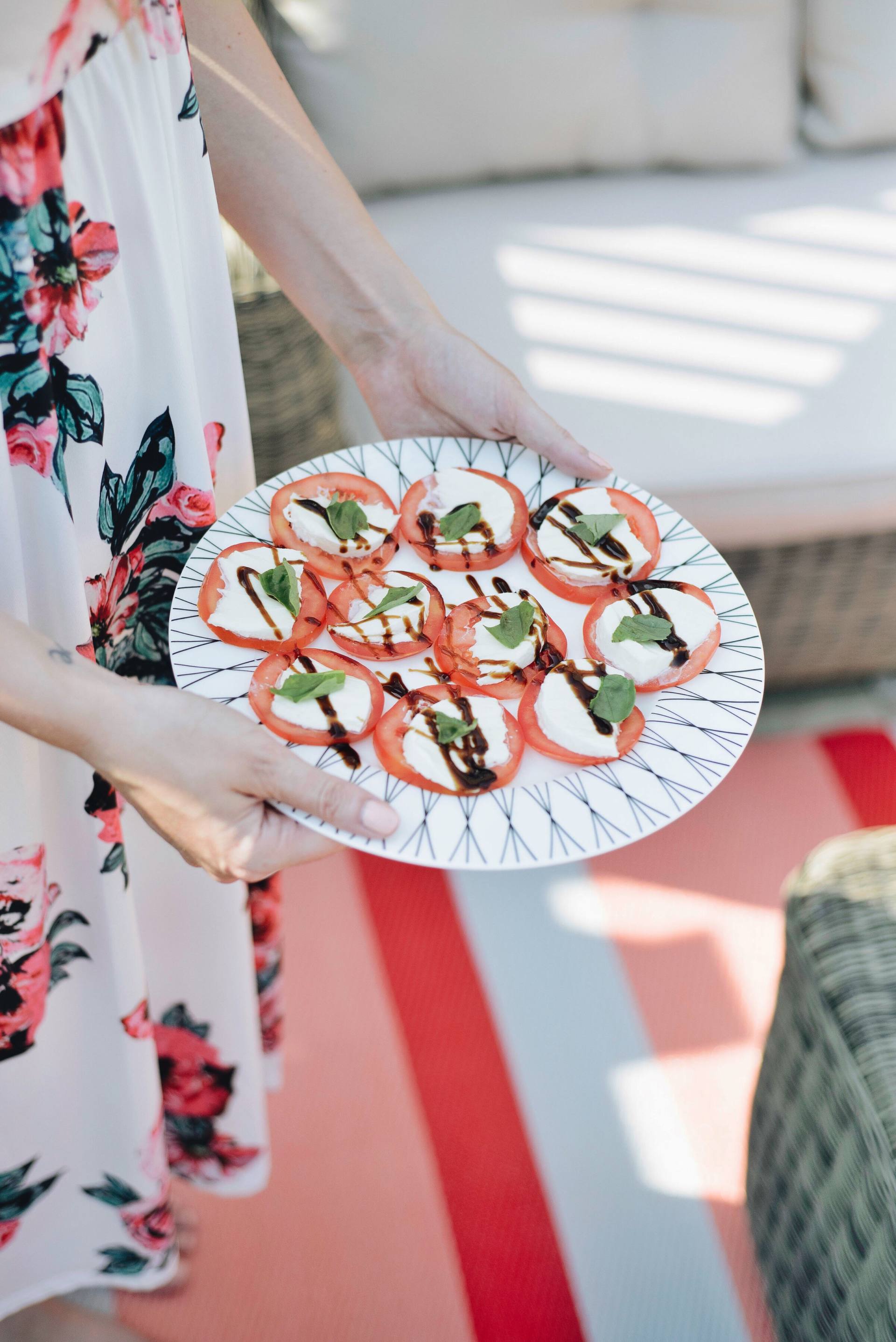 One of my favourite things to do in the summertime is entertain outdoors. We love spending our time outside on the patio watching the kids play, snacking and cooling off with some ice cold drinks. Today, I'd like to share with you five of my outdoor entertaining essentials that will make your life a breeze when guests pop by this summer.
Potted Herbs and Veggies – You may recall a few months back Austin and I picked up some veggie and herb making kits from Giant Tiger. We grew them in mason jars and small pots inside and we are now able to move them into larger pots outside. They look great around our patio set and are perfect for having fresh veggies and herbs on hand when people come over. Straight from our potted garden!
Light and refreshing snacks – In the summer months I find we constantly have people stopping by so I always make sure to have easy snacks on hand. They can be as simple as fresh fruit, crackers and cheese or a light caprese salad. The salad takes all of two seconds to make – Just slice tomatoes and top them with slices of fresh mozzarella, basil, salt and pepper and a little balsamic reduction. It's really easy to whip up and a great snack for your guests when its hot outside.
A durable outdoor rug – When you have kids, pets and lots of rain you want to make sure when investing in an outdoor rug that it's going to be durable and still look great halfway through the summer. I found this pretty one at Giant Tiger and we couldn't be happier with it! I love the bright and bold stripes, they keep my patio looking cheerful and fun for summer. It's been raining a ton here and this rug dries incredibly quick so as soon as the suns out we can get back to enjoying our patio.
Lanterns to set the ambiance – I don't know about you but I am a sucker for patio lighting. Candles, twinkle lights, you name it! I feel like lighting sets the tone for a relaxing evening outside so the more the better. I found these gorgeous lanterns at Giant Tiger. They had a few different sizes so I picked two different ones up to layer beside our patio furniture. I may need to head back and pick up a few more! They also had lots of different twinkle lights and string lights to hang around your patio that were really cute.
A beverage station – These are life savers. Whether the kids are just outside playing or we have guests over I always have our beverage dispenser full of water or lemonade and lots of ice. It keeps everyone hydrated and keeps the traffic outside rather than people constantly going in and out of the house. This one from Giant Tiger is great because if you flip the medal base around it also acts as an ice bucket to chill bottled beverages!
This post was sponsored by Giant Tiger however all thoughts and opinions are completely my own.