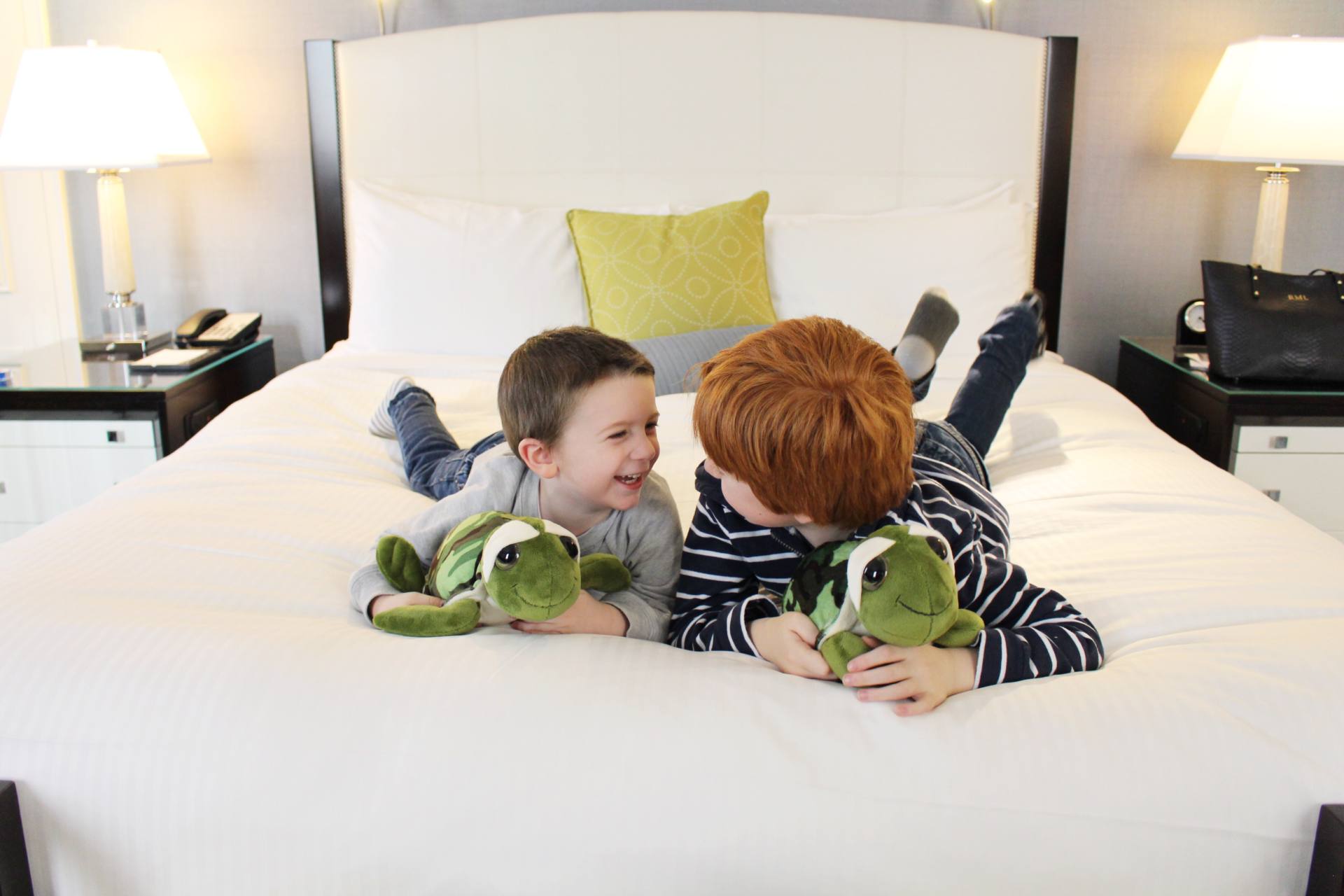 We were really struggling with making plans for our March break this year. It's been a while since our last family vacation (last May) and Austin has been begging us to go away and do something fun. Cory and I decided that maybe it would be fun to plan a little staycation in the city at the Fairmont.
We thought we would make a really fun weekend out of it! The kids love taking the train so we decided to take it downtown to make the trip into the city a little more fun, rather than our typical car ride down. Conveniently, the Fairmont is located right across the street from the train station so it was easy getting to the hotel once we arrived in the city.
We checked in at around 1 and headed up to our rooms. The Fairmont kindly provided us with two adjoining rooms so we could all sleep comfortably which was so nice of them! The kids were so excited when we walked in and saw the rooms. They're so spacious and beautifully decorated with massive King sized beds – perfect for jumping on! Haha I know, probably not supposed to do that.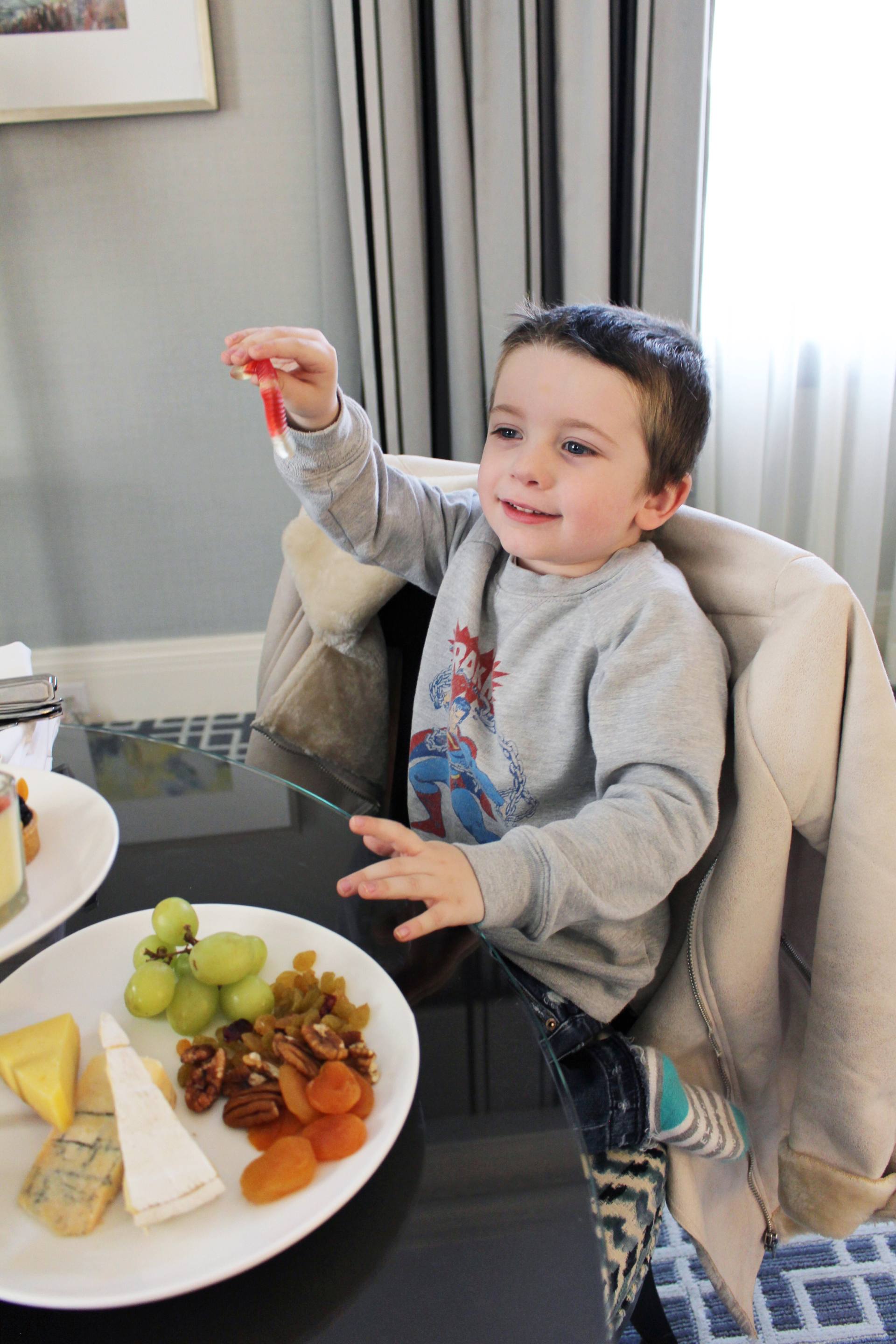 Shortly after getting settled into our room we heard a knock on the door. The Fairmont staff was so incredibly thoughtful and brought up a big spread of treats for the kids and a stuffed animal for each of them from the Ripleys aquarium! It was the sweetest surprise! The kids all clung to their new stuffies all weekend, and of course, ate all of the candy in sight immediately after it arrived, haha!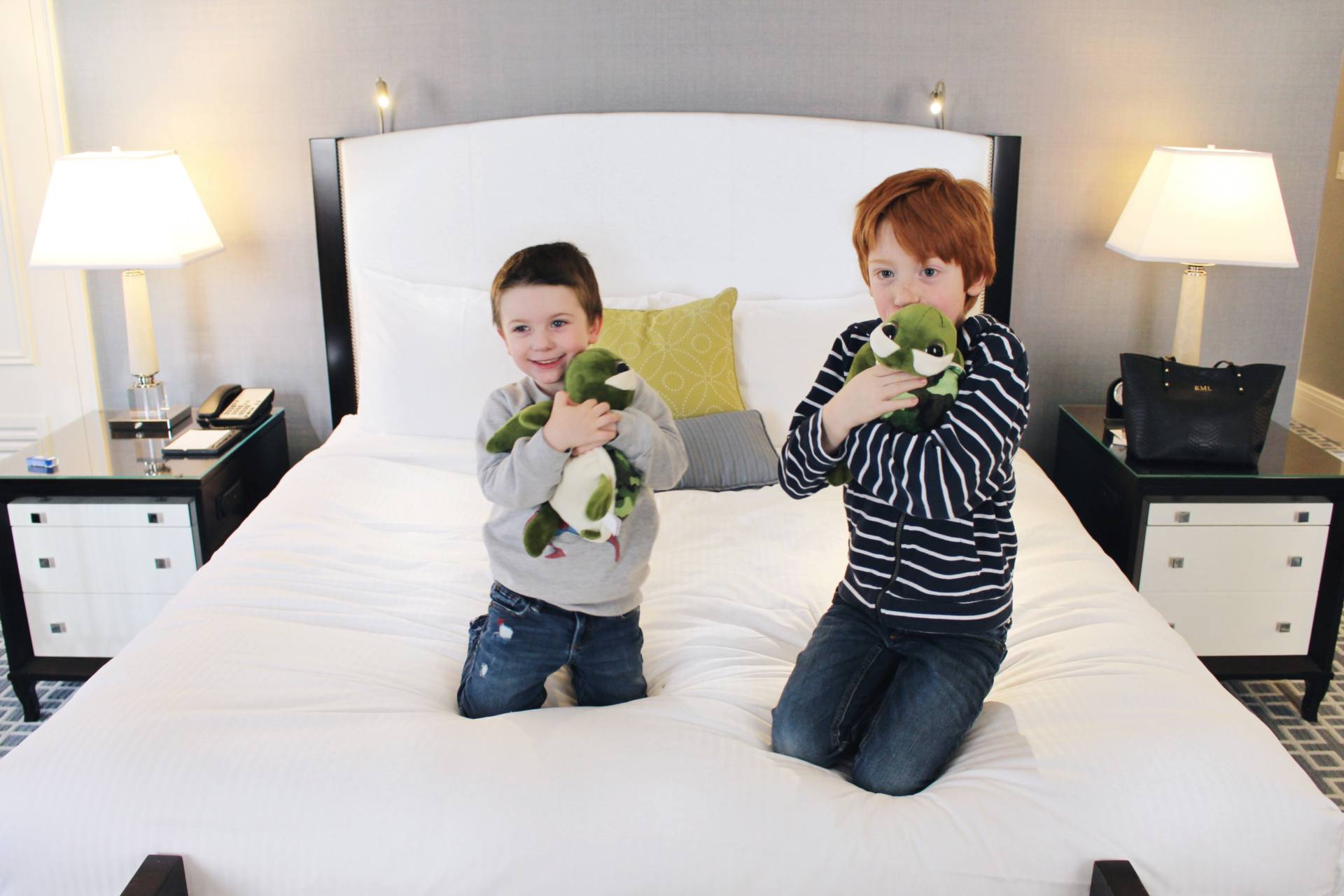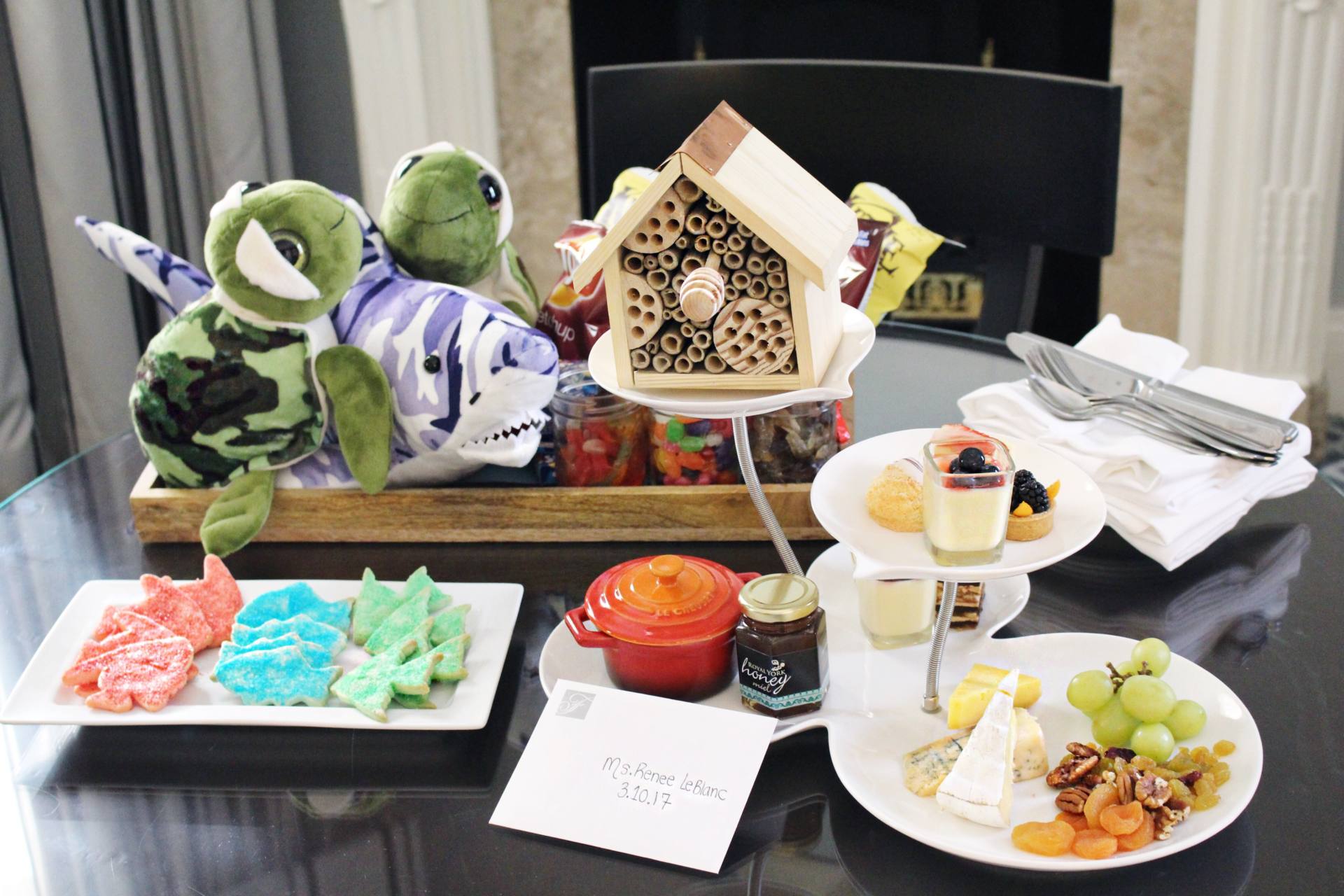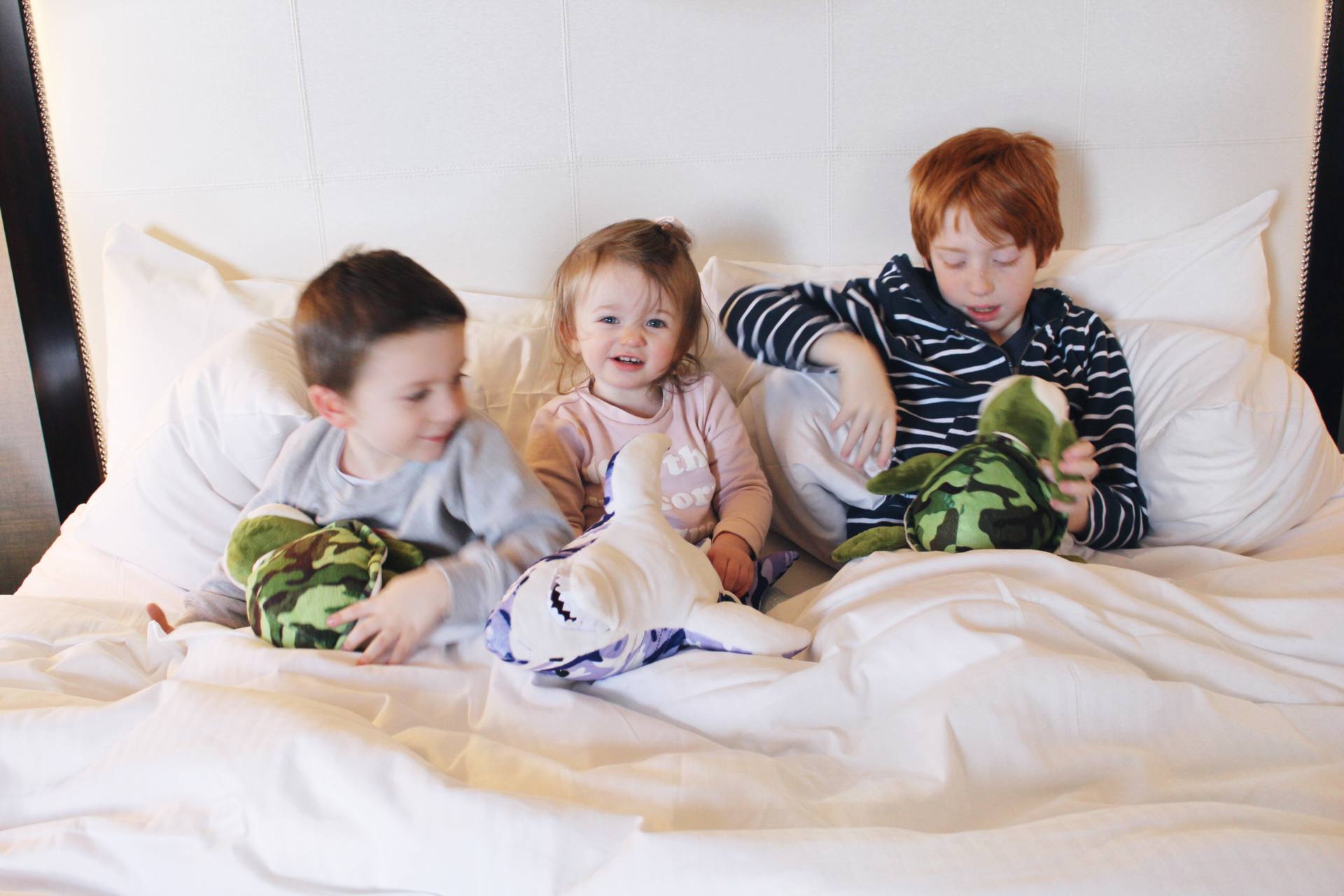 Cory arrived after he finished work and we headed down to Benihana for dinner. It's a Japanese steakhouse located in the lower level of the Fairmont. They set us up at the hibachi table where we watched our chef cook right in front of us…and let me tell you, it was quite the show! This was actually a genius idea. Our kids are 1, 3 and 6 so, as you can imagine, they don't always have the attention span to sit quietly at a restaurant for two hours…until tonight! The hibachi table is the perfect place to take your kids so you can all enjoy a nice meal out. They'll have so much fun watching the chef cook and joke around that mom and dad will get to enjoy a full meal, at a nice restaurant, without any interruptions. It doesn't get much better than that!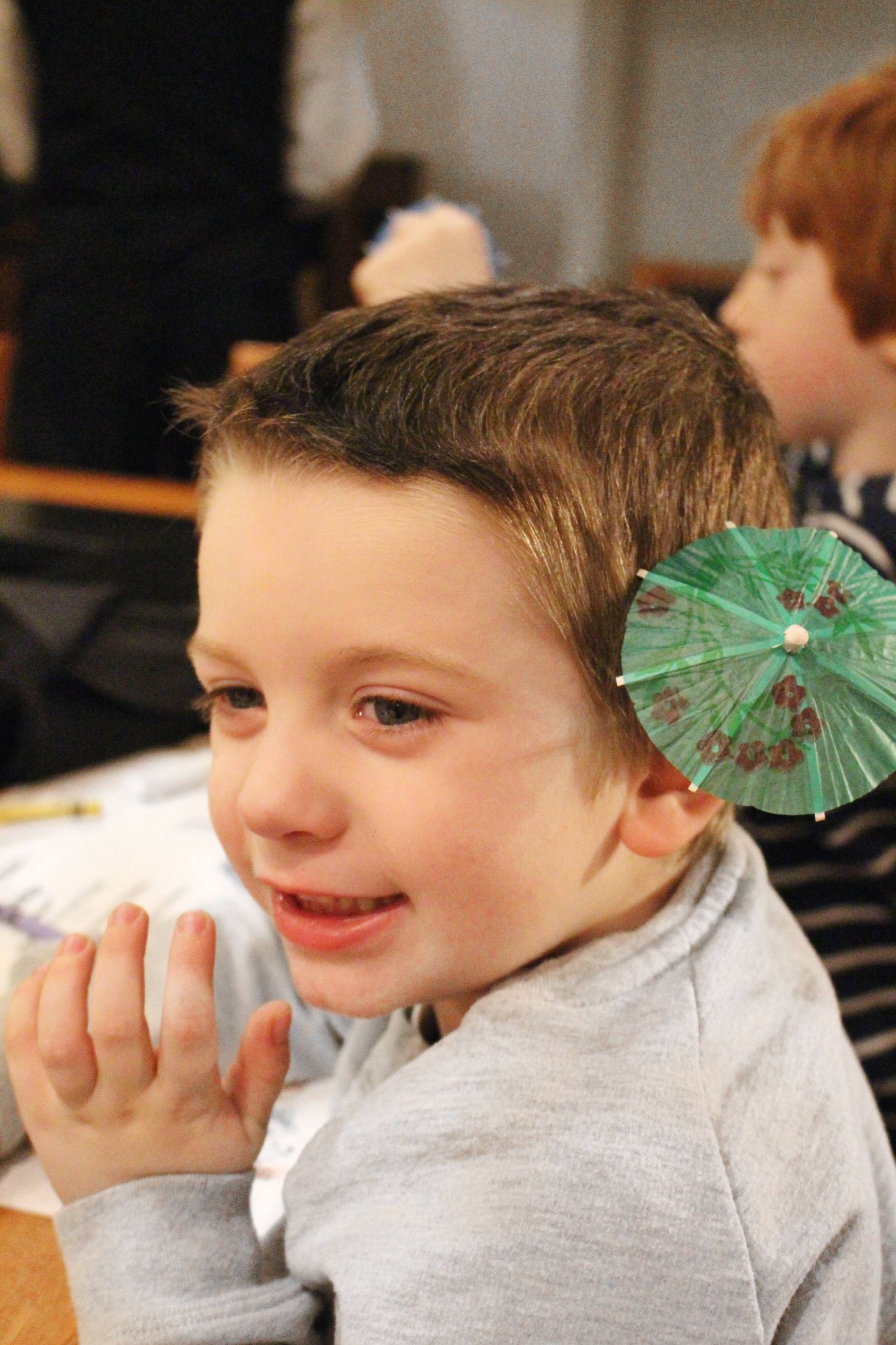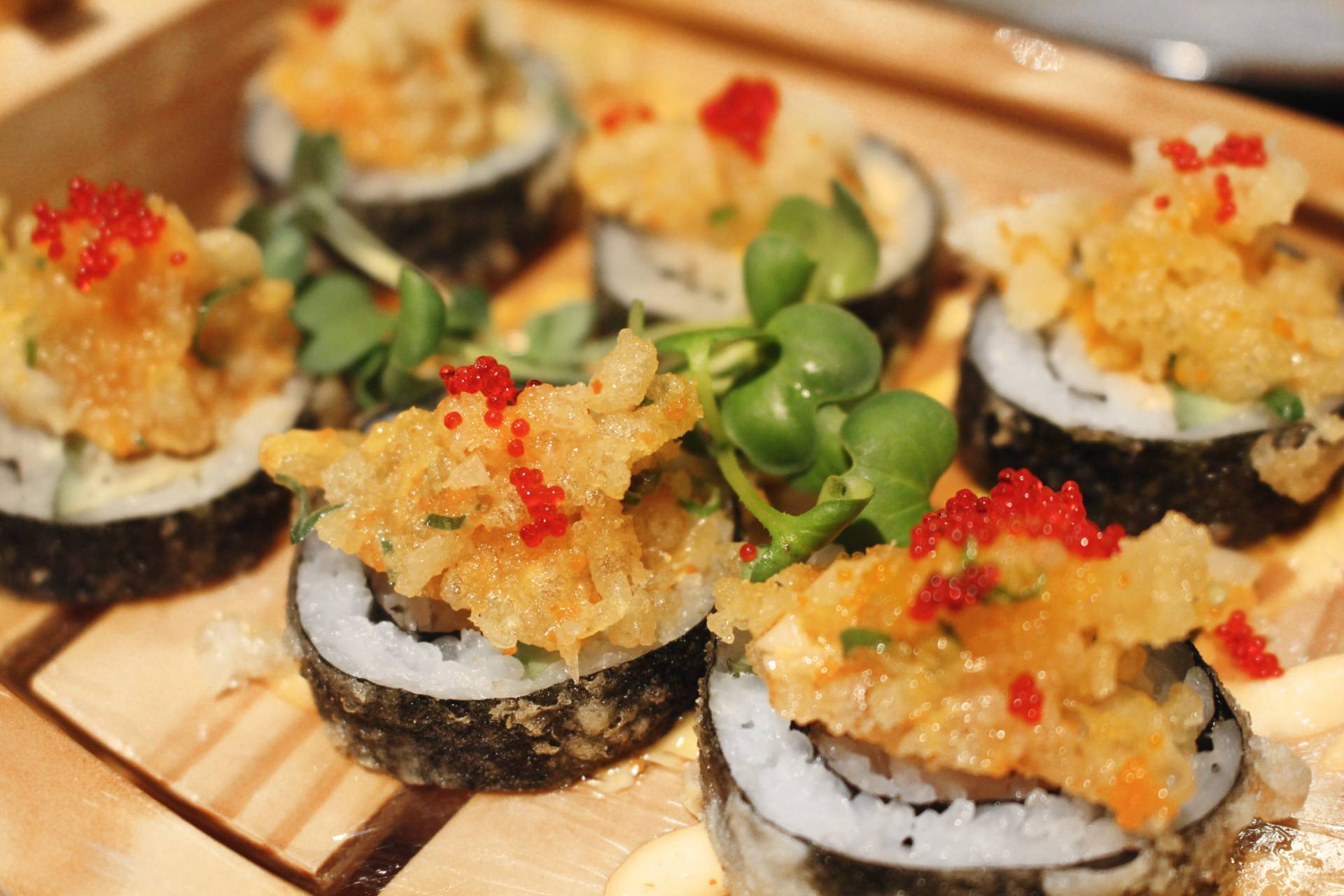 After dinner we thought we would take the kids for a quick swim to burn off the last of their energy before bed. The pool was nice and quiet so Austin and Max got to cannon ball their little hearts out. Obviously this was a huge hit!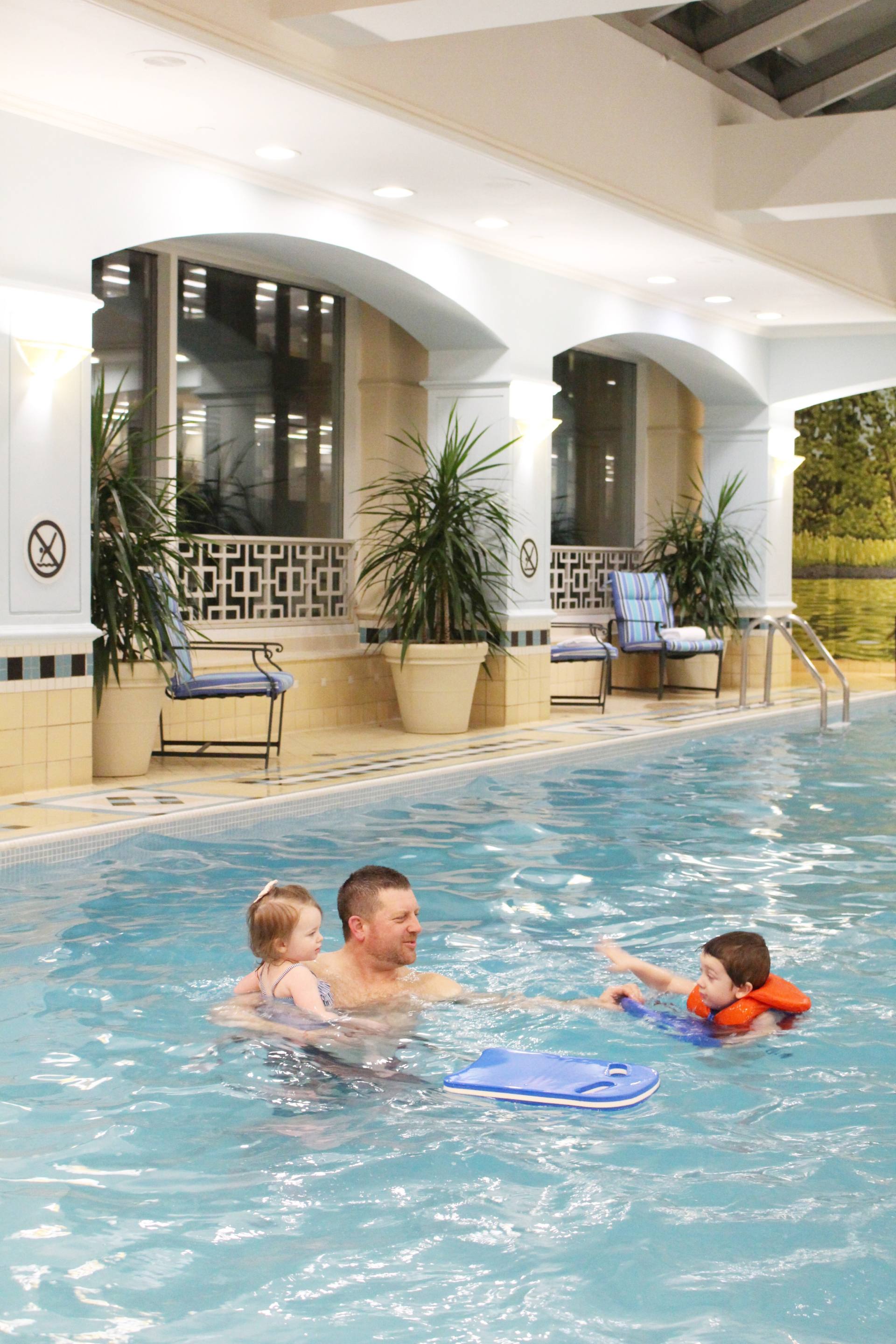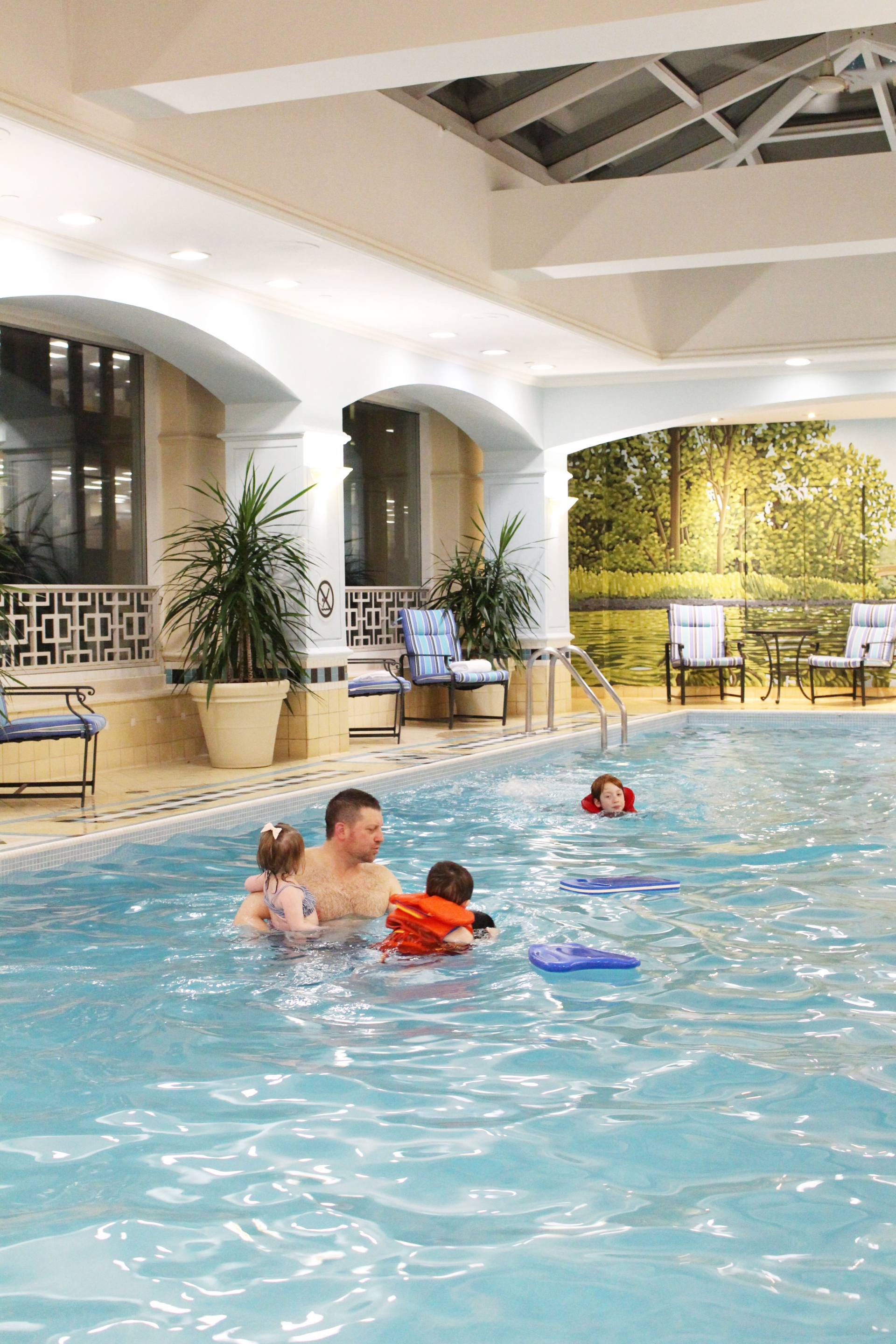 Needless to say, the kids slept like babies, it was an absolute dream. I was surprised none of them had a hard time going to sleep or asking for their own bed. I guess that's what happens when you're "having the time of your life" as Austin mentioned not once, but twice haha. The beds were really comfortable, Cory and I enjoyed our sleep as well. I usually have a hard time sleeping away from home but after our long day and that comfortable mattress is slept the night away.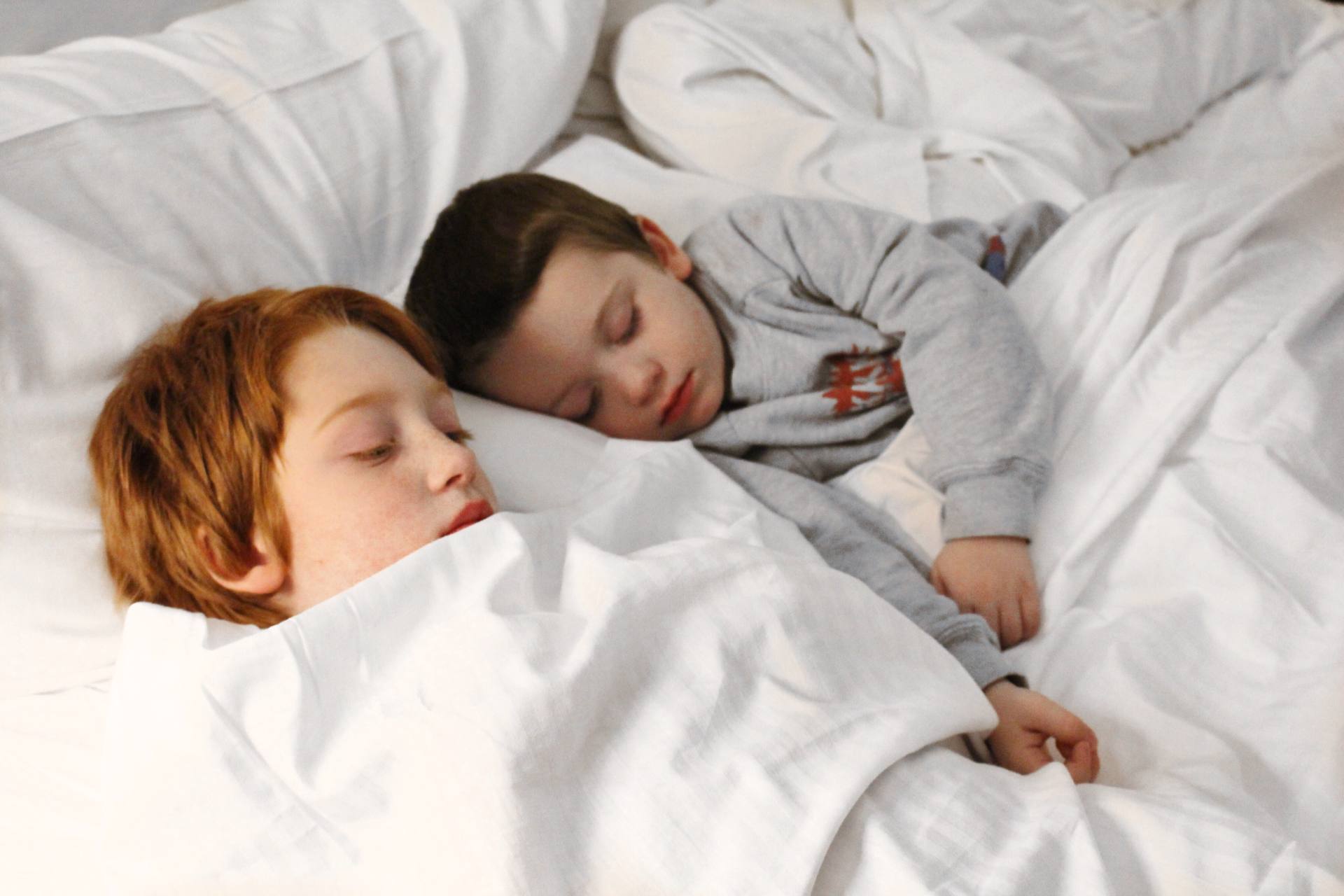 Our sleep was so good that we actually all slept in until 8:30 – yes…8:30! That rarely happens. We had planned on getting up earlier but hey, what's a vacation if you don't allow yourself to relax a little? We headed down to Epic (another great restaurant at the Fairmont) shortly after waking up. They have a great breakfast buffet that was a hit for the whole family. They had something for everyone – crepes, eggs Benny, waffles, pancakes, you name it! It's nice going somewhere that has so many options for kids. Our server was incredibly nice as well and so sweet to our kids.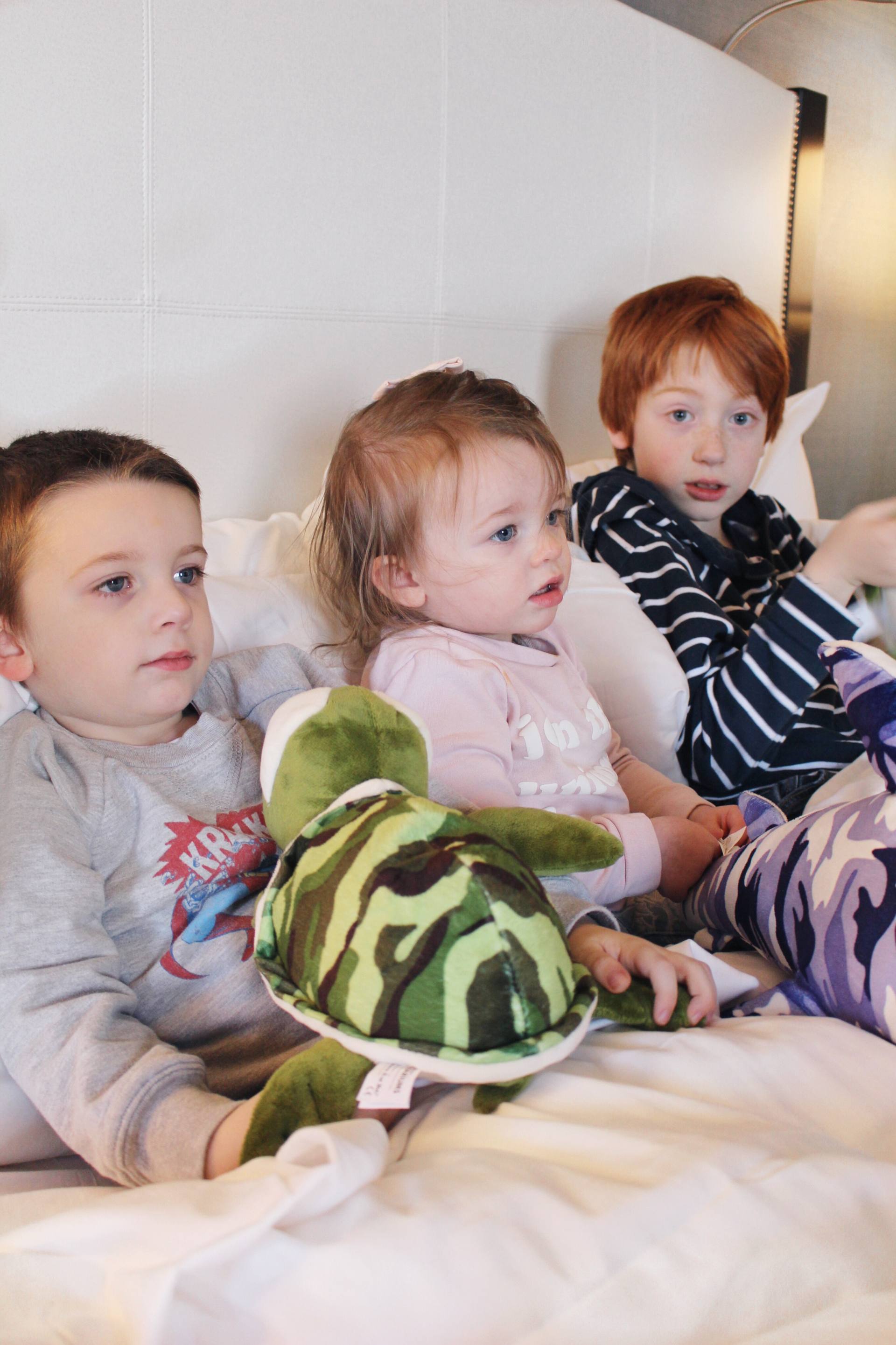 To wrap up our little Staycation in the city we headed to Ripleys aquarium. Did you know that the Fairmont is a Ripleys Aquarium hotel partner? This is great news for you if you're planning a Staycation with your family because the Fairmont offers a special hotel package that includes a one night stay, two adult and two youth aquarium tickets, valet parking, two stuffed animals and freshly baked cookies! You can get all of the info HERE if you're looking to book the package similar to our stay.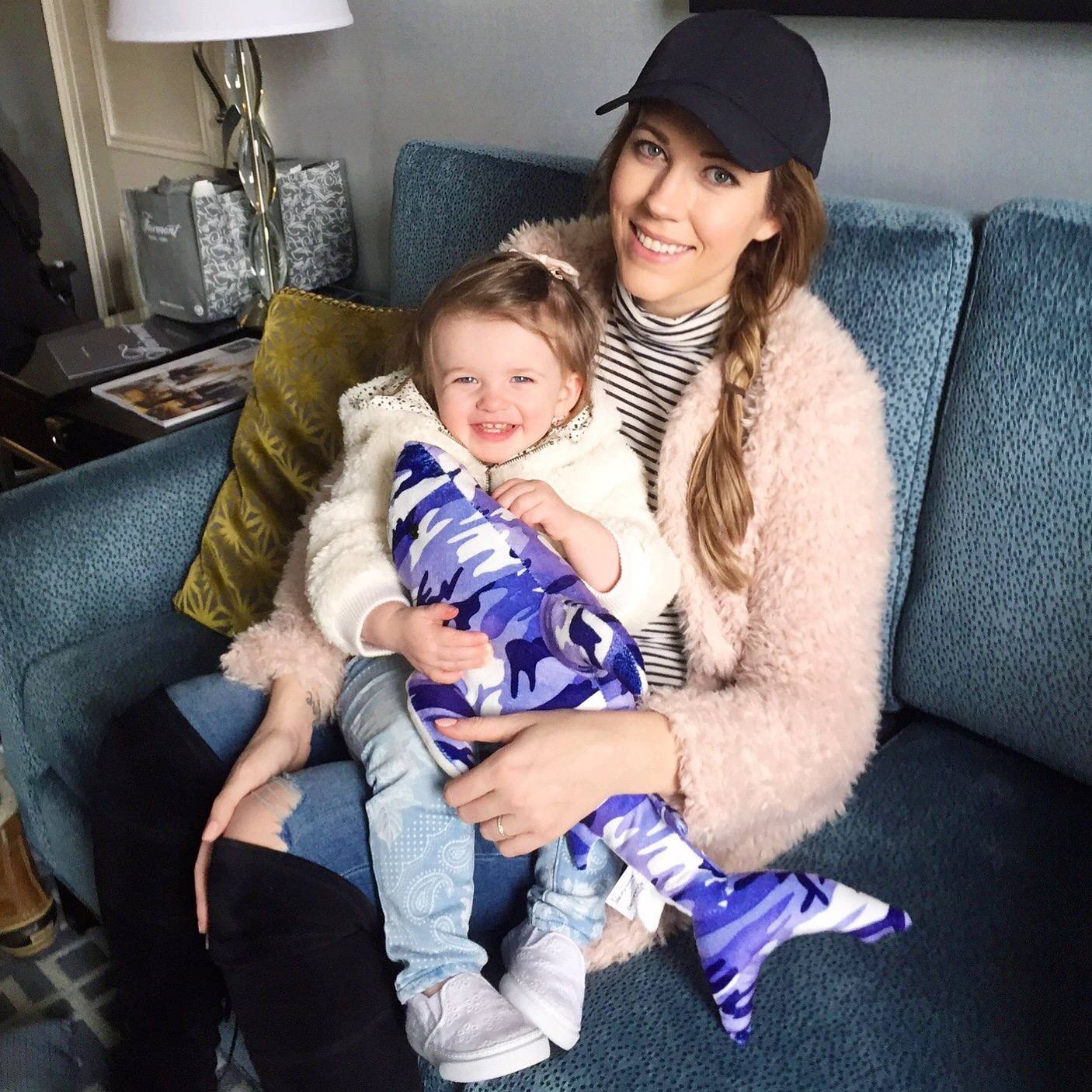 Our kiddos brought their stuffies with them to the aquarium and got a kick out of showing their stuffed sharks and turtles to the ones they saw swimming around. They especially loved going through the tunnel area of the aquarium where the sharks and fish swim above and all around you. It was a great way to end our trip.
Thank you so much to the Fairmont for helping us kick off our March break! We had the best time and the details and thought that went into making our kids staycation so special meant so much to us. We can't wait to bring them back for another adventure soon!