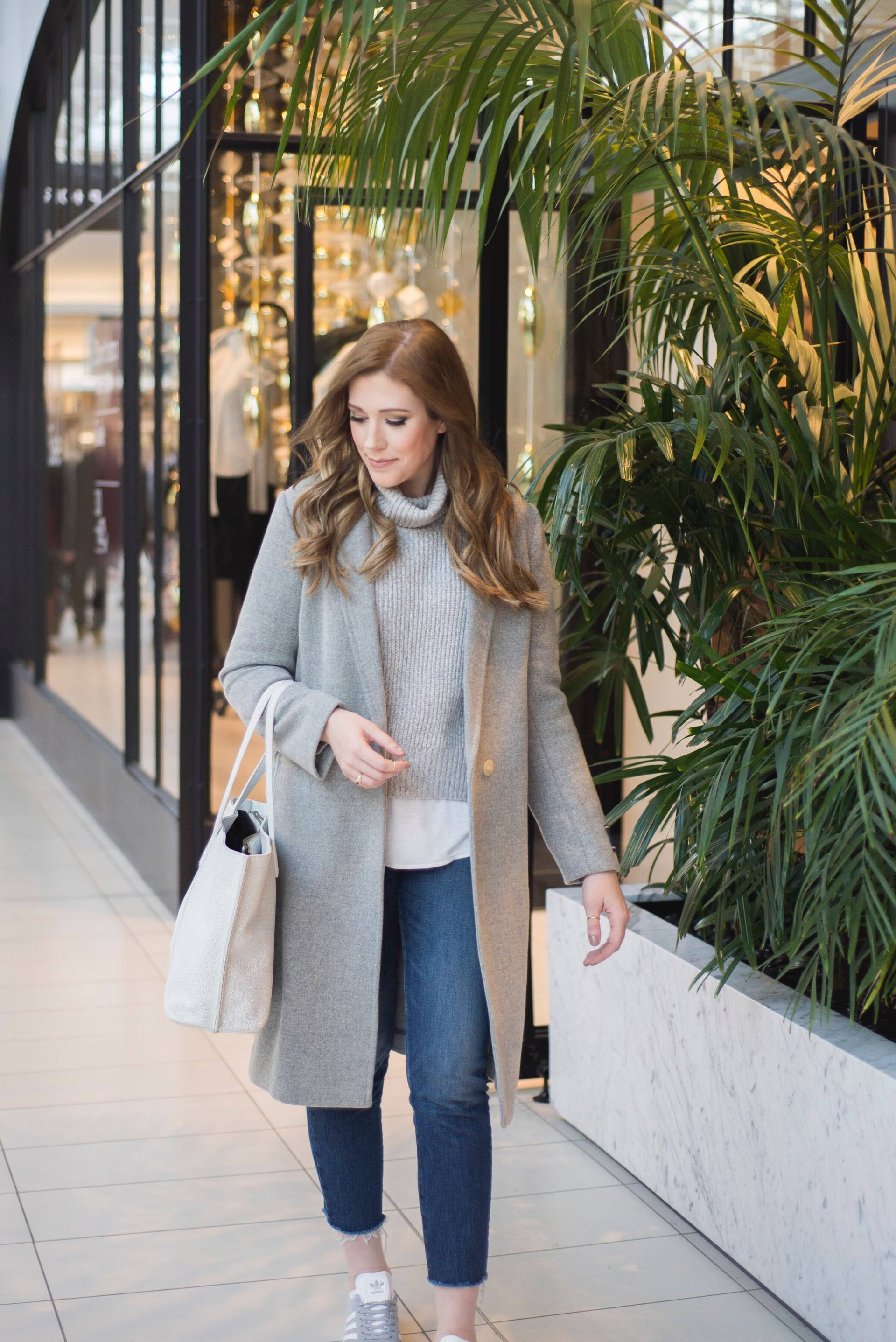 It's been a typical Canadian winter these past few weeks which means bundling up in lots of cozy layers. I may not be a fan of the below zero temps but I do enjoy dressing for them. I pretty much live for cozy days so throwing on lots of layers during the cooler months brings me so much joy.
Pulling off a perfectly curated layered look isn't as easy as it sounds though. The trick is, creating layers that look effortlessly fashionable without looking frumpy or bulky. But how? Let me share with you how I pulled together this look from the Oshawa Centre and a couple of other tips and tricks you may find helpful for creating your own layered ensembles this winter.
I start by wearing a bodysuit tucked into my jeans for extra warmth. Then, for my top I went with this grey cropped turtleneck from Aritzia. Cropped sweaters are really trendy right now (any cropped knit will do) and they look great with a long form fitting t-shirt underneath (or long button up shirt). This will keep you nice and warm while still looking well styled and put together. I've paired this outfit with my favourite grey adidas from Town Shoes (which I snagged for 15% off!) but these jeans would also look great with a tall bootie. I finished off the outfit by layering a nice fitted wool winter jacket over top for extra warmth and a polished off look. It's important to layer pieces that will also look great as you remove them during the day. Always keep in mind that if you're inside or start to get warm people will see what's hiding underneath so choose pieces that look great on their own as well.
Some other cute layered outfit ideas are pairing a thin turtleneck with a chambray shirt and open cardigan, wearing a dress and belting a long sweater over top and lastly a fit and flair skirt pairs nicely with tights and a chunky pullover knit. Be sure to check out more winter style tips with me as I take over the Oshawa Centres Instagram account this coming Monday!