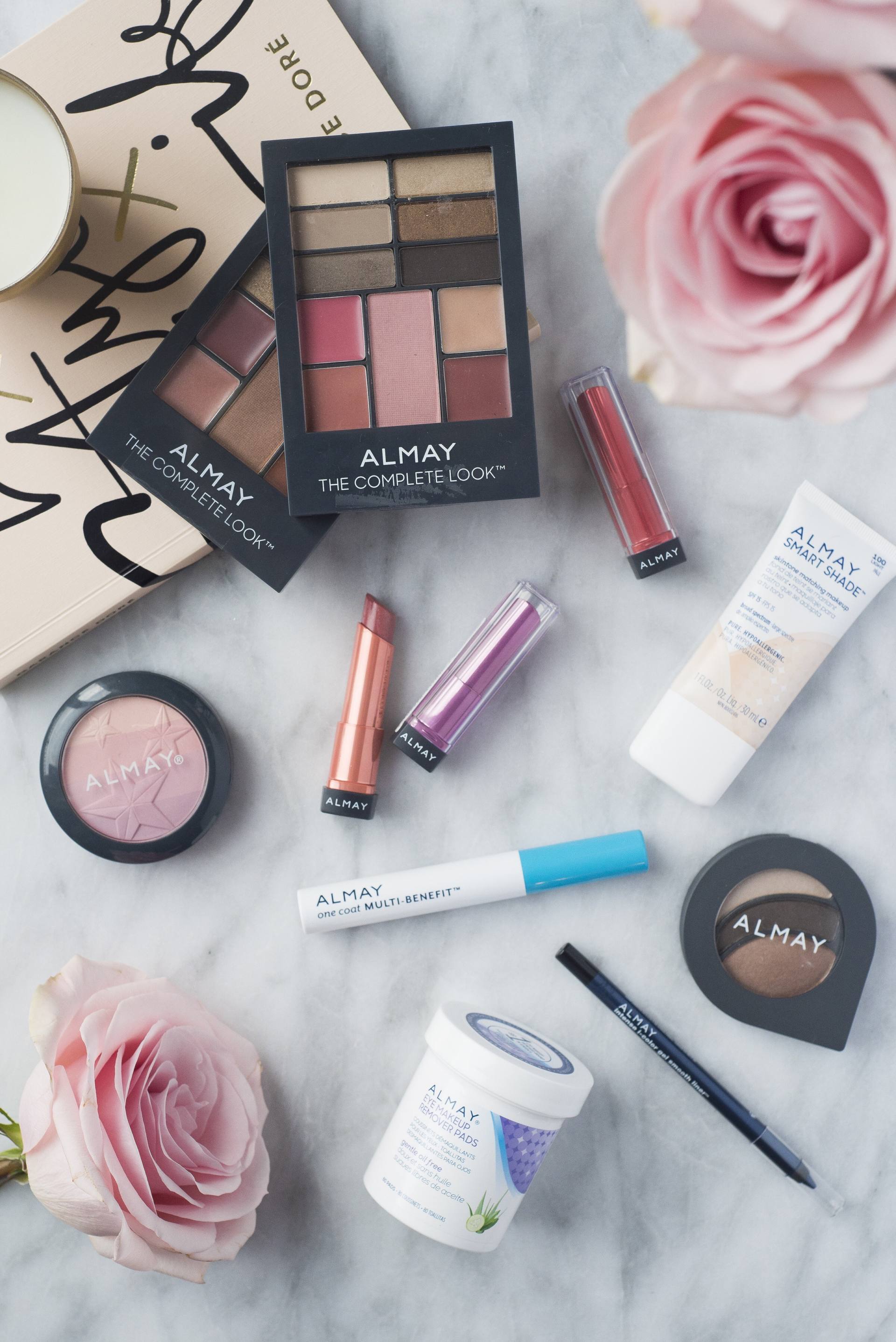 As a mom of three, my schedule is usually quite hectic. I'm always on the go. Whether it's rushing to school in the morning, juggling the kids schedules and appointments, getting groceries, changing bums, entertaining these wild little monkeys AND working from home, things can get really crazy around here. This, of course, doesn't leave much time for my beauty routine. While I love makeup and taking care of myself, finding the time to get ready can be a challenge. I've finally managed to lock down a 5-minute face in the morning that makes me feel fresh faced and put together without taking too much time out of my already hectic day.
Almay has been a long time favourite of mine. I have sensitive skin so finding a brand that's hypoallergenic and only uses high quality ingredients in the most innovated formulas has been a life saver. My favourite products for creating my 5-minute face are:
Smart Shade Skin Tone Matching Makeup

– Ok, you need this! I'm not kidding. If I had to choose only one product to use for the rest of my life, this would be it! This foundation matches my skin tone perfectly – no lines. I'm super pale so I find it really hard to find foundation that isn't noticeable on my skin. It looks very natural so it doesn't look like I'm wearing a ton of makeup and gives me full coverage. Seriously, you won't buy another foundation again after trying this. It makes my morning routine so much easier. Knowing that when I quickly put it on ill have an even skin tone and look natural is a huge time saver.

The Complete Look Palette

– This all-in-one palette is all you need. It's expertly coordinated to compliment your skin tone which makes it so easy for me in the morning. I love the soft pink blush for a little pop of colour on my cheeks. It comes in three different colours for light, medium and deep skin tones, so there is something for everyone!

Age Essentials Lip Treatment

– This lip treatment is so hydrating. I apply it a few times a day and it makes a huge difference in the appearance of my lips. Around this time of year, I find my lips get very dry and cracked so this has really been a huge help. It diminishes my creases and lines so my lips look young. This is also SPF 30, now that I'm in my thirties I try to use products that have SPF to save my skin from aging quicker.

One Coat Multi-Benefit Mascara

– When they say one coat, they mean one coat. This mascara is awesome; I love that it gives my lashes so much definition without clumping (that's really hard to find in a mascara – trust me).
That's it! Almay has so many great products but those are my "go to" four items that I use every morning to create my five-minute face. It wears great and stays on all day. I don't have to touch up my makeup very much during the day but I do use the Age Essentials Lip Treatments a few times a day to keep my lips hydrated. 
Have you tried any of these Almay products? I'd love to hear your favourites.