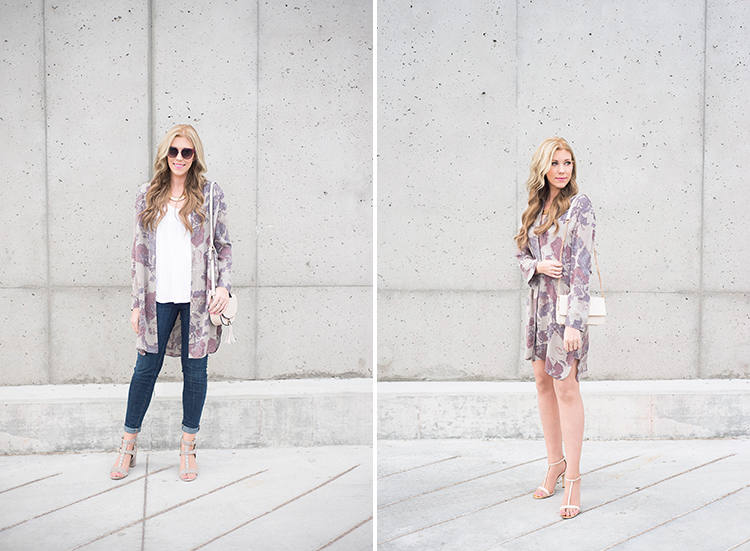 Outfit One: Dress – Aritzia, Jeans – Jean Machine, Sandals – The Bay, Sunglasses – Le Chateau, Necklace – Le Chateau
Outfit Two: Heels – Call It Spring, Bag – Le Chateau, Rings – H&M
Friday nights can never come soon enough! You've had a long day at the office and you're ready to let loose and get your weekend started! Getting dressed for the day can be easy but when you're in a hurry to switch into evening wear it can be a bit of a challenge. Let's talk about how to make that happen…
Making the switch from day to night can be tricky but the key to two successful outfits is finding the perfect transitional piece. For example, this tunic dress from Aritzia is perfect for dressing down when paired with your favourite distressed skinny jeans, white tee and cute chunky heeled sandal. This dress is buttoned down so you can wear it open for a more relaxed feel. I love a good boho chic look and this one is great for a day out shopping, lunch with friends or just a casual day at the office.
Now for a night-on-the-town look. Are you headed out for a romantic dinner date later? Or, maybe you have a girls night planned with some of your closest gal pals – appetizers and drinks anyone? Simply wear this tunic dress buttoned up with a classic nude heel and a killer clutch for the perfect night out look.
This dress is a great investment piece because it's so versatile. It's made out of silk so it's perfectly appropriate for the evening and elevates your daytime outfit by giving it a more chic feel. What are your favourite transitional pieces when dressing from day to night?