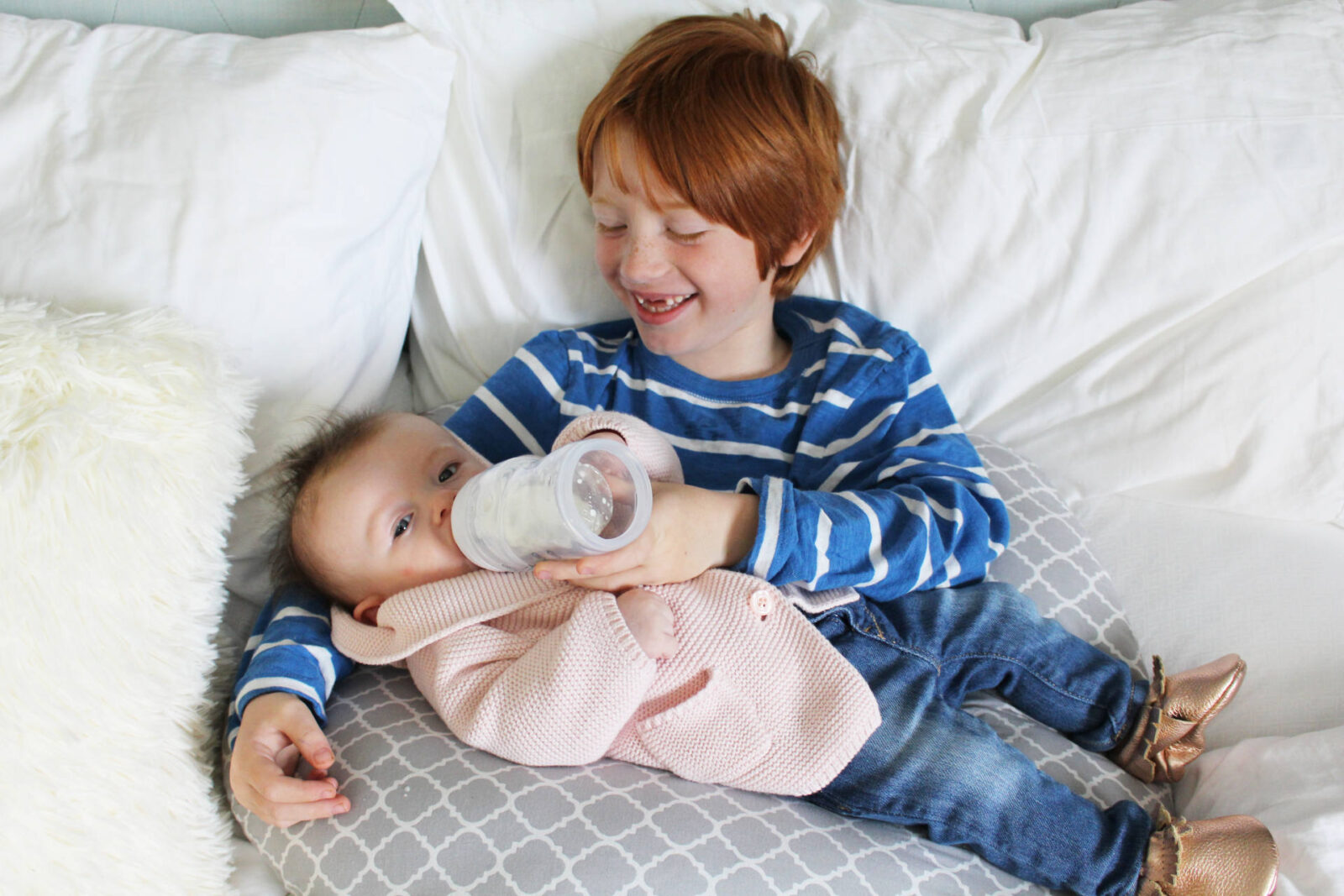 Just before Zoë arrived (in June) I was nervous that having three little ones was going to feel overwhelming. Much to my surprise becoming a family of five has been easier than I had anticipated. Aside from the no sleep – that's just something I'll never get used to, haha! I find this time around, with our daughter, I'm much more relaxed and I think that has a lot to do with the knowledge I have from raising our boys. There are some things I wish I knew the first time, like with Austin our eldest. He had reflux as a baby and he had it bad. Constant throwing up (I'm talking projectile vomiting – awful) and colic from gas pains. It's so sad when nothing seems to help. We went through the same issues a few years later with Max as well. We tried everything to reduce the reflux to a minimum. Having his crib mattress on a bit of an angle seemed to help a little but what really did the trick was switching bottle brands. We started using Playtex and I swear by them now. Their bottles really reduced the amount of air intake for Max when he was bottle feeding and he seemed so much more comfortable.
I'm always on the look out for new products that make life as a parent easier and was intrigued when I heard about the Playtex Nurser with Drop-Ins Liners. My interest was piqued when I found out the liners are disposable and you don't need to constantly wash bottles. If that's not a mom win, then I don't know what is! We tried the 4oz Nurser bottle with drop-ins liners and love how convenient they are, especially when we are out running around. We recently started bottle feeding Zoë and the switch has been surprisingly easy, she's taken to it quicker than I expected. I was nervous about trying a new bottle with her because of the colic issue but the liners in the Playtex bottles collapse gently, preventing air from mixing in with the milk. I've yet to notice much discomfort or colic with her since using them which is great.
I'd like to give 65 of you the opportunity to try out your own sample of the Nurser Drop-ins and to review them on Amazon.ca. ** To participate in this program you have to have made an Amazon purchase in the past (doesn't matter what you've purchased – just an active Amazon.ca account), otherwise you will be unable to leave a review** One of the reviewers will be selected at random to win an Amazon gift card ($150 value). You can review either the 4oz. slow flow (for younger babies) or 8oz. medium flow (for older babies). To be eligible to win the $150 Amazon gift card you will have to provide me with the link to your review and I will draw from everyone who completed the task. To enter, just leave a comment below telling me why you'd like to try one of Playtex Nurser Drop Ins. I'll notify the 25 people selected on Monday Nov 2. Good Luck!