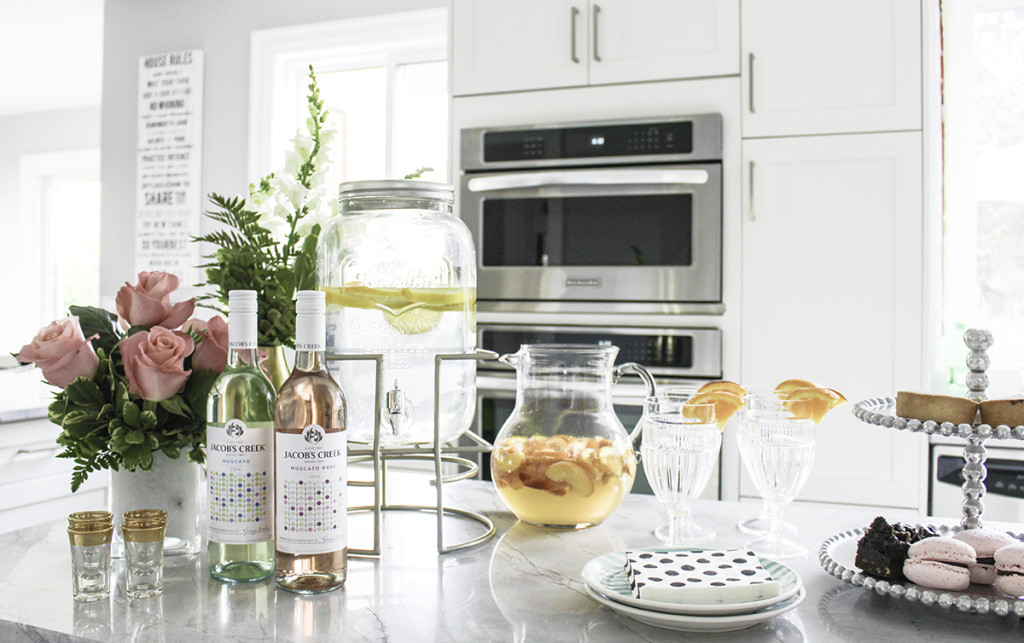 With three little babes keeping me busy it's not often I get to enjoy an evening with friends sans children; a girls night in has been long over due. I wanted to do something fun, so of course that meant an evening in with my ladies watching Bachelor in Paradise while sipping on sangria. YES please! Jacobs Creek Georgia Peach Sangria is definitely my "go to" cocktail of choice to serve while entertaining friends. I have to warn you though, this sangria is dangerously good! It's very light, not too sweet and has bursts of juicy peach and citrus flavours – it's basically summer in a glass, YUM!
When hosting a girls night in I like to have a spread of snacks laid out and fresh flowers, keeping to the girly theme. Entertaining friends at home can be overwhelming to organize so I like to keep it simple when it comes to food. A charcuterie board is always easy to throw together with some nice meat and cheese, crackers and bread. I also like to have snacks like chips and salsa, a couple small bowls filled with nuts and berries and of course, dessert! It's always fun to have everyone come in their pyjamas – keep it cozy…and hey, you don't need to pick out an outfit so it's one less thing you need to worry about, haha!
So there you have it, the ultimate girls night in! Good friends, good food, GREAT Sangria and pyjamas – a guaranteed good time!