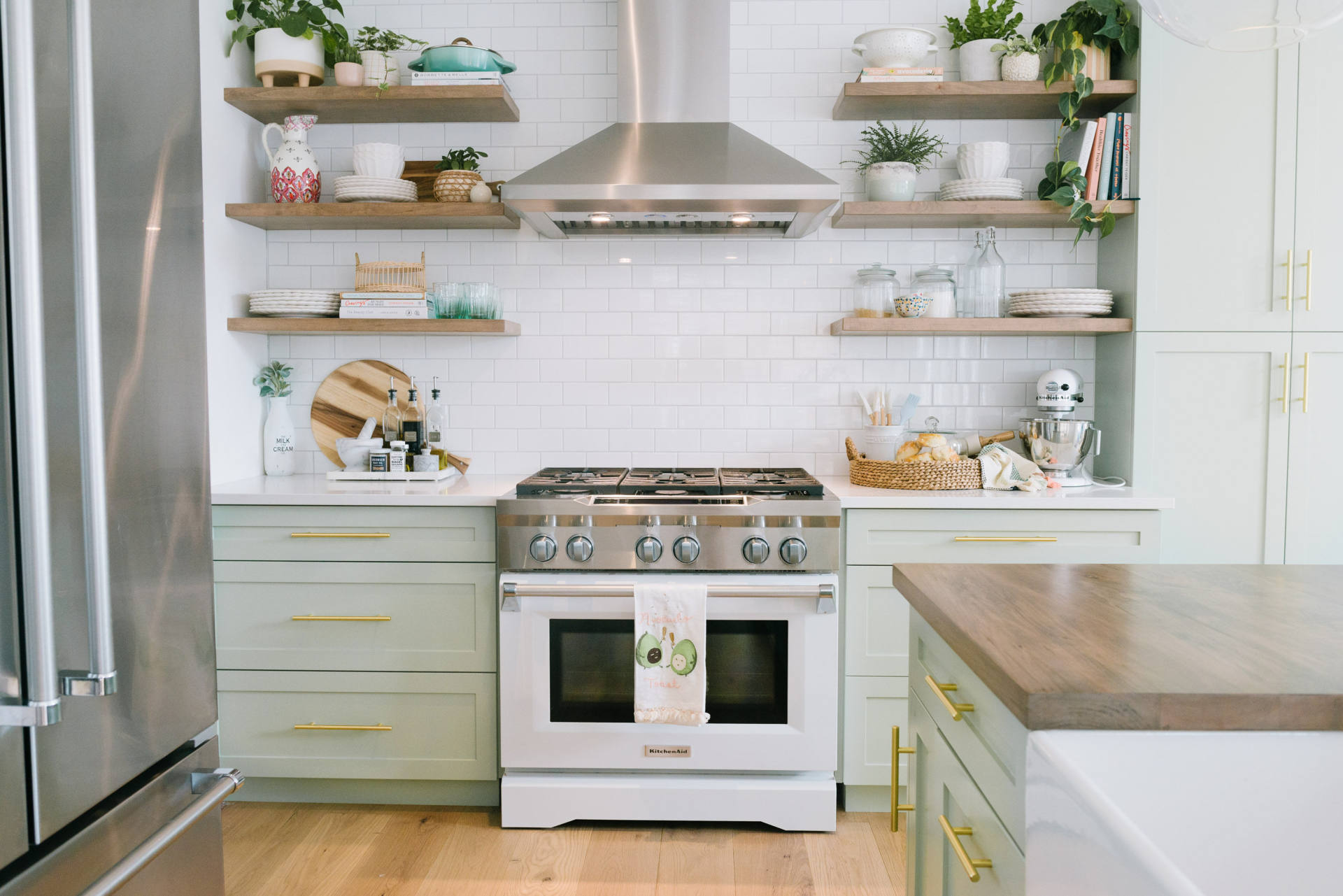 It's kitchen reveal day! This space was such a labour of love but we are so happy with how it all came together. We originally had a very dark kitchen with black appliances and wanted to brighten up the space and bring in some colour. We were originally considering doing the cupboards white but ended up taking a bit of a risk last minute and went with a light sage green. What do you think?!
Cory chose our appliances which I've linked below and we've been using them for about 8 months now and couldn't be happier with them. I love how the white stove pops against the cabinets and it is SO nice having a counter depth fridge. Our old one stuck out and made the space feel so much smaller so we've enjoyed having more room to move around.
I need to say a big thank you to my dad as he built our kitchen including the wood counter top and the floating wood shelves. I mayyy have changed my mind a few times so I appreciate his patience and all the hard work he put into this for us. I'll add…floating shelves are not as easy to install as you'd think! But they are so worth it!! Right dad?! (He had a fun time with those haha…we can laugh about it now).
I've linked to everything in our kitchen below, let me know if I missed anything. I hope you love it as much as we do:
Brass Faucet – Ikea
Counter Tops:
Marble and Glass Cheese Dome (used for scones)
Marble Tray (holding oils, salt, etc.)
Shelves:
Plates and Bowls – sold out, similar HERE and HERE
Glass Flour Jars – Ikea
Large Glass Bottles – Ikea
Our Favourite Cookbooks: Cravings, Bobette And Belle, My Father's Daughter, The Beauty Chef, Butter, Bon Appetit Y'all, Avocaderia, Healthier Together
Other Books: Make Yourself At Home, Celebrate, The Year Of Cozy
Neutral Medium and Small Planters – Homesense
Ombre Sage Green Cookware – Homesense
Large White/Neutral Colour Block Footed Planter
Neutral Plant Pot With Rattan Accent
Pitcher – Old, Similar HERE 
Bread/Fruit Basket – H&M old