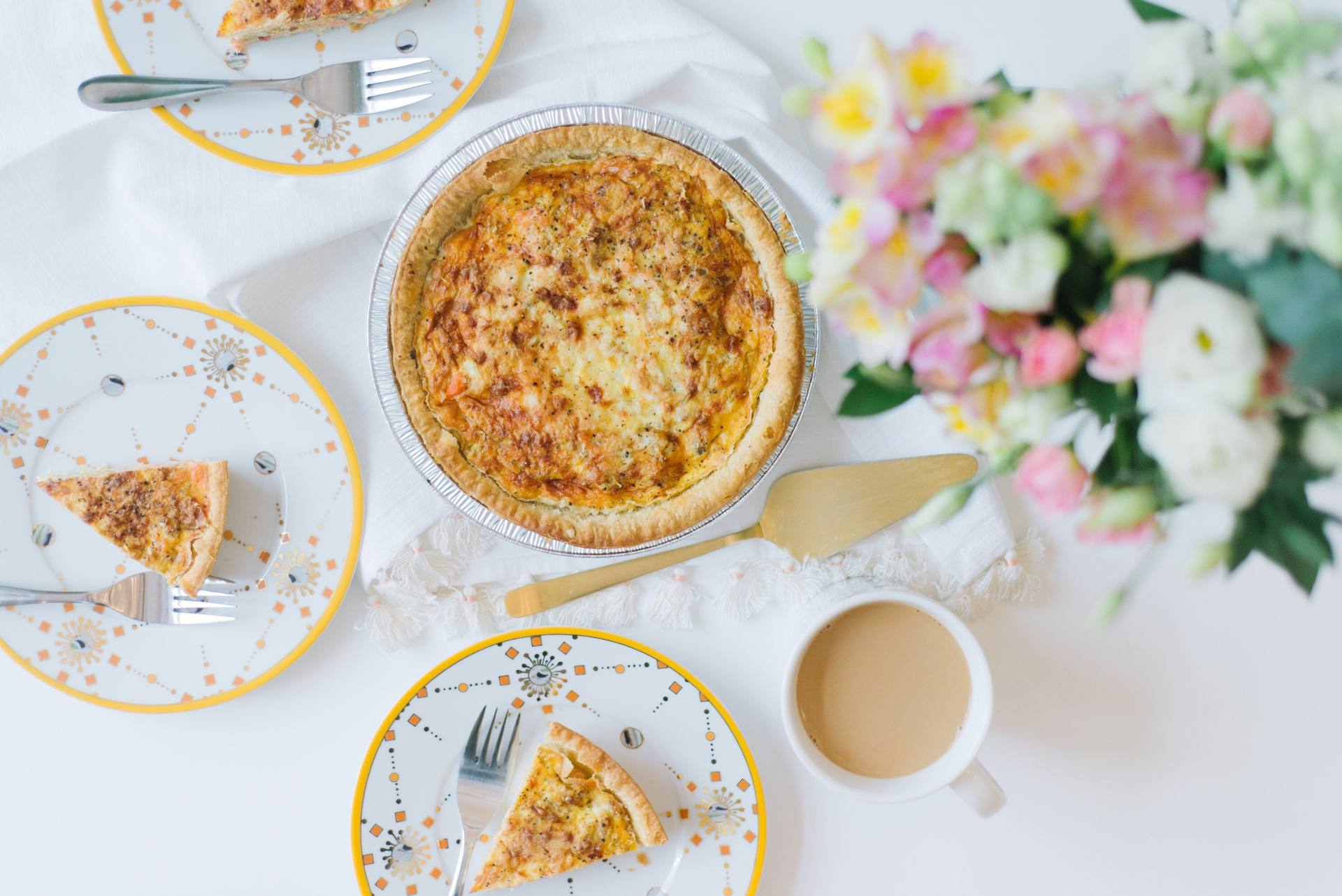 This quiche recipe is a new family favourite and we thought you might like to give the recipe a whirl so we've shared it below. Cory whipped it up for the kids a few weeks ago and they all gobbled it up in record time so it's safe to say this one is kid friendly too! It's a great family breakfast option for weekend mornings or to enjoy for lunch throughout the week.
I wanted to add, when you're shopping for ingredients be sure to grab Maple Leafs "Hearty Slice" thick cut bacon. Maple Leaf now makes their products with real, simple or natural ingredients so you can feel good about feeding them to your family. There's no artificial preservatives, flavours, colours or sweeteners in their products AND they taste delicious! I always reach for their products when I'm at the grocery store because the labels are clear so I know exactly what I'm feeding my kids. That's something that's really important to us when we're making meals for our little ones!
Let us know if you give this recipe a try and if you enjoyed it as much as we do:
Salmon, Leek and Bacon Quiche Recipe
Ingredients
Crust
1 3/4 cups all-purpose flour, plus more for dusting
1/4 teaspoon salt
3/4 sticks cold unsalted butter, cubed
1 large egg yolk
1/4 cup ice water
Filling
5 oz salmon fillet
1/2 lb of Maple Leaf thick cut bacon
2 leeks (just the tender parts) cut length wise and then thinly sliced
2 oz of grand padano cheese
3 large eggs
1/3 cup heavy cream
1 Tbls of butter
1 tsp chopped fresh thyme leaves
1/2 tsp smoked paprika
1/4 tsp garlic powder
1/4 tsp onion powder
1/4 lemon juiced
Salt and pepper
1. Pre heat the oven to 325° f. Lay bacon flat on a parchment paper lined baking sheet and place in the middle of the oven. Cook until crisp flipping once (15 to 20mins).
2. In a food processor, pulse the 1 3/4 cups of flour with the salt. Add the butter and pulse until it is the size of small peas. Add the egg yolk and ice water and pulse until the pastry is moistened. Turn the pastry out onto a floured work surface and knead 2 or 3 times, just until smooth. Pat the pastry into a disk, wrap in plastic and refrigerate until firm (about 20 mins)
3. Take bacon out and cool on a paper towel lined plate. In a large skillet on moderate heat Add butter, leeks, thyme, all of the spices and season with salt and pepper. Stir occasionally until leeks are softened but not browned, about (5 mins). Transfer to a bowl and let cool.
4. Season salmon with salt and pepper and lemon juice. Place skin side down on a foil lined baking sheet and Roast in a 375° f oven. Bake until just cooked through, this will depend on the thickness of your cut of salmon (anywhere from 10 to 15 mins) Do not over cook. Set aside and allow to cool.
5. Preheat the oven to 375°. On a floured surface, roll 1 disk of the pastry to a 12-inch round. Ease the pastry into a 10-inch pie pan. Trim the excess and refrigerate the pie shell for (10 mins).
6. Place pie crust in oven and bake until cooked (30 mins). Allow to cool before filling pie crust (5 to 7mins).
7. Flake salmon into 1/2" chunks and cut bacon into 1/4″ pieces. Evenly distribute salmon chunks, leeks and bacon pieces in the pie shell.
8. In a bowl, whisk the eggs and heavy cream. Season with salt and pepper. Pour the egg mixture into the pie shell and shred cheese over top. Bake for about 30 minutes until puffed and lightly browned.
9. Transfer the quiche to a rack and let cool for 15 minutes. Serve and enjoy.
This post was sponsored by Maple Leaf however all thoughts and opinions are completely my own.