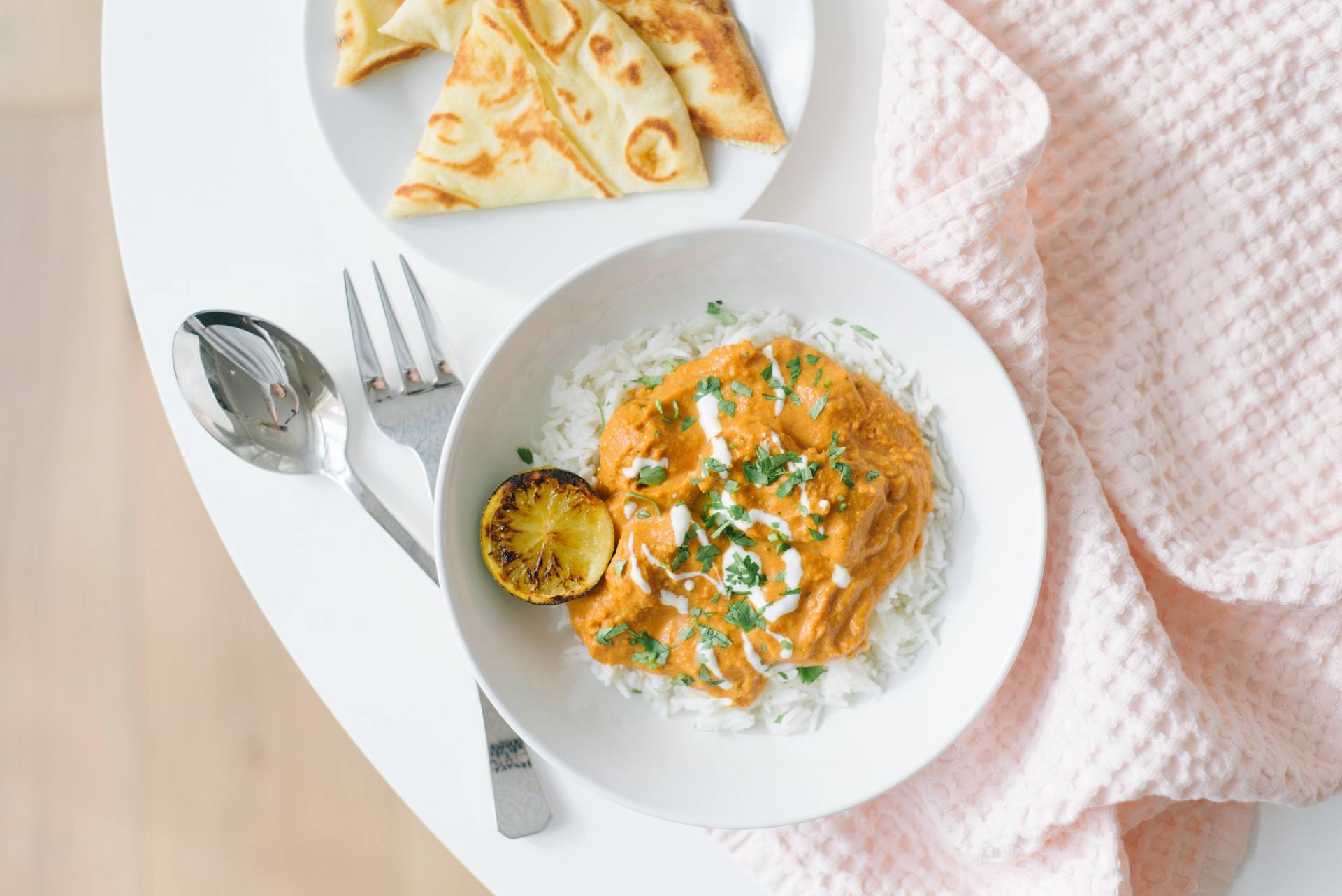 Cory's Butter Chicken recipe is one of my favourite things to have for dinner so I thought it was about time we shared it with you! This recipe takes a bit of time so it's one you might want to save for a leisurely Sunday BUT it's totally worth it and it freezes really well so you'll have lots of leftovers. If you love this recipe as much as we do be sure to let us know and share on Pinterest 😉 Happy cooking!
Ingredients:
Chicken Marinade
2 pounds boneless skinless chicken thigh
2 garlic cloves (pressed)
2 tsp ginger paste
1 cup Greek yogurt
1/2 lime (juiced)
Pinch salt and pepper
Sauce
3 Tbsp ghee or (if you don't have it) butter
1 large yellow onion (diced)
1 760 ml bottle tomato purée
1 cup heavy or whip cream
1/2 cup chicken stock
3 tsp ginger paste
3 garlic cloves (pressed)
1 1/2 Tbsp white sugar
1/2 tsp garlic powder
1/2 tsp onion powder
1 tsp chilli powder
1 tsp sweet paprika
2 tsp coriander powder
2 tsp garam masala
1 Tbsp cumin powder
Pinch salt and pepper
Directions:
1. Combine all marinade ingredients ingredients into a large ziplock bag and store in the fridge overnight.
2. For sauce – In a large Dutch oven on medium to high heat add ghee, onion, all spices, salt and pepper. cook until onions are soft and translucent (about 5 mins). Add sugar and stir (2mins). Add garlic and ginger paste stir until fragrant (30seconds).
3. Add tomato purée and continue to cook (7mins). Take off heat add chicken stock and blend with an immersion blender until smooth. Be extremely carefully, you can use a kitchen towel like a tent over your Dutch oven to reduce the possibility of splashing hot liquid while blending.
4. Put the Dutch oven back on the heat and bring to a boil. Reduce heat to simmer (about 7 mins). Slowly add heavy cream while stirring quickly to combine. Continue to simmer (10 mins).
5. While sauce simmers take out marinated chicken (discard marinade) and cook in a non stick frypan on medium high heat with a small amount of oil. Be sure to brown all sides (5 to 6 mins).
5. Add browned chicken to the Dutch oven containing sauce and continue to simmer stiring occasionally (12 mins).
6. Serve chicken and sauce on basmati rice with a side of naan bread and garnish with cilantro.