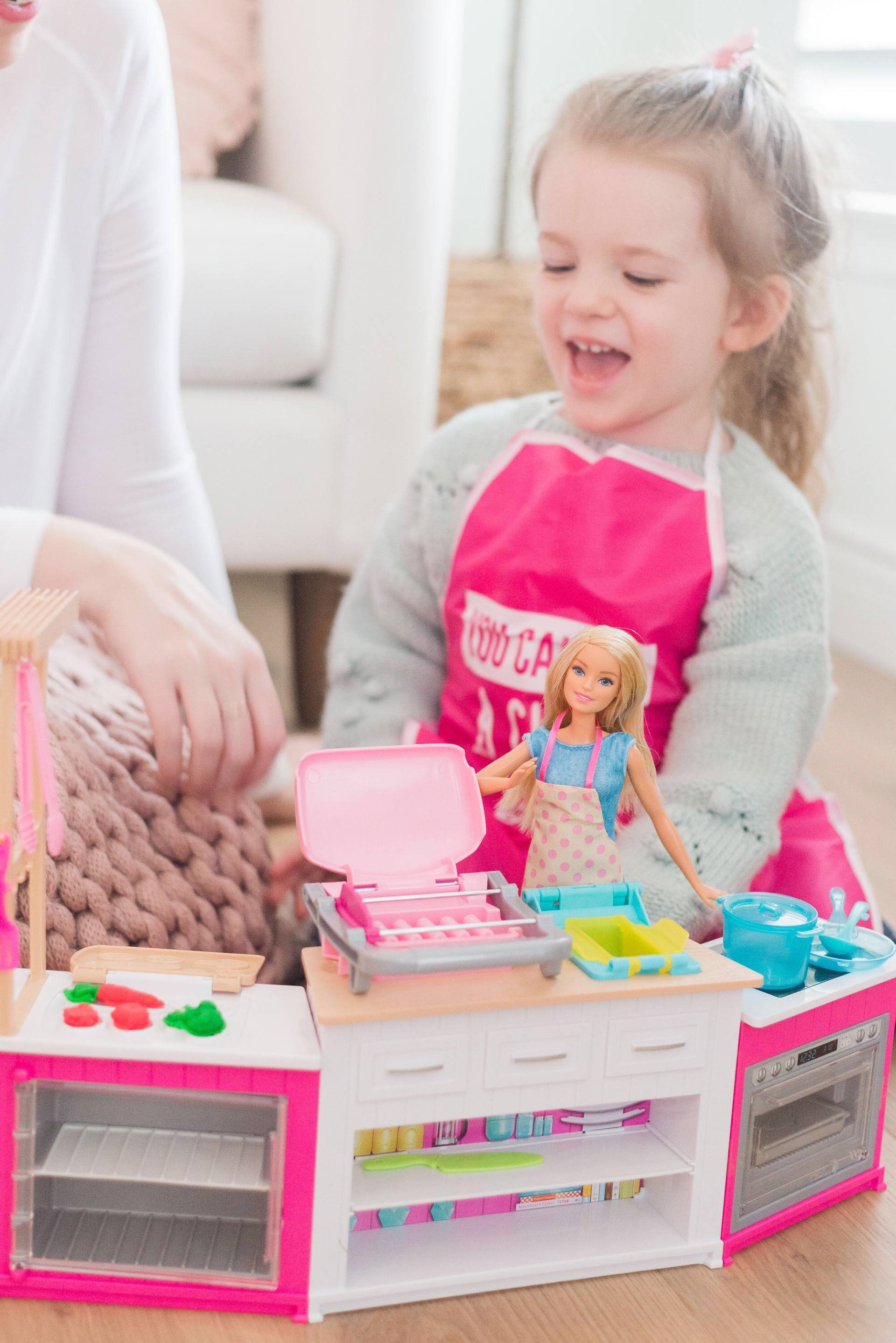 Can you believe that 2019 marks Barbies 60th anniversary!? To celebrate, Barbie kindly sent over the Barbie Ultimate Kitchen to experience life as a chef! Zoe hasn't left it since we set it up, she could play with the little kitchen for hours. My favourite parts are the food molds and dough that are included so you can make pie, fries or little veggies to cook up the stove top. How cute is that? It's such a great interactive toy that encourages imaginative career role play for kids. The boys have even enjoyed playing chef with Zoe. Max has been sitting at the kitchen table and assisting with the making of all the dough food. It's always nice when you find a toy that all of the kids love and actually want to play with on a regular basis!
Barbie has been inspiring girls since 1959, can you believe she's had over 200 careers? We have a few of the career dolls and it's been fun role playing with Zoe and teaching her what each Barbie does for a living. Her favourites are the chef, ice skater and the archeologist. It's pretty neat to see her actually take interest in what they do for a living and watch her act out their careers when we play. I wasn't sure if she'd fully understand at age 3 but it's amazing to see that she really does know what each occupation is and what they do. I don't know if you role play with your kids but it makes my mama heart so happy. Hearing their little thoughts and acting out is just about the cutest thing on earth.
The holidays are quickly approaching and if you're unsure of what to get the little girl on your list I highly recommend the Ultimate Kitchen and career dolls. Barbie is such a positive role model for young girls. She comes in all different shapes and sizes, a wide range of cultural backgrounds and has many careers that encourage young girls to work hard and chase after their dreams. These would make such a great gift for any little girl on your list this holiday season and they're all available at Walmart Canada.
This post was sponsored by Barbie however all thoughts and opinions are completely my own.