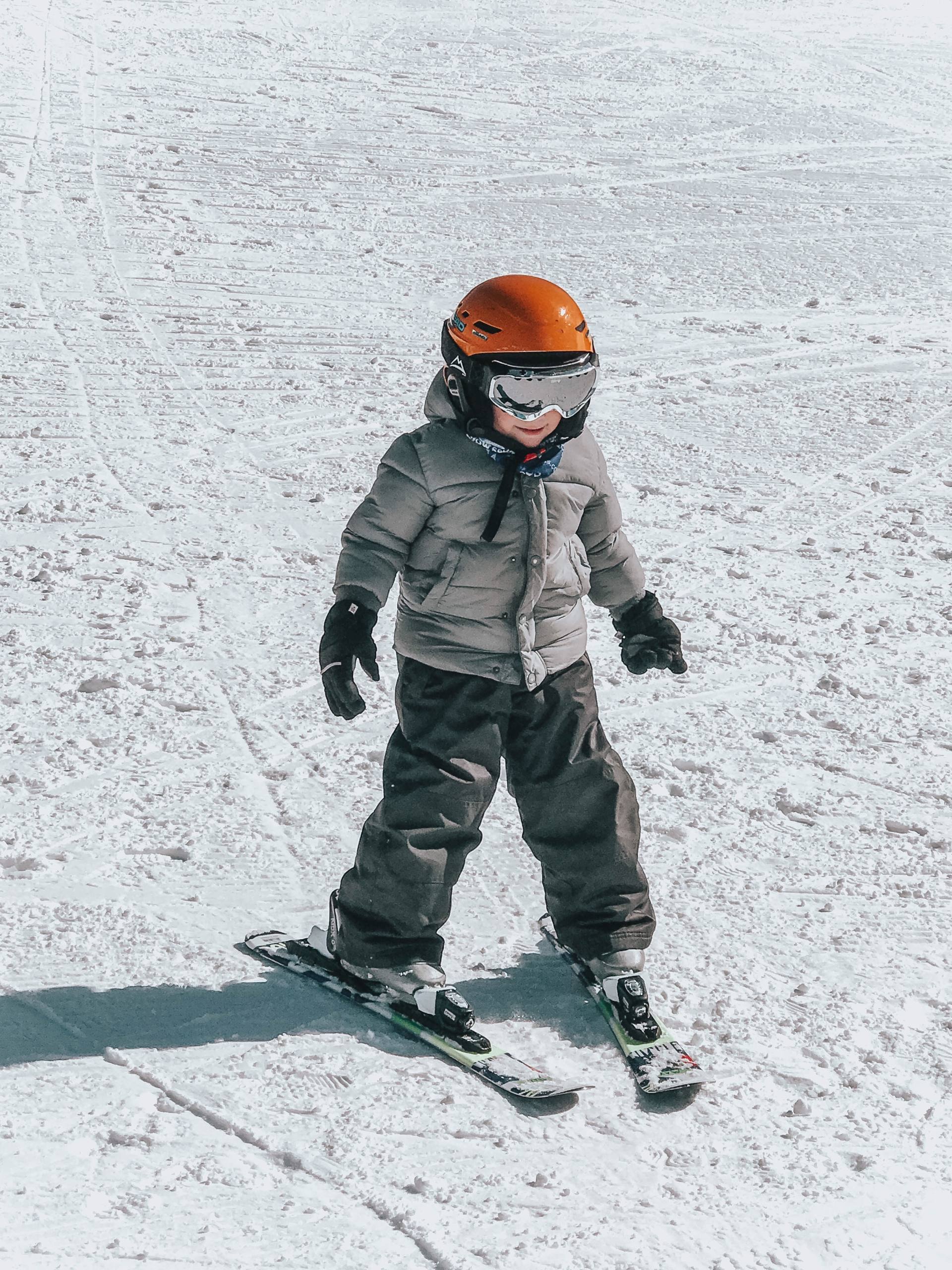 Growing up I loved learning to ski and have such fond memories of going on fun ski trips with my school. I really enjoyed being on the hill as a youngster so I'm surprised it's taken us this long to introduce our kids to the sport. We decided to take the kids on their first ski trip last March Break to Smugglers' Notch Resort and now I wish we had done it sooner. We now have three little ski enthusiasts on our hands! I thought I'd share our experience to help encourage other parents to get their kids on the hill. It's such a great way to enjoy and make the most out of our long winter and there's no better place to learn than Smuggs!
We went to Smugglers' Notch, located in beautiful Vermont, for four nights and five days. It's such a great little getaway if you live in Ontario. The drive was about 6 hours and not as hard as I thought it would be with 3 kids in the car! They have a great deal where they take the Canadian dollar at par for your vacation package, making it a very affordable trip for us Canadians!
We had heard really great things about Smugglers Notch from my friend Andrea who had been with her family before. Our kids had never gone skiing prior to this trip so I really wasn't sure how it was going to go. Andrea assured me that they have great ski camps for kids of all ages so they'll be well taken care of and comfortable. Boy was she right!
To be honest, I was worried the kids might be intimidated skiing on a mountain for the first time so on their first day of camp Cory and I stuck around their area to keep an eye on them. I couldn't believe Austin and Max were skiing down the bunny hill with barely any falls after their first couple of runs! I think it helps that the class sizes were reasonable (Austin lucked out and got a one on one). They were so excited at the end of the day when we picked them up and they were gushing about what an awesome time they had and how they were skiing so well already! They couldn't wait to get back on the hill the next day.
Zoë has a similar experience. She was in treasures daycare as she's too young for camp but they learn to ski there as well. Apparently she was the first one on line and didn't want to go inside after the lesson was over. Considering this was the first time we've ever left her in daycare I couldn't believe how well she did. Treasures updates you through an app and sends you photos all day so you can relax and enjoy your day of skiing while your child is being well take care of.
You can choose to sign your kids up for all day camp on your Smuggs vacation or ski with them all day. We know how hard it is to teach kids how to ski so we obviously chose to go with the professionals. We thought we would see how it went the first day before enrolling them the other two so we were happy they enjoyed it. By the last day they were begging for another day of camp and felt totally comfortable on skis! It's amazing what a few days of ski camp can do. I think this was so much bette than signing them up for 1 hour lessons because they learned so much quicker this way. I haven't heard of many ski camp programs that are set up like the ones at Smugglers' Notch. They enjoyed it so much and the staff is so friendly, we really want to go back so the kids can learn even further.
All in all we had an absolute blast at Smugglers' Notch. We were pleasantly surprised by the amount of beginner terrain for our kids to learn on, the friendliness and patience of the instructors and the overall family feel of the resort. We hope to head back soon and try out even more of their amazing winter activities like dog sledding and snowmobiling! They have so many other activities we'd like to explore, there is just so much to do. If you're thinking about booking a ski vacation this winter I highly recommend taking a look at Smuggs. This trip really brought our family together and I look forward to taking more ski vacations as a family! If you have any questions or would like any activity recommendations feel free to ask me anything.
To book a reservations just head to this site: http://www.smuggs.com/cib OR call: 855-318-7103