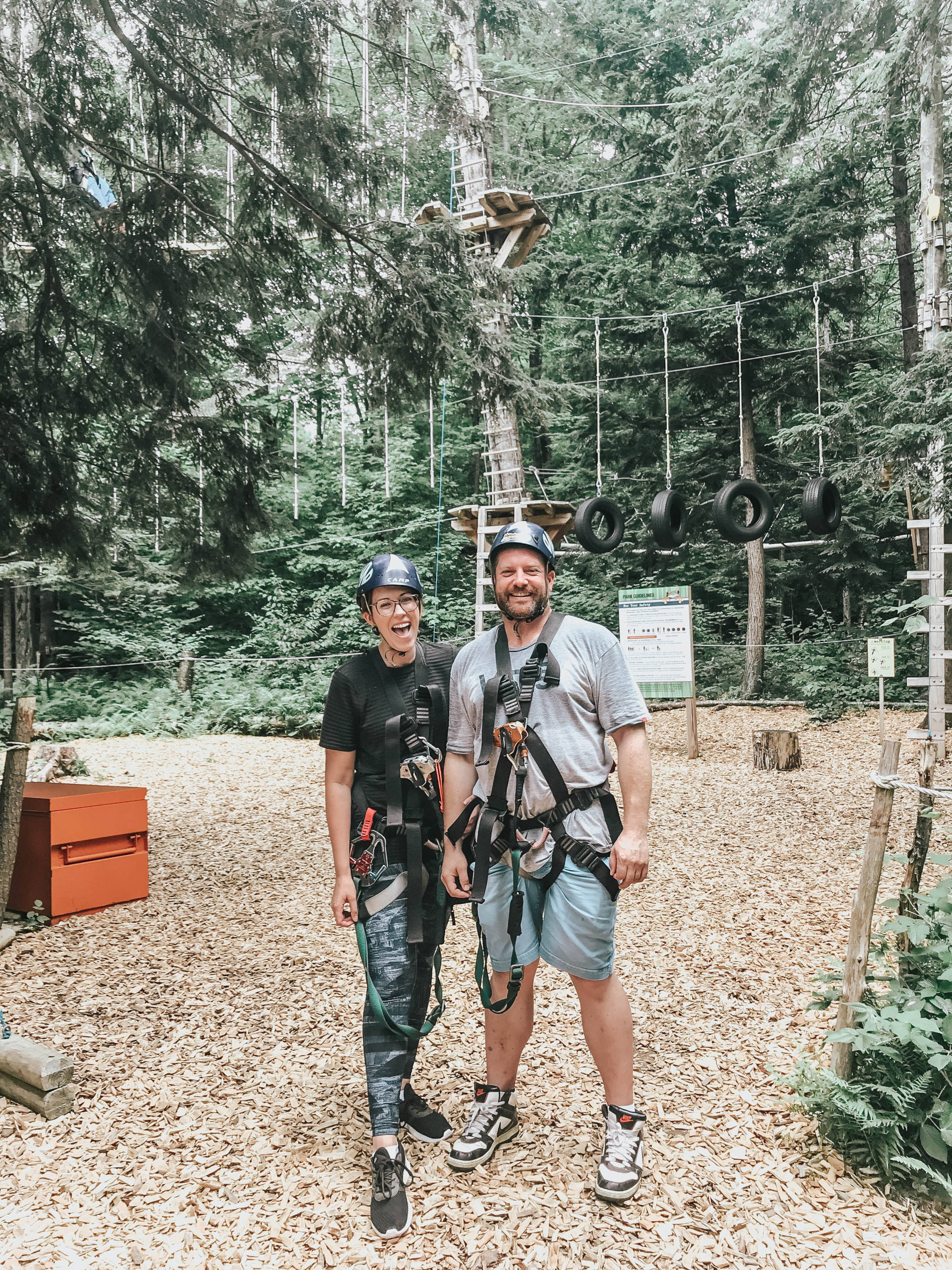 When I try to think about the best way to describe Smugglers' Notch one thing comes to mind…Cheers. You remember that show right? "Where everybody knows your name". There is a comfort there that I really can't put into words. We've been on quite a few family vacations now and every time I ask the kids what one was their favourite and their answer is always Smuggs. The staff are all so friendly and really make you feel at home, it's the perfect place to enjoy a family vacation.
I'm typically not one for vacationing to the same place more than once. We like to see new places and try new things but Smugglers' Notch Resort is one place we really look forward to returning to. I don't think we'll ever tire of visiting! We've been twice now and on both trips the kids always had a smile on their face, they were excited to head to camp in the mornings and participate in that days activities and (the best part) they could care less about video games, TV or I-pads. Mom win!
There is still time left to book a Summer family vacation to Smuggs – hello long weekend! Also, I should add, if you're Canadian Smugglers' Notch Resort offers Canadian funds at par packages! Such a good deal. To book a reservations just head to this site: http://www.smuggs.com/cib OR call: 855-318-7103
I've rounded up our favourite Summer activities at Smuggs, they're all worth checking out if you go! We thoroughly enjoyed all of them:
1. Tree Top Obstacle Course – Cory and I did this together but I'll note kids over 4 can also go (there's a smaller one). What a work out! It's essentially an obstacle course up in the trees. Don't worry, if you fall you're harnessed in haha. I highly recommend signing up for this one day, it's 2.5 hours of pure fun.
2. Mountain Biking – Fun for the whole family! Smuggs has rentals and lessons if you're new to mountain biking and the trails on the mountain are awesome. It's a great work out and there are so many beautiful views while you enjoy your ride.
3. Zip Lining – I wasn't sure if this would be similar to the treetop obstacle course because it also has a couple of zip lines but it is a completely different experience. If you go make sure to ask for Joe as your guide, he was equal parts hilarious and knowledgeable. This was probably our favourite activity. We learned so much about the landscape and it was unbelievably fun, I'd definitely go again.
4. Day Camp For Kids – our kids enjoyed day camp 3 out of the 5 days we were there. There are so many different camp option, I suggest taking a look at Smuggs site to see what there best fit is for your kids. The boys said they wish they had gone all 5 days! They went on hikes up the mountain, swimming, did arts and crafts, sports, music and made lots of new friends. The staff are so down to earth and friendly and our kids felt comfortable as soon as we dropped them off, no tears!
5. Lama Trecking – This is an experience we didn't have the chance to get to but I so wish we did! We did visit the Lamas though! You can sign up to go on a hike up gone mountain with the Lamas and have a picnic lunch, doesn't bag sound like such a fun experience?
6. Drive Through The Notch – Ok, there are really no words for just how beautiful this drive is. It's closed in the winter so this is the first trip we were able to see it first hand and the view was unreal. You drive right through the notch and there are massive rocks with trees growing over them and covering them with their roots. It looks beautifully manicured, definitely a must see!
7. Canoe And Wine – although we skipped the canoe part and went straight to Boyden Valley Winery (haha) this is a really fun excursion. If you go and do the wine tasting you *HAVE* to try the Maple wine. I've never had anything like it and if it weren't for the duties I would have brought back more than one bottle, that's for sure!
8. Waterparks – There are 8 different heated pools, 4 water slides and 2 fresh water reservoirs to splash around in! We enjoyed going to a dip everyday after we got home from our activities in the heat. It was such a nice (and fun) way to cool off!
9. Fun Zone – if you get stuck with a rainy day you're definitely not going to be short ok activities. We love heading to the fun zone with the kids. They have all sorts of jumpy castles and slides, a kids market with fake food and grocery carts, lego stations, games, an obstacle course, laser tag and the list goes on. Austin and I did laser tag one night and we had such a great time. He beat me and came in third and hasn't stopped reminding me about it haha.
10. Morse Mining Co – This was one of the kids favourite activities. They get to pan for minerals and rocks and keep their little treasures! Is that not the cutest activity. The kids still go through their minerals and match them to the sheet that tells them what they are at home. Such a special keepsake!