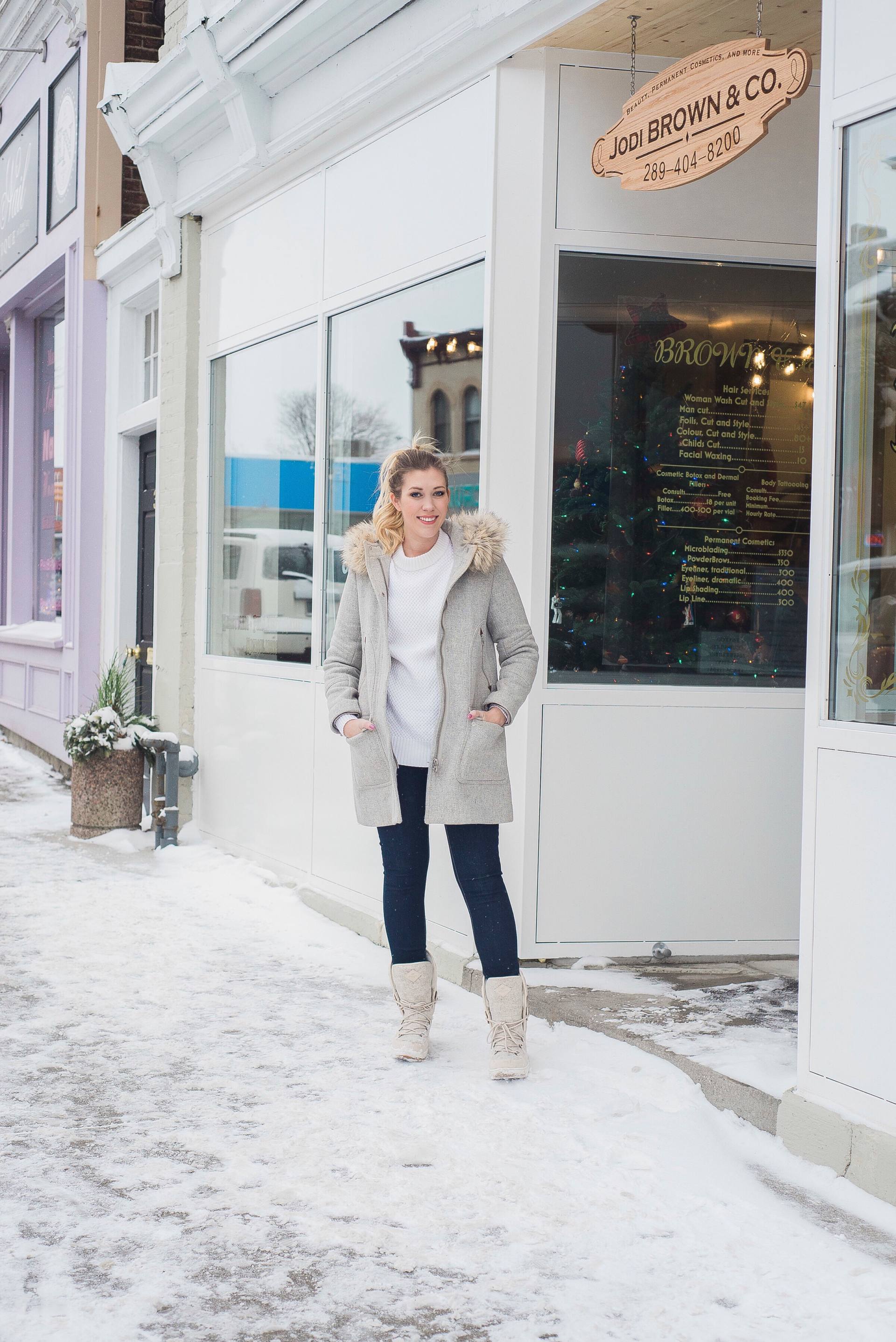 Well it's been a brisk -23 where I live this week so needless to say I've been freezing my buns off! I have no plans to leave the house BUT on the off chance that I have to go out I'll be bundling up in this cozy gear. I picked up these cute Sperry slip resistant boots (so necessary in this weather) and Levi's denim from Mark's and I've been living in them all week. I love that the boots are neutral and cute but still keep my feet incredible dry and warm. What do you think?
I went to an event that Marks was hosting a couple of weeks ago and they had a runway of ice set up so that you could try out their new slip resistant technology. Let me tell you, I was surprised by their grip! This coming from an accident prone mom who's known to have the most epic wipe outs while cautiously walking on snow and ice. I was surprised by how cute the boots are too, I wasn't expecting them to get the job done AND be fashionable and yet somehow they managed to check off both of those boxes. I went with the neutral Sperry Powder Arctic Grip boots incase you want to go check them out. I can honestly say I haven't wiped out once since I've been wearing them, and if you know me, that's pretty impressive!
While I was browsing for boots I happened to pass the denim section and couldn't resist getting my hands on another pair of Levi's. They are my go to brand for jeans and Mark's had a surprisingly big selection. I think I may need to head back and pick up another pair. The ones I'm wearing are the "slimming skinny jeans". They are nice and high wasted and give such a great shape. Have you been to Mark's lately and seen their massive denim selection? If not, you should! The price point was also great.
Let me know if you've had a chance to try out the new slip resistant technology or if you have any questions about them. They're definitely worth giving a whirl, especially if you're accident prone like me. Ain't nobody got time for that!
This post was sponsored by Mark's however all thoughts and opinions are completely my own.