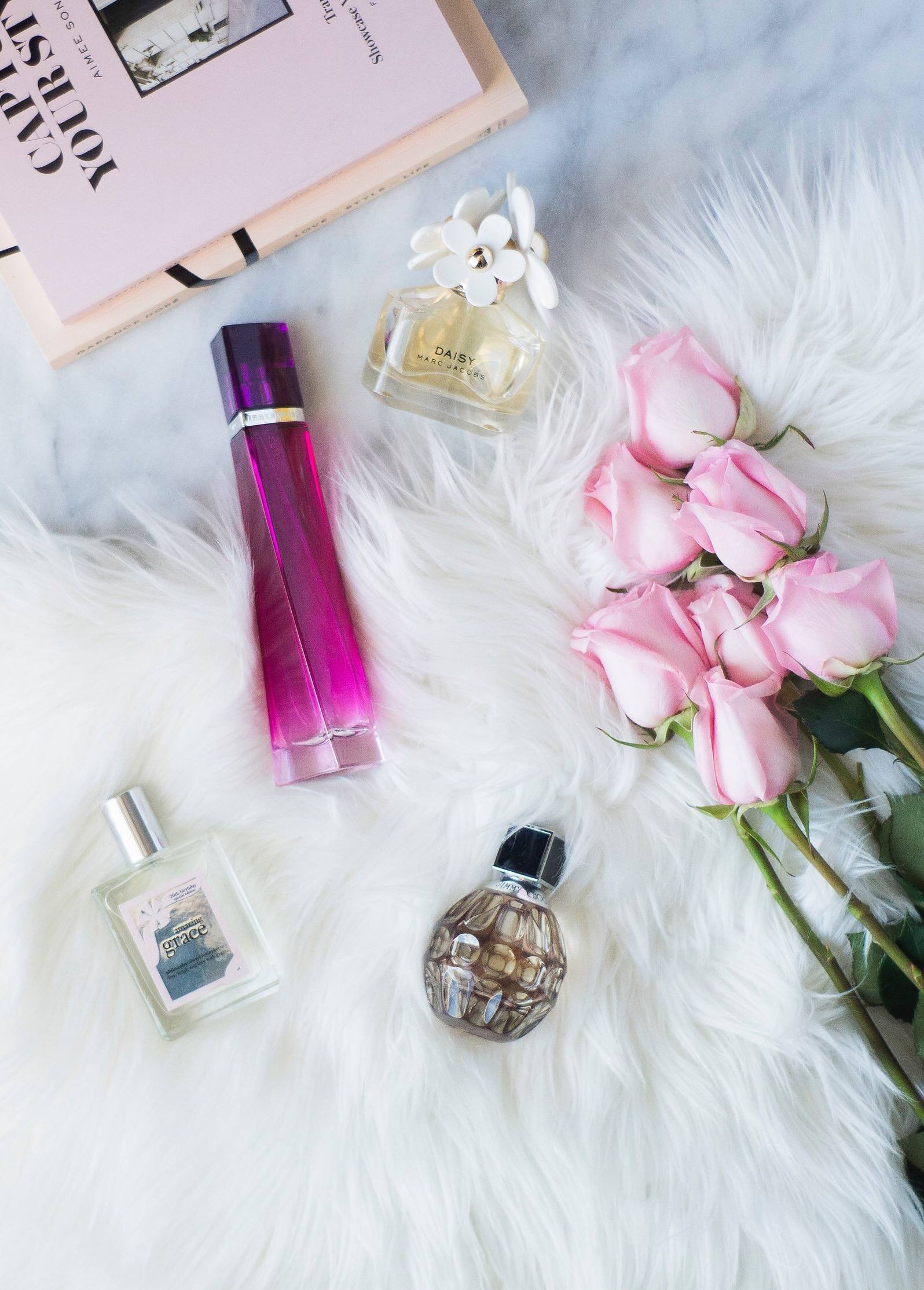 In the spirit of Valentines Day, I'm getting in the mood by sharing the top 4 fragrances that I just can't love without. These are my go to perfumes that I have been buying over and over again for years. Like a good outfit, wearing a spritz of your favourite perfume can change your day for the better.
Daisy by Marc Jacobs
Not only is the bottle pretty and playful but so is the scent! This perfume is perfect to wear on a date during the day, it's flirty and fun, yet sweet and sophisticated. She's a little bit of everything, all rolled into one. It does have a tendency to fade late in the day but I typically find that with all day time scents. I love this fragrance, there's just something about it that gives off a young and carefree vibe that I'm really in to.
Very Irresistible by Givenchy
This is by far my favourite perfumes of all time. I receive the most compliments on this scent. Funny story, I moved to Whistler after College for a few years and I briefly worked in an auto parts store as the delivery girl (me, working in an auto parts store…hilarious, I know). Anyways, I would always come to work wearing Very Irresistible. I'd pick up all of the parts I needed to deliver for the day and be on my way. My boss would laugh and tell me when I came back at the end of the day that a couple of guys would come in commenting on how good the store smelled but there was no girl there. So they'd joke with my boss that there was no mystery girl that worked there and it must be my boss spraying women's perfume around the store to get them in there to buy auto parts. haha. I've been wearing this scent since I was 18, I think it works well with my body chemistry and I don't think I'll ever get tired of it…yes…it's THAT beautiful!
Amazing Grace by Philosophy
Amazing Grace is so light and subtle, it's the perfect scent for daytime wear. It's a very soft and feminine perfume that smells very clean and fresh, like you just got out of a bubble bath. I find I need another spritz midday as the scent tends to fade due to its lightness. I also have a roller ball version of this perfume that I usually keep in my purse, I use it during the day if I find the scent begins to fade. This perfume is light, fresh and perfect for daytime.
Eau De Parfum by Jimmy Choo
This is definitely a special occasion fragrance for me. It has quite a strong aroma so I don't wear it too often but I really enjoy it on occasion. It has a deep fruity scent that is really quite unique, which is why I like it. I only need to use one spritz and it lasts all evening. I'd suggest not spraying too much or you may find it overpowering as it's quite strong, a little hint is all you really need. It's a rich and dreamy, long wearing scent.
Do you have a signature scent? I love trying new fragrances so let me know your favourites! I think I'll be sticking to Very Irresistible this Valentines Day, it;s always been Cory's favourite on me.