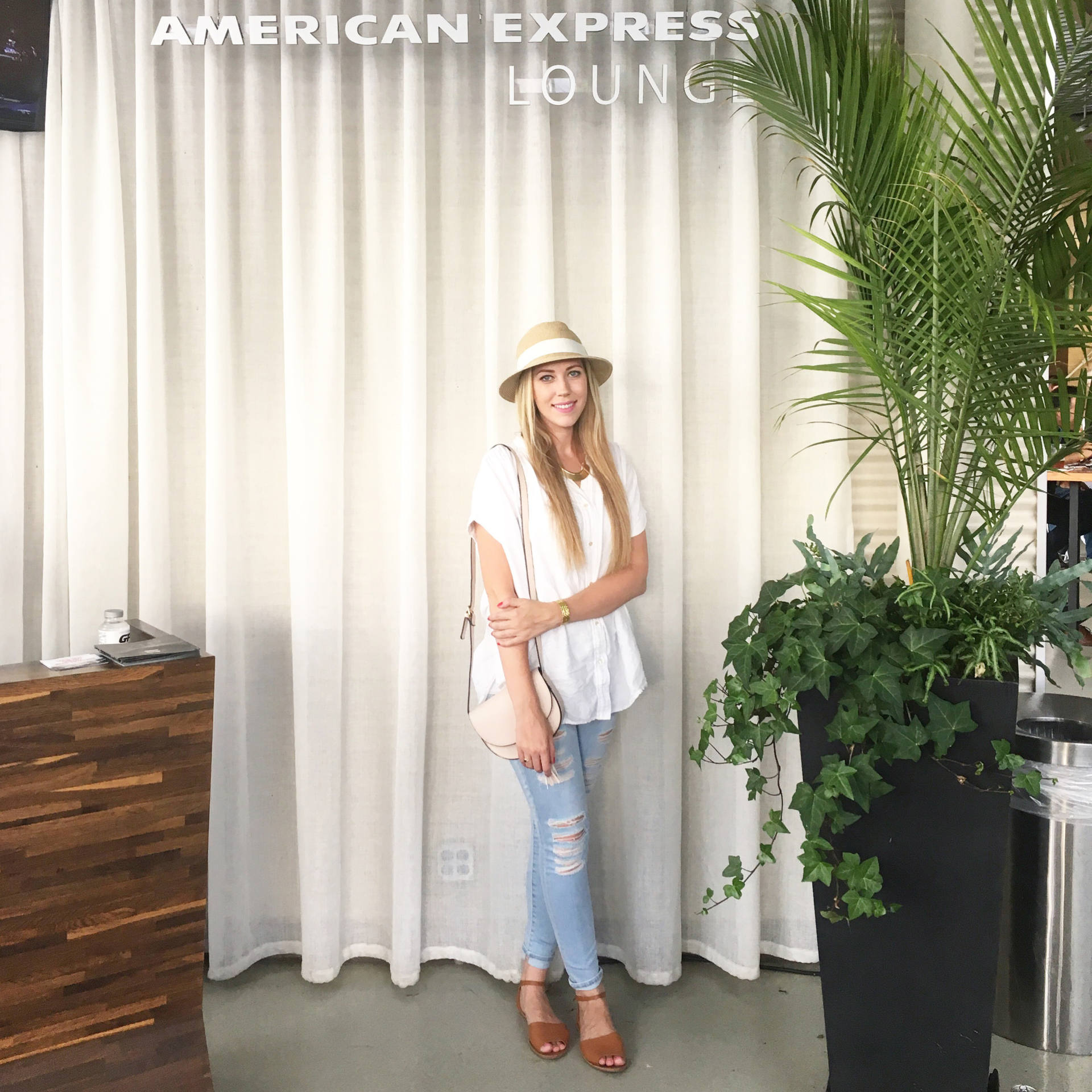 "Don't stop BELIEEEEVING" the song that has been ringing in my ears after an epic concert at the Molson Amp earlier this month. What a way to kick off the summer! My dad and I have been listening to Journey since I was little, always singing our favourite songs at the top of our lungs in the car. It was such an amazing experience to see them live.
We started out the evening by breezing through the massive crowd that was waiting in line thanks to Amex Access and the Priority Access line for Cardmembers. They really know how to give you the royal treatment. Who wants to wait in line at a sold out show? Not me! I'd rather have that extra 45 minutes to enjoy some dinner and drinks in the Amex Lounge and relax. Which is exactly what we did. The food in there is unreal, I highly recommend the fish tacos and mini burgers – sooooo good. My mouth is watering just thinking about them.
After our delicious dinner we headed down to our front row seats – pinch me! The look on my dads face was seriously priceless! We've never experienced a concert like that before and it was so amazing to revel in that moment together. We looked behind us and the Molson Amp was just packed with people ready to have the night of their lives, it was so cool to see from that angle. The Doobie Brothers were a great start to the show and got everyone pumped for Journey to take the stage.
Talk about stage presence. The second Journey came on everyone was on their feet cheering, singing and screaming at the top of their lungs. You couldn't see anyone sitting in their seats. They really know how to get a crowd fired up and my dad and I were smiling from ear to ear. It was nice have quick access in the Amex Lounge for breaks so we didn't have to miss any of the show. The music was amazing and my favourite part of the entire night was at the end when streamers and confetti were exploding all over the place and the crowd was just going wild. It's no wonder we lost our voices!
My dad and I spent the entire way with his convertible top down singing Journey at the top of our lungs just like we used to when I was little. I'll never forget this night and our father/daughter time together. Memories like this are what make life so great and I know this time and experience meant so much to my dad. To get in on the fun this summer head over to AmexInvites.ca and explore all of the awesome upcoming events!
This post was sponsored by Amex Canada. The views and Opinions expressed in this blog, however, are purely my own.