Jumpstart is such an amazing program that gives children from families in financial need the ability to participate in their favourite sports. It's all about giving kids the chance to get active and have the same opportunities as their friends, peers and neighbours.
Jumpstart is a national charity with a commitment to local communities. Organized sports connect kids to their communities. Canadian Tire Corporation recognized this and makes sure that money raised stays where it is donated. Canadian Tire Corporation is Jumpstart's biggest supporter as it funds all the general administrative expenses of Jumpstart, which means 100% of customer donations go directly to help kids in need.
Community Partners, like Motivate Canada, Boys and Girls Clubs, Canadian Paralympic Committee and numerous others work with local Jumpstart Chapters to identify the kids whose families need Jumpstart's funding assistance to get them off the sidelines and into the game. What kids do is up to them; Jumpstart is there to help them do it.
About Jumpstart Month
Jumpstart Day (May 28) is an annual fundraising celebration to help kids from financially disadvantaged families across Canada, participate in organized sports and physical activities.
June is Canadian Tire Jumpstart Month, and Canadians can show their support by donating at their local Canadian Tire store to give kids the gift of play.
In 2015, more than $1 million ($1,036,618) was raised in Canadian Tire stores across Canada across Jumpstart Day celebrations and Jumpstart Month.
All Canadian Tire dealers contribute to Jumpstart Month, and many host Jumpstart Day events in their communities. From BBQs to sport demos, to play days, there are celebratory events for communities to participate in across Canada.
One hundred per cent of all customer donations made to Jumpstart stay within the community in which the donation was made to help local kids get off the sidelines and into the game.
At Canadian Tire Jumpstart Charities, they understand that the opportunity to play sports is about much more than helping kids get active.
Sports equip kids for life by teaching them important skills like courage, confidence and teamwork. Unfortunately, some kids miss out on the opportunity to develop these essential life skills simply because of financial disadvantages.
Jumpstart Month strives to remove the financial barriers that prevent kids from being able to play their favourite sports by helping to cover the costs associated with registration, equipment, and/or transportation.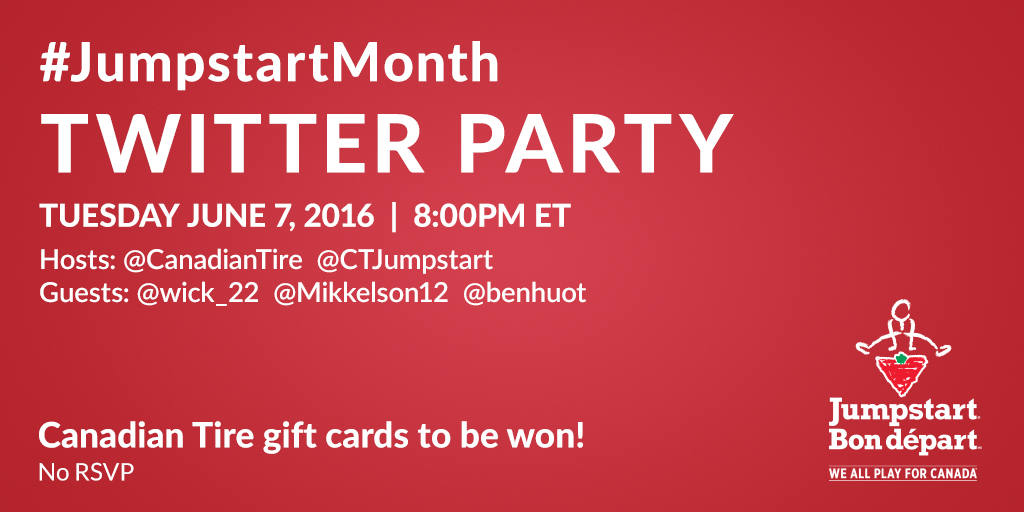 Come join us for an informative Twitter party where you can learn more about this amazing program!
Date: Tuesday June 7, 2016
Time: 8:00pm ET
Hosts: @CanadianTire @CTJumpstart
Guests: @wick_22 @Mikkelson12 @benhuot
Prizing: $1000 in Canadian Tire Gift Cards
NO RSVP
Canada Only excluding the province of Quebec