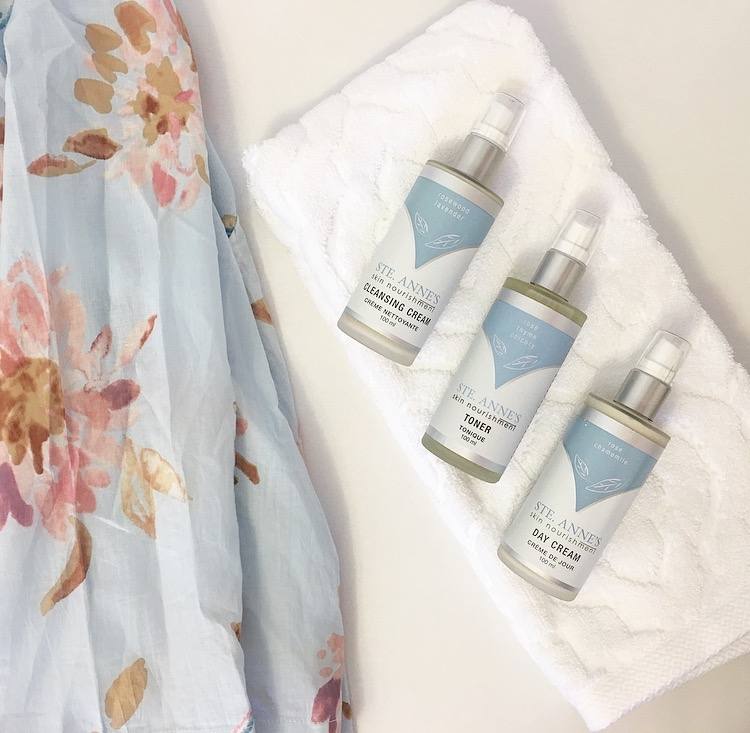 I've struggled with sensitive skin for years and so many products seem to easily irritate me. It's really hard to find 100% natural skincare lines that actually work. When I went to Ste. Annes Spa a few weeks ago they sent me home with a package of their products to try…and let me tell you, they are amazing! There are so many natural skincare products out there now that are healthy in their content but don't necessarily "do the trick". I haven't been able to get enough of these ones though.
Ste. Annes grows many of the key ingredients found in their products on site. It was interesting to learn how hands on they are in creating their skincare line. My favourite products have to be the Cleansing Cream, Toner and Day Cream trio which come beautifully packaged in gorgeous glass bottles. They've helped my skin immensely since I started using them five weeks ago, not to mention they smell amazing. They are very gentle on my sensitive skin and I've noticed that they've helped even out my complexion. It almost feels like I'm back at the spa enjoying a skincare service all over again.
If you're looking to switch up your skin care routine, or want to give some all natural products a try, I would suggest trying Ste. Annes Cleansing Cream, Toner and Day Cream package. Also, If you're looking for a great all over moisturizer, their Hydrating Lotion and Foot Cream are really great products as well. They are light, spread well (a little goes a long way) and absorb into the skin quickly. I find these products incredible relaxing to use, thanks to their natural scent, and enjoy using them as part of my skin care regimen.
Have any of you tried natural skincare products? Would love to know some of your favourites!