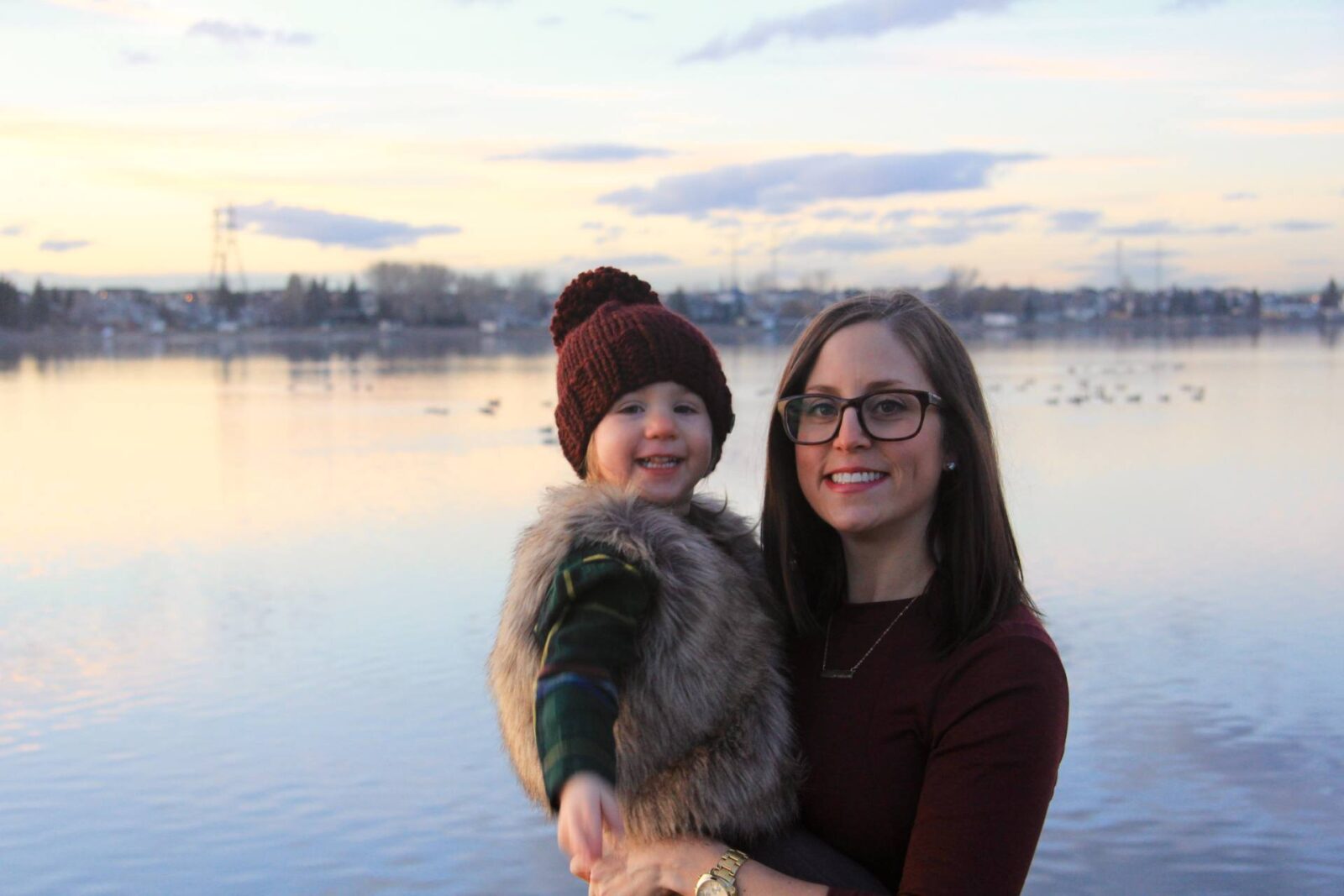 Happy Monday friends! Today, we are continuing our shop series and next up is Lil' Fox Shoppe! Janelle Renard is the principal designer and maker of the most beautiful, on-trend knits for littles and adults. She opened her shop back in 2014 with daughter Harlow (love her name) in toe and never looked back. There is no denying she has an eye for style, colour and geometry, because these gorgeous knits are something else!
Janelle has always had a love for Canadian winters and Granny's fire-side knitting lessons which have influenced her signature contemporary designs, with a kiss of cabin chic. It's really no surprise that her top-selling throws, scarves, toques and mittens have caught the eye of notable bloggers, retailers and fellow mamas across the globe. I promise you'll fall in love instantly!
There is definitely something special about dressing your littles in handmade items that are unique and oh so cute! I just love the lil' hipster slouchy toques, lil cub cowl, Lil striped Pom toque and my absolute favourite the Lil' Fox Navajo Blankie. The knits are so unbelievably soft…I want an adult sized blanket haha but then I would probably never leave my couch!
So, without further adieu, lets learn more about Janelle and Lil' Fox Shoppe:
Why did you decide to create Lil Fox Shoppe and what's been your greatest accomplishment so far?
I always knew I wanted to be a stay-at-home Mom so I could be with my littles all day everyday. A year or so before I was expecting my first child I started knitting and crocheting baby items for friends and family. It wasn't until I was expecting my own babe that I thought I could turn my hobby into a business. Both my parents have been life long Entrepeneurs so it came quite natural to me to start my own business. When I first opened my etsy shop I really had no expectations or goals in mind I was just so excited to have something of my own and to be doing something I truly loved. My shop has been open for just over a year and I cannot believe the success I have had thus far. I still get so excited over every new order that I receive as if it was my first one. I am astonished that people want to actually wear something I designed and created with my own to hands. My greatest accomplishment so far is the sheer fact that I worked up enough courage to open up this shop and that I have been able to run it while being with my daughter everyday.
How would you describe your personal style?
Trendy but Classic. Simple but Bold. I try to stay up with the current trends but stick to a pretty classic look. I invest in classic pieces and mix them up with trendy pieces that are more affordable. Being a stay-at-home Mom has definitely impacted my style as I don't get a lot of opportunities to get fancied up anymore. Therefore I will only spend the money on something that is timeless because sometimes I end up wearing it only once. I try to stick to simple neutral colours with my outfits and then accessorize it with a bold colourful coat or handbag.
Where did you reach for inspiration when designing your gorgeous knits?
My family! Most of my designs are a modernized version of what my Grandma used to knit for us kids when we were young. Everything else has been ideas and requests from my family and friends. Every piece in my shop is either something I would wear myself or I would dress my littles in. I guess this is where my own personal style comes in to play. For instance the pom toque is just a simple knitted toque but I accessorize it with a massive pom so its different than your average toque. Its simple but bold!
What has been your greatest challenge with running your own business?
Finding enough time to do it all. From designing, pattern writing, making, photography, customer service, social media and accounting it's a lot for one person. I am a perfectionist and have a really hard time with letting go and asking for help. My husband has been such a major help and has since started doing all the purchasing and shipping for me. I am slowly learning that I can't do it all and need to let go of some duties. I am asked quite a bit when I will take on an assistant for the making of items and I honestly don't think I will ever let that go.
How do you find a happy balance between work and family?
This is something I am still trying to figure out and I think will always be a struggle. Like I said previously, I want to be in control of everything and want to be able to do it all. As of right now I try really hard to only work when my little one is sleeping so its during nap times and after she goes to bed at night is when I get the majority of my work done. On weekends I leave one day open for family time. The really nice thing about this business is that I can really do it anywhere. I can operate the business side of things from my phone and I can knit/crochet pretty much anywhere. During my busy times I am rarely found without a hook and yarn in my hand. Like my Grandma is always saying to me "you just can't waste a second". Whether we are at a family gathering, on a road trip, or simply driving to Ikea my hands are always busy whipping up something cozy.
If you could give one piece of entrepreneurial advice to someone who is looking to start up their own company, what would it be?
Just do it! If it is something you are passionate about you will love every minute of it and it will never feel like work or a job. Be authentic, be original and be you. I could stress the importance of being organized but I truly can't speak to that. I am a hot mess when it comes to organization. It is one skill I was not blessed with but maybe that is the artist in me, not sure!?
What is your favourite thing to do on a day off?
Spending time with my family and just enjoying the simple things in life.
Thank you to Janelle for taking part in our shop series! Love her cozy knits? EXCITING news to share! We are kicking off our 12 DAYS OF GIVEAWAYS over on instagram today at 1PM eastern and DAY 1 is a Lil' Fox Shoppe surprise!! Head over to @reneemleblanc this afternoon to enter!