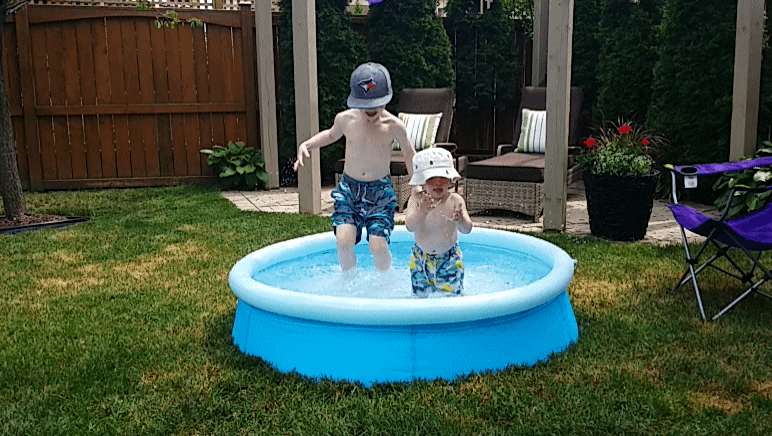 (Austin and Max love playing in the water)
Our summer is off to a great start, we welcomed our third baby to the world, little Zoë! Needless to say, this summer has been a bit of a whirlwind so far now that we have the new addition. It's been a challenge trying to juggle three kids but I've found keeping busy outside everyday and enjoying this heat is the easiest way to handle these little monkeys. Staying active with the kids has definitely been the highlight of my summer.
I'd like to encourage you to get outside and play by sharing my ULTIMATE summer bucket list:
1. Take a walk through a conservation area – with beautiful scenery all around it makes for a wonderful day out. I like to bring butterfly nets for my kids to catch bugs – always a huge hit!
2. Pack a picnic and head to the splash pad – The kids can last at the splash pad for hours, its a great way to keep cool and always super fun. Pack up some nice sandwiches and fruit, bring a blanket and enjoy a picnic lunch while you are there.
3. Go fishing – Ok so maybe not actual fishing with the little ones but catching minnows and crawfish in a nearby stream always makes for an awesome play day with your kiddies. Canadian Tire has minnow buckets and little nets that work great and are inexpensive. This is one of my boys favourite activities in the summer.
4. Family slow pitch – Instead of having a family game night inside why not opt for a family slow pitch game at the baseball diamond? It's great exercise and a little friendly competition among family is always fun.
5. Strawberry picking – There is nothing better on a hot summers day than going strawberry picking…the fruit is so fresh and melts in your mouth. It's nice to go do something different and of course any easy way to get your kids to snack on something healthy.
6. Backyard tent camping – This is always a fun way to take your young ones camping without committing to the full experience at a camp ground. Throw up a tent in the backyard and enjoy an evening of games outside and a nice barbecue.
Canadian Tire has a fun photo contest going on right now encouraging you to rediscover active play with your family! The #WannaPlay contest will run until August 4th, 2015 where you have the chance to win $100 Canadian Tire gift card DAILY and you'll also have a shot at winning the $1,000 grand prize! All you have to do is upload your active play themed photo to Twitter or Instagram and tag @CanadianTire and #WannaPlay. It's as easy as that! So, do you #WannaPlay?