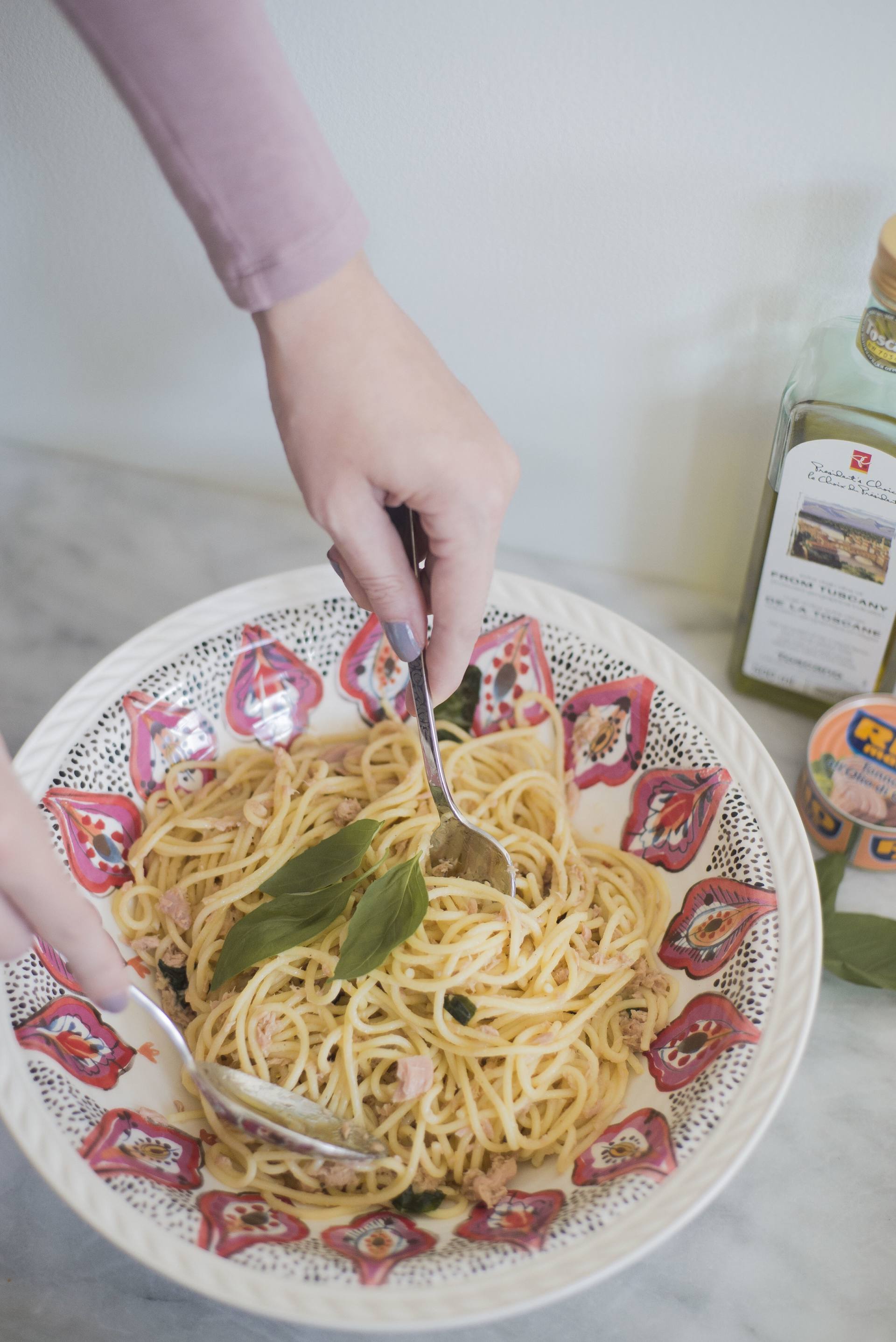 A couple of weeks ago I had the pleasure of attending the "Italy With Amore" event (a cooking class) with Loblaws and chef Massimo Bruno. We learned how to make a few authentic Italian dishes that are not only delicious but also so easy to make. I'm talking 15 minutes tops! I've been cooking up a storm since I got home…we've had this tuna pasta dish at least 5 times in the last two weeks – the kids are loving it. Cory said he hopes I get invited to these events more often…so I guess this recipe was a hit with him too, haha!
We learned how to make a couple of different pasta dishes and Massimo even taught us how to hand roll our own fresh pasta noodles from scratch! It's probably one of the best events I've been to. Massimo was very entertaining and a cooking class at an event is always a win in my books. I'm so happy that after making this at home our kids are enjoying it too, it's hard to find recipes that are a win for the whole family. 
Loblaws carries all of the ingredient you need to make this delicious dish and I guarantee you're going to love it just as much as we do. Who knew such an easy dish with little ingredients could be SO delicious?! It's perfect for those busy weeknights. The PC Tuscany Extra Virgin Olive Oil has been a favourite of ours for a long time now so definitely make sure to use this one. A good Olive oil makes all the difference in the world! Also, the Rio mate tuna I hadn't used before the event – so happy they introduced us to it because it is unbelievable delicious! Let me know what you think. Enjoy! 
 INGREDIENTS
• 1 lbs Del Verde Spaghetti
• 3 small cans of Rio mare tuna in olive oil
• 1 lemon
• Handful fresh basil
• Fresh black pepper
• PC Tuscany Extra Virgin olive oil
• 1 table spoon coarse sea salt for the pasta
EQUIPMENT
• Lemon zested and juicer
• 1 small knife to cut lemon in half
• Fork to mix the tuna
• Mixing bowl to hold the tuna sauce
DIRECTIONS
• Add tuna into a bowl and mash it with a fork
• Add the zest and juice from a lemon
• Tear the basil with your hands add
• Drizzle a 1/3 of a cup of olive oil
• Add some fresh ground black pepper
• Keep mixing with a fork and mash very well with the tuna. It should not be too dry, add more lemon juice if needed.
• Bring a pot filled with water to a boil (4/5lt) and then add salt
• Once boiling, add the spaghetti and cook until "al dente" (slightly undercooked)
• With a slotted spatula, transfer the spaghetti directly into the bowl with tuna, add a little bit of cooking water from the pasta and mix very well
• Serve with fresh lemon zest on top and garnish with fresh basil and a drizzle of olive oil
This post was sponsored by Loblaws however all throughts and opinions are my own…and this recipe really is to die for!