I don't know about you but my idea of a wild Saturday night consists of a glass of wine, a good book and a face mask. Haha, must be a mom thing? It's just so relaxing! I've been masking for a really long time, I actually went to college for Esthetics (and Marketing) so I like to think I'm pretty well versed when it comes to skin care. I thought I'd share my current favourite masks with you, my top nine. Let me know if you've tried any of them and what you think! My skin is combination (dry overall and oily in the nose area) so these are the ones that work best for my skin type. Hope that helps!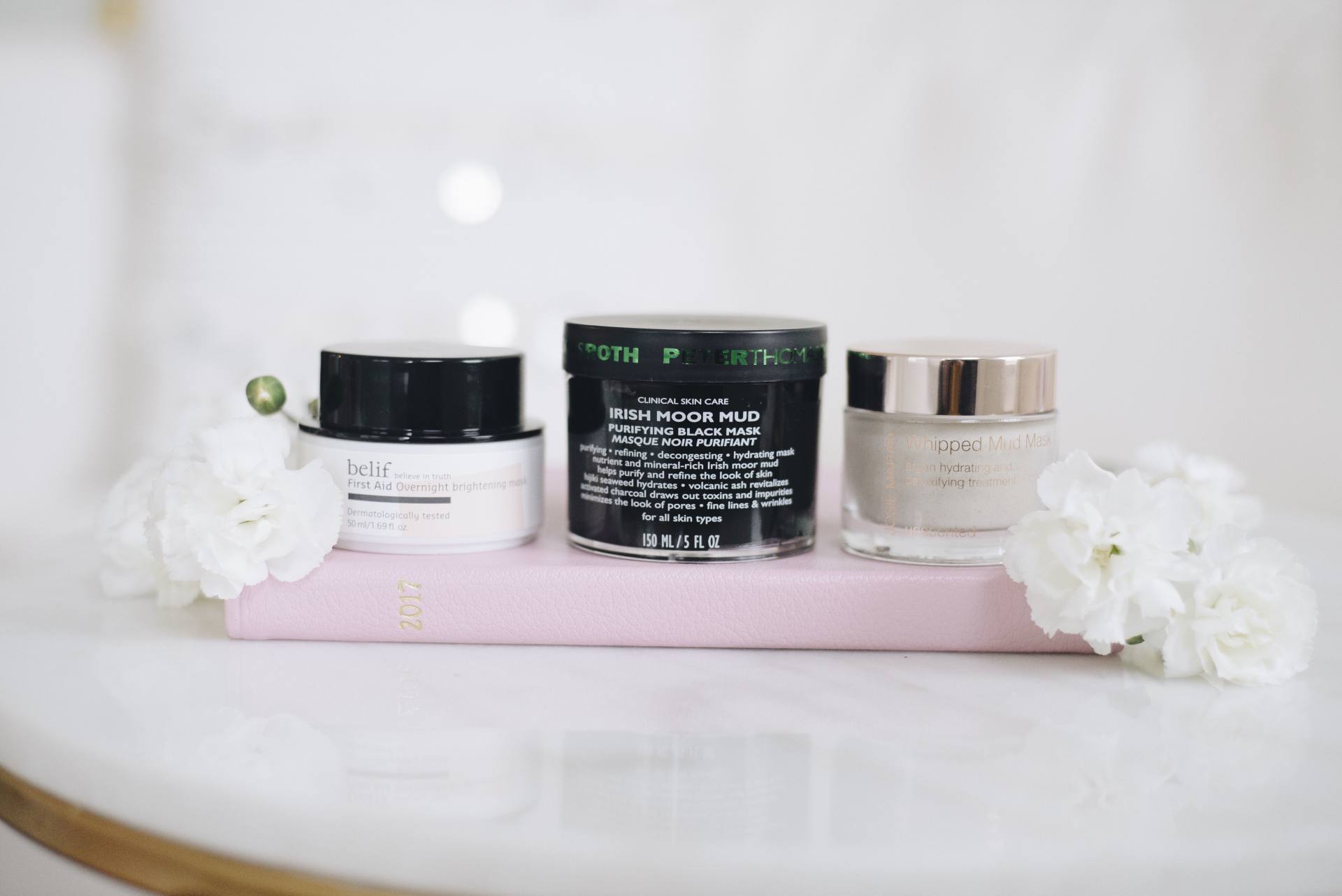 From left to right:
Belif – First Aid Overnight Brightening Mask
After trying this mask you will totally turn into a Belif-er 😉 this mask is aaaamazing! After applying this light weight mask to your skin just let it absorb before going to bed. That's right, you actually leave it on overnight! It absorbs into your skin in about fifteen minutes so you don't need to worry about it coming off on your pillowcase. When you wake up your complexion looks much more even (it helps reduce redness) and leaves your skin feeling very refreshed and soft. You can actually use this mask in lieu of moisturizer.
Peter Thomas Roth – Irish Moor Mud Mask
Ok, Ill be honest, it's a little pricey – but hear me out! If you are looking for a mask that works wonders this one is seriously worth every penny! It's known for purifying and refining and let me tell you…if you have acne prone skin or the occasional break out then this mask is a great one for you. I find it helps quickly clear up any problem areas I have on my skin. And black heads? Bye, Bye! Put it this way, it's cheaper than a facial and if you use this 1-2 times a week it'll look like you've been going to the spa on a regular basis. I promise, it's THAT good!
Josie Maran – Whipped mud mask
I highly, highly recommend this one for people who have sensitive skin that are looking for a mask that's soothing while delivering results. Keep in mind that this mask is really great for all skin types. If you're looking for something that's firming and hydrating while being gentle on your skin then I'd try this first. The consistency is much lighter than most mud masks and a little bit of this really does go a long way. Again, a little pricey but totally worth the splurge. It will leave your skin looking clear, hydrated and very soft.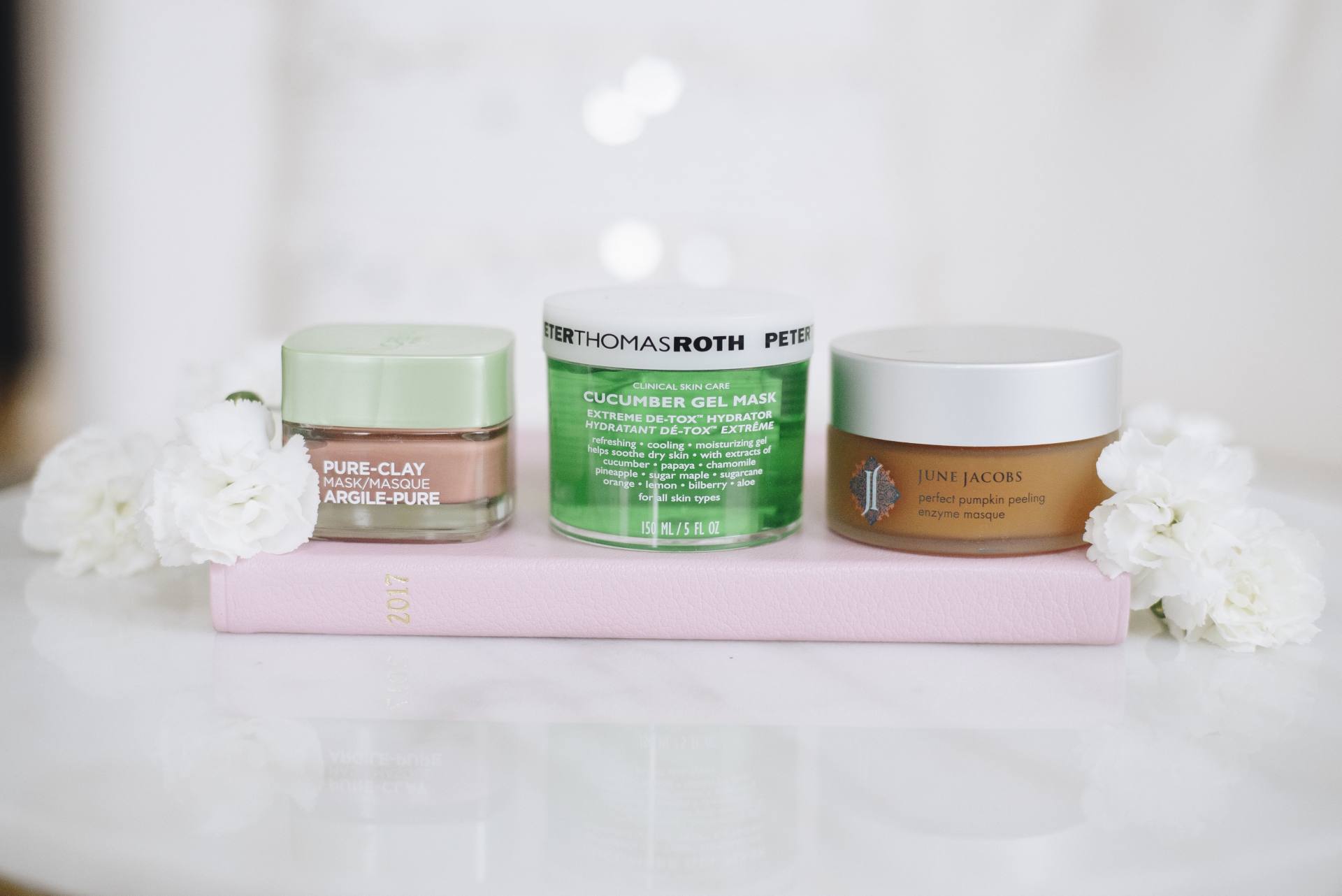 From left to right:
Ok, this one is a steal of a deal and quite possibly my favourite mask of them all. And here you thought I was getting all bougie with my face masks. This mask exfoliates like you wouldn't belieeeve! Seriously, you have to try it! You can thank me later…You will see a huge improvement in the smoothness of your skin in just a couple of weeks.
Peter Thomas Roth – Cucumber Gel Mask
Yup, same brand – different mask, clearly I'm hooked! This mask is really great if you have dry, dull and dehydrated skin. It's VERY hydrating. Also great if you have fine lines as it plumps them out so they are less noticeable! My nose is oily while the rest of my face is dry so I apply this mask on my dry areas and apply the other Peter Thomas Roth Mask (Irish Moor Mud mask) to my nose. If you have combination skin I definitely recommend playing around with two different masks so your skin is getting exactly what it needs.
June Jacobs – Perfect Pumpkin Peeling Enzyme Masque
Ok pumpkin spice lovers – I know you're out there. I can't even tell you how yummy this smells. It is so fragrant with that pumpkin spice smell we all know and love. You'd almost think it was edible, *almost*. I don't recommend leaving this one on your skin for too long. It's meant to gently exfoliate but if you are prone to sensitive skin I wouldn't leave it on for longer than a few minutes. It did sting my skin a bit but the results were worth the intense tingle. My skin felt very soft and exfoliated after using. I would personally only use this once a week due to sensitive skin but its by far one of my favourites.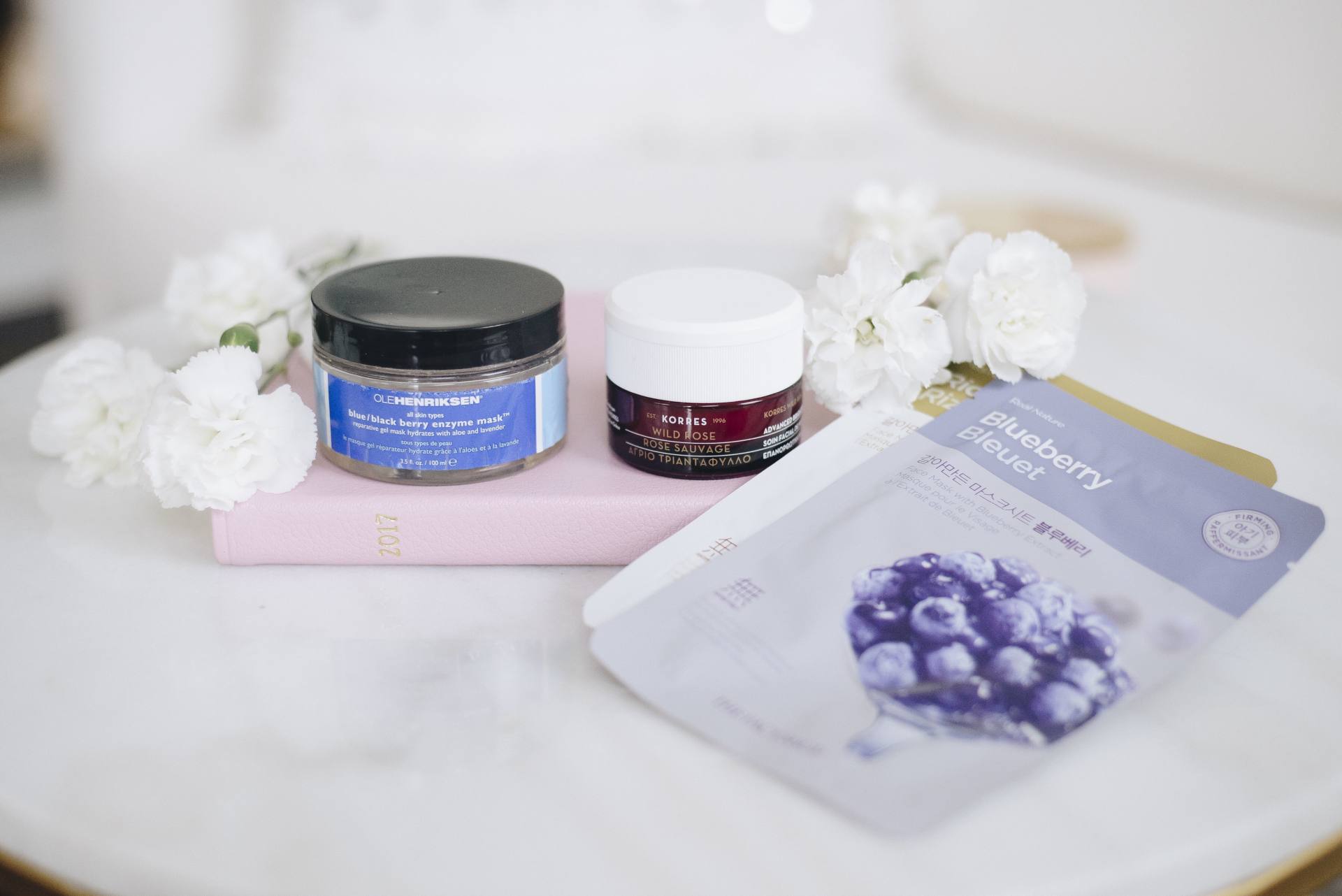 From left to right:
Ole Henriksen – Blue/Black Berry Enzyme Mask
Can you tell how well loved this one is? This Ole Henriksen mask is definitely a long time favourite and holy hydrating! If you're looking for a mask that's brightening then you should probably head over to Sephora and pick this one up stat. I can't say enough good things about this mask, I've been using it for years. It's easy on sensitive skin, I love how cooling and soothing it is. Also very hydrating and brightening. If you're looking for that "wow factor" after masking then you'll definitely notice a difference after this one.
Yet another amazing overnight mask. I seriously swear by these. It's like a very deep moisturizer. This mask has been deemed an "overnight facial in a jar" and after trying I can support this statement. Although I typically try to stay away from thicker overnight masks this one didn't bother my skin or cause any breakouts. This mask is perfect for people with combination skin who also have blotchiness. I noticed my skin tone was much more even after a few uses which I loved the most about this one.
The Face Shoppe – Blueberry Mask
This mask is new to me and I'm quickly adding it to my list of favourites. It's made with blueberry extract which helps restore your skins suppleness – anyone who's thirty and older will completely understand why this is important to me (no thank you wrinkles!). This is a sheet mask – hilarious to try with friends! It may not be the most attractive look while you have it on but it sure makes for a good laugh…and the results are definitely worth it. After you take it off you gently massage the rest of the contents into your skin.
If you have any mask recommendations please leave them in the comments below. I'm such a mask junkie and would love to try your favourites!
This post contains affiliate links and was sponsored by Amazon. All thoughts and opinions are completely my own.