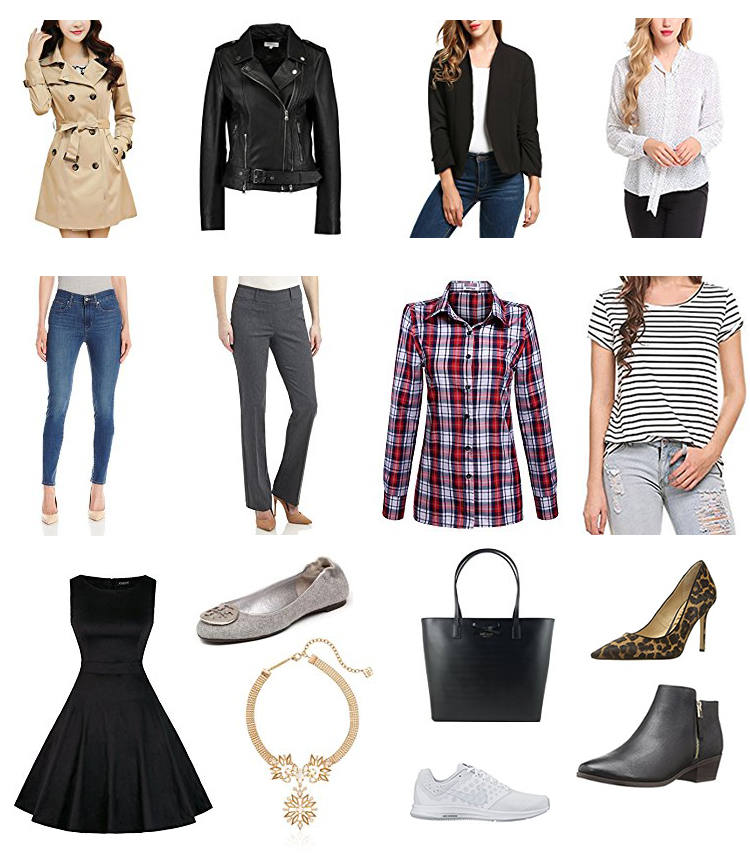 If you're like me then you probably have a closet packed full of trendy pieces and often wonder why you have nothing to wear. Adding classic staples to your wardrobe, the forever pieces, allows you to build outfits from your basics so you can avoid the stress of not having the perfect outfit for any occasion. The following pieces are my absolute must haves for building your basics wardrobe:
Classic Trench – A long tailored trench (I prefer neutral) is a classic staple to add to your wardrobe. This one is from Amazon and it's perfect for throwing on over a casual outfit or even over a dress for going out in the evening. Definitely a great transition piece between seasons as well.
Leather Jacket – I may have a bit of a leather jacket obsession… This moto jacket with exposed metal hardware and a detachable belt give it that rocker "chic" look that I love. They have become such a wardrobe staple and make any outfit look stylish.
Black Blazer – A one-button blazer is so timeless and a piece you'll have forever. I enjoy the boyfriend fit that also has a bit of a feminine shape.
Neutral Blouse – This piece can go a long way…great for pairing with a tailored trouser, jeans, a pencil skirt, you name it! They are great for giving any uniform a polished look! This blouse has a gorgeous tie-front that gives this piece a unique twist. I'll take one in every colour!
Denim – Lets talk denim…Every girl NEEDS a pair of great fitting dark denim jeans that can take them for day to night. This pair from Levis are great for dressing up but can also be worn with a cute pair of flats and casual top during the day.
Neutral Pants – Trousers are a great, quality piece to keep in your closet and are perfect for mixing and matching. These come in a variety of colours and also in a wide range of cuts that are flattering on any shape.
Flannel – Can be worn for just about any kind of occasion. You can layer a flannel with a tank, V-Neck and cardigan or casually on it's own. I like wearing them tucked into a pencil skirt for a different look. If you are wearing it on it's own just add a couple of accessories to make the look more interesting.
Striped Tee – A loose fit striped tank or tee is a great layering piece to have because they are so versatile. I find the V-Neck to be the best cut and looks amazing with dainty layered necklaces.
Cute Flats – Wearing heels every day may look fabulous but they aren't always practical. A pair of nude or neutral detailed flats are a 'must have' in your basics wardrobe. These shoes are not only functional but fashionable enough to wear with casual or dressy outfits.
Little Black Dress – This has to be the sweetest little black dress. Everyone should have a classic "LBD" in their closet. They are great for any occasion and can be dressed up with statement jewellery and a killer pair of heels.
Black Handbag – A great handbag is an investment piece that you should definitely have in your closet. It's the one item you should always splurge on because if it's well taken care of you'll have it forever. Kate Spade makes a beautiful black tote bag I immediately fell in love with. It's practical, yet gorgeous, and goes with everything.
Statement Necklace – If you need to elevate an otherwise boring outfit then a statement necklace is what you need! They are a great piece to add to any ensemble and instantly make you look chic. This layered gorgeous statement necklace is definitely on my wish list for fall, it's from Kendra Scott.
Leopard Pumps – The leopard trend is definitely here to stay and a great way to make use of the print is on a pump. They look so sophisticated and can be worn with practically all of your wardrobe stables.
Runners – I guess you could consider these a new trend for day wear however they have been around forever therefore I think we can add them to our list of staples. They come in a wide variety of fun colours and make your casual outfits look well styled, a must have!
Booties – A pair of cute booties can elevate just about any outfit. I love this pair from Call It Spring, they go with just about all of the basics listed above!
What are your go to staple pieces? Let me know if there is anything I missed!
This is a sponsored post that contains affiliate links.