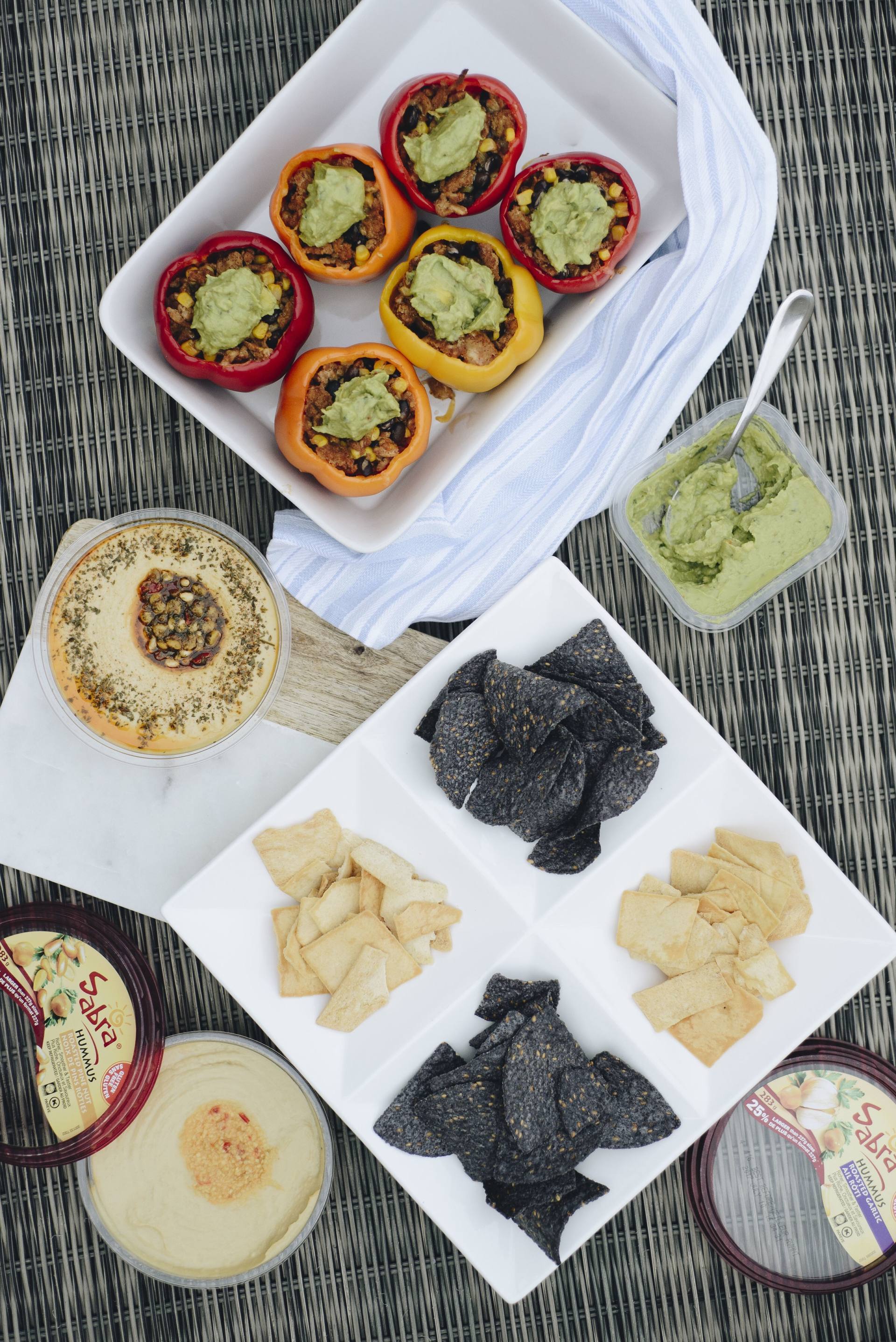 It's finally patio season! The weather is glorious and we decided to kick things off last night by enjoying our first meal outside. I made these delicious Mexican inspired stuffed peppers with a generous serving of guacamole. These are so easy to make and a nice change from the usual barbecued food in the summer. In fact, you can enjoy these all year round. Did I mention our kids loved them? Yup, this recipe is kid approved – and that came from my pickiest so that says a lot haha.
I've shared the recipe for these tasty stuffed peppers below and while I usually love making my own guacamole I finally found one that tastes better than my homemade recipe. I know what you're thinking – store bought guac never tastes as good as homemade…but let me tell you friends, I finally found one that does. Sabras guacamole is packed full of flavour and as much as I don't want to admit it…it tastes better than the guac I make myself. It has chunks of avocado, tastes super fresh and has the perfect blend of ingredients. You can currently find it at Loblaw, Sobey's Metro and Walmart – click HERE for a coupon if you want to give it a try. It's the perfect accompaniment to these stuffed peppers. This is such an easy dinner (especially now that you don't have to make the guac too) and I'm sure your family will love it just as mush as mine. I also put out some crackers and chips with a side of roasted garlic and toasted pine nut hummus to start. An easy snack for outside that everyone loves. Happy cooking and I hope you enjoy!
Sabra also has a very fun contest going on that I think you'll all be interested in! More details at the bottom of this post. Good luck!
1 pound of ground turkey (or lean ground beef)                                                                                                                                               6 assorted bell peppers
1 cup of black beans (drained and rinsed)
1/2 cup of corn
1/4 onion diced
2 cups shredded mexican cheese
3 tsp of chili powder
1 tsp cumin
1 tsp garlic powder
1/2 tsp onion powder
1 teaspoon salt
1 container of Sabra guacamole
1. Combine turkey, onion, chili powder, cumin, garlic and onion powder in a large skillet. Place on medium heat and brown the turkey until cooked through and the juices run clear. Set aside.
2. In a large mixing bowl combine black beans, corn, cheese, cooked turkey and salt and stir ingredients until even.
3. Place peppers with tops cut off and hollowed out in greased baking pan.
4. Fill each pepper to the top with turkey mixture and bake at 350 for 45 minutes. If you'd prefer, you can also grill these on the BBQ for a quick 15 minutes in foil.
5. Serve peppers to guests with a generous dollop of Sabra guacamole on top. Voila!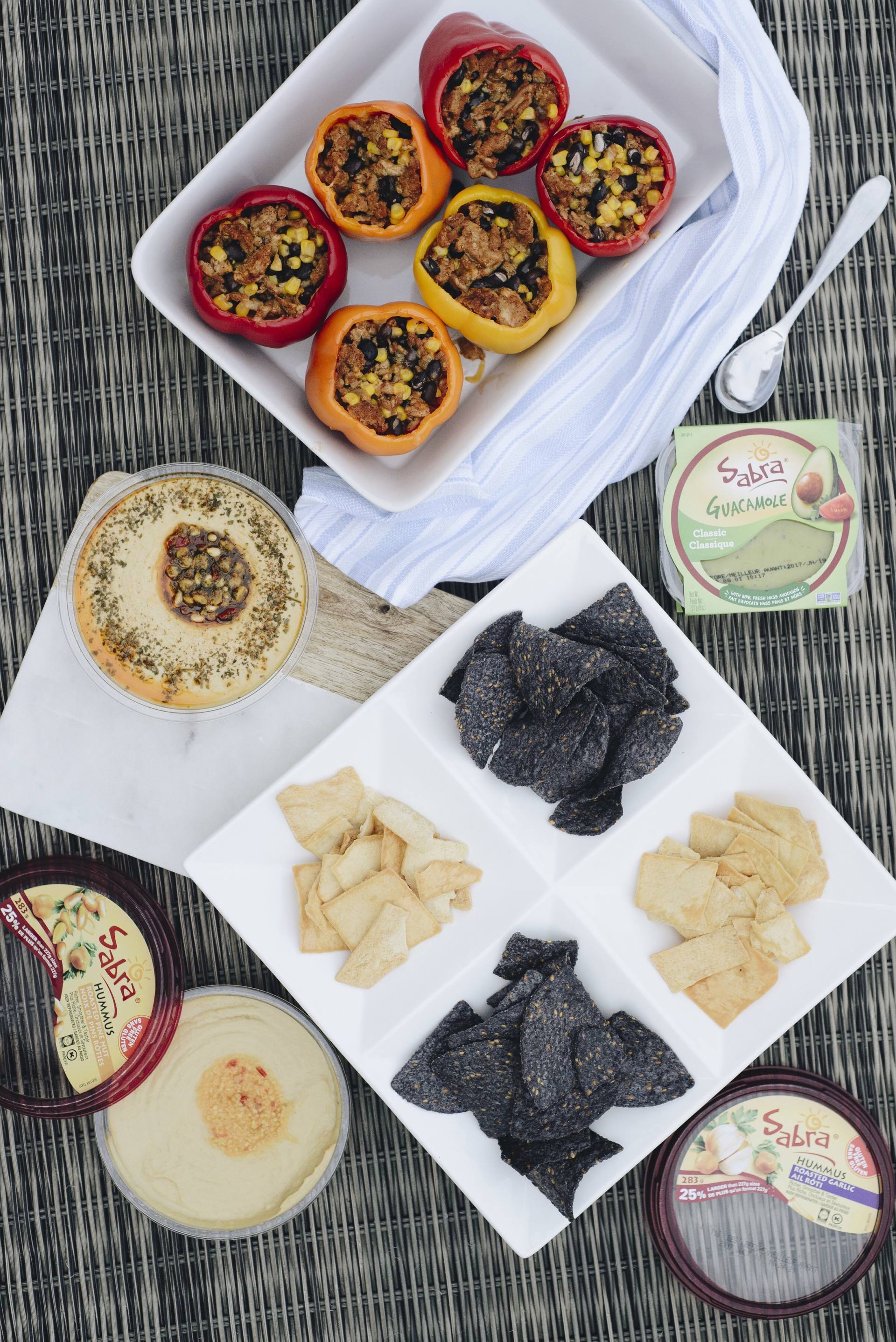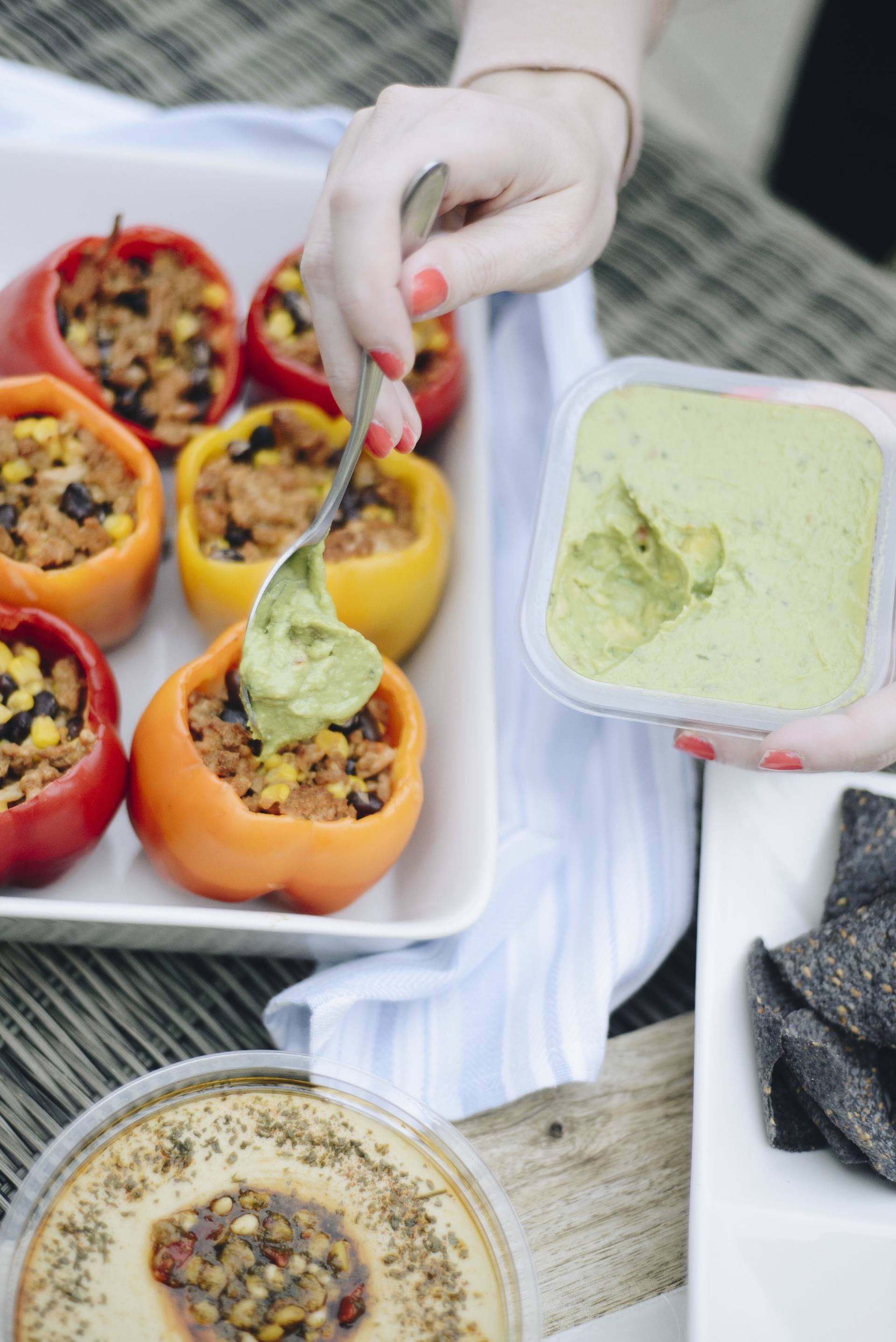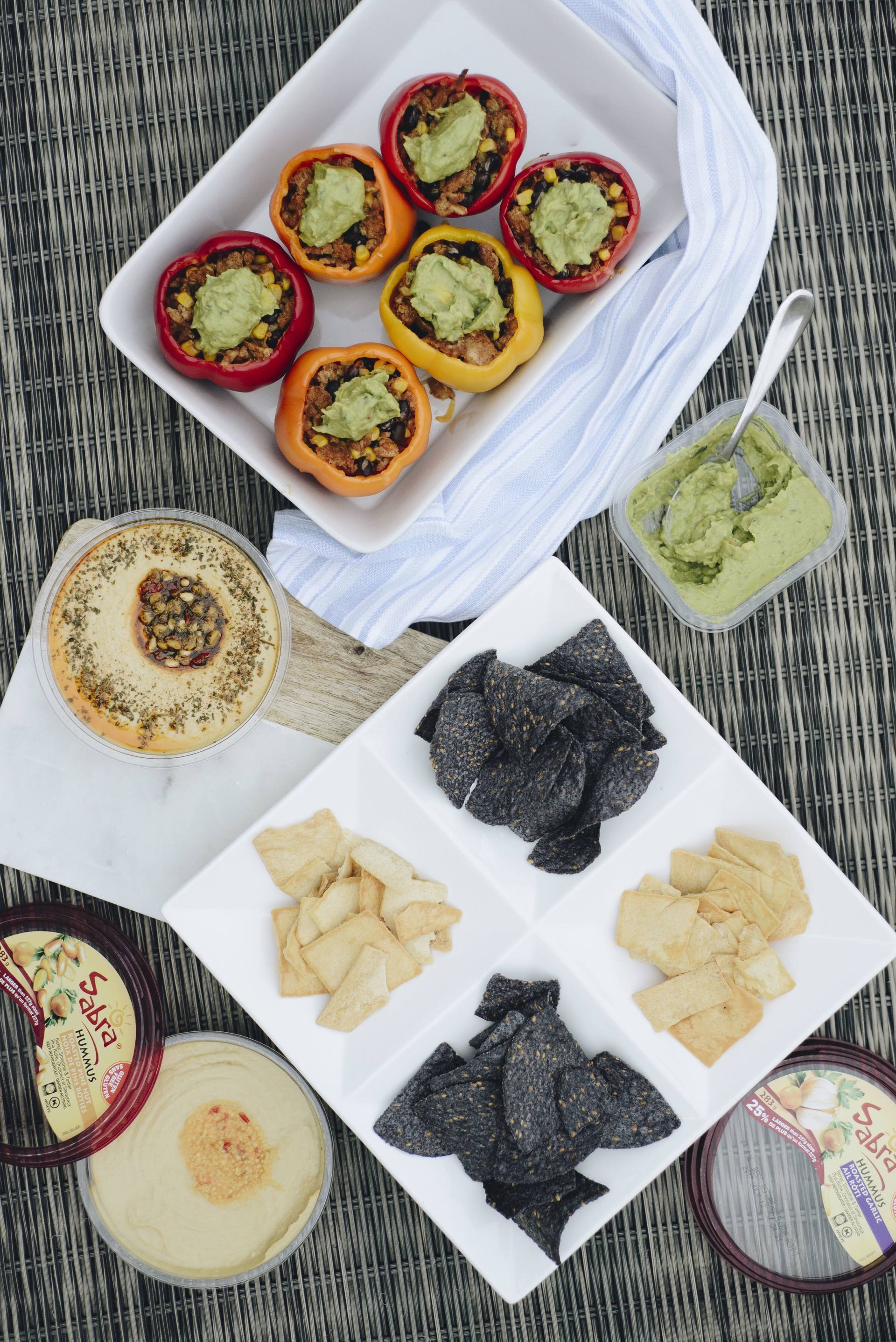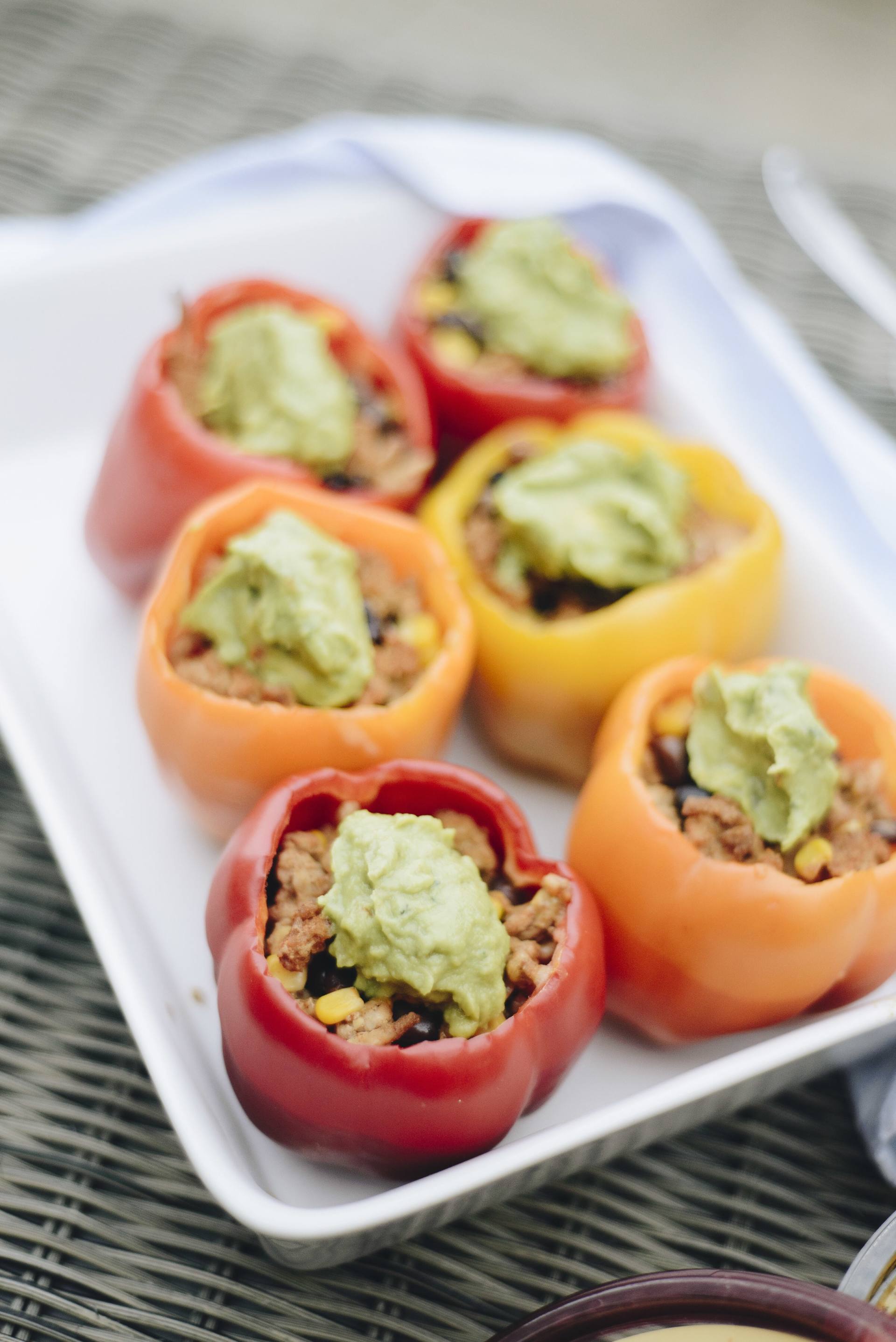 Want a chance to win a unique dining experience for you and 14 friends? Just share your own #DipInWithSabra content, on Instagram and Twitter! Capture a photo of your Dip In moment and post it to Sabra's Facebook timeline using hashtag #DipInWithSabra OR tag @SabraCanada on Instagram or Twitter and post your Dip In photo using the hashtag #DipInWithSabra. The menu will be designed by one of Sabra's Tastemakers and will be held at the winner's home. More details HERE.
This blog post was sponsored by Sabra but the opinions are completely my own based on my experience.