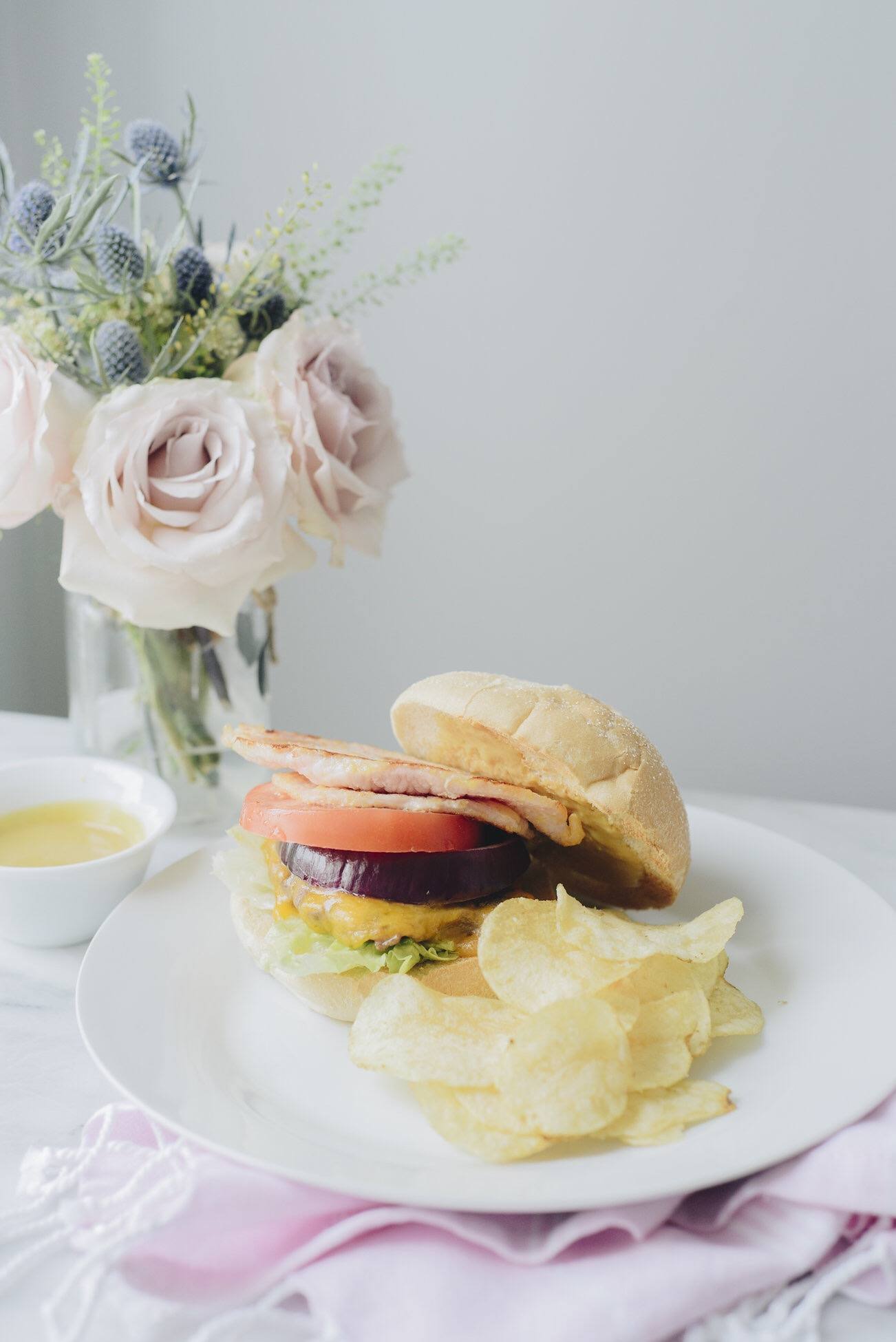 What better way to celebrate Canada's 150th birthday than to throw a barbecue with 5 burger recipes highlighting some of Canada's most distinct regions. Sound delicious? Let me tell you more…Walmart Canada sent me 5 mouth-watering burger recipes to make with the kids and we've tried two of them so far – SO yummy! We can't wait to give the other three a whirl now. This was really fun to do with the kids because we talked about all of the different regions where the recipes were inspired by and what they are known for. Austin and Max ended up deciding on the Ontario- and Quebec-inspired burgers. I'm telling you, these are a must try!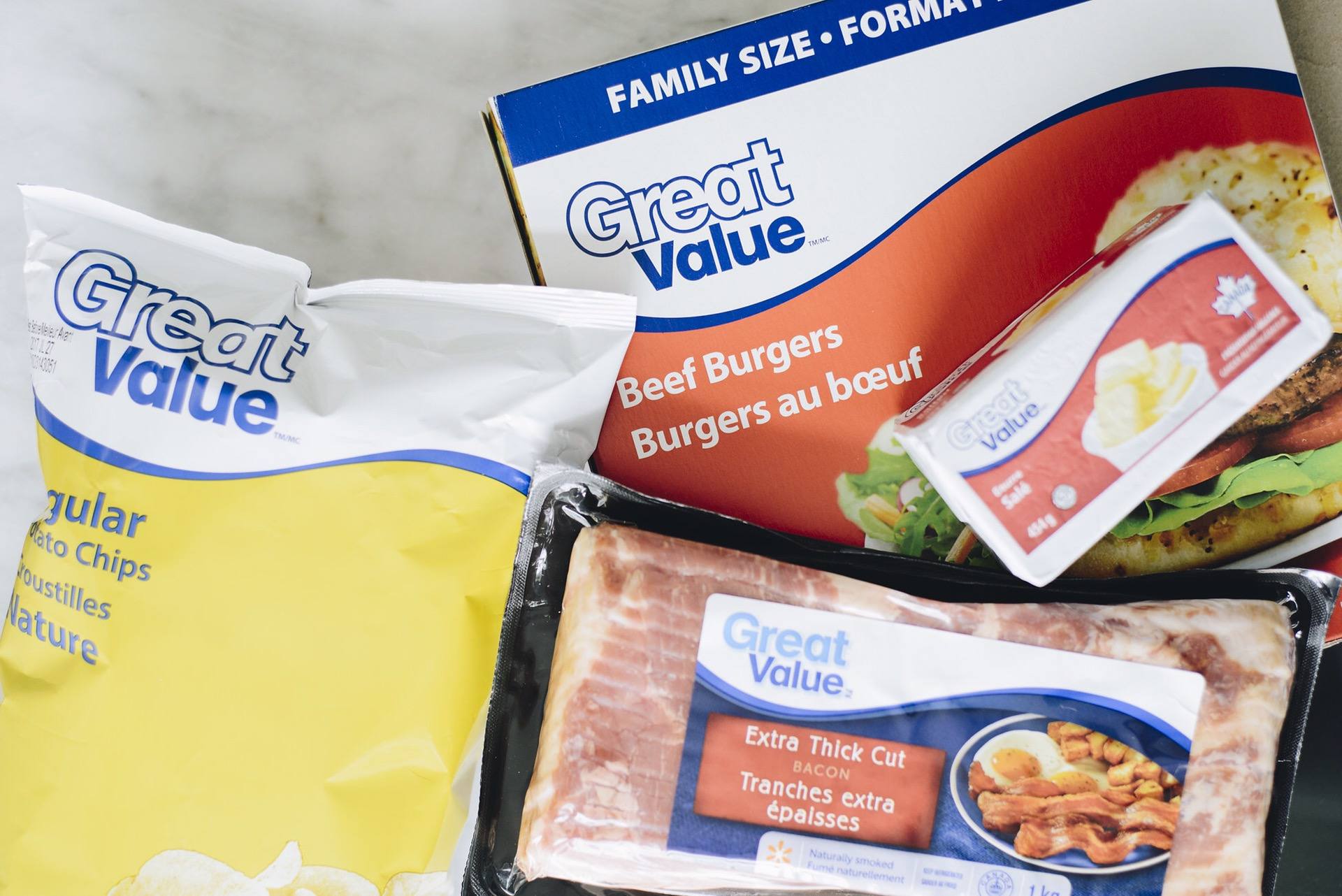 The first burger we made totally reminds me of my dad, aka the King of peameal bacon. Austin takes after him and is also a huge fan of peameal bacon. So when I told him we were putting it on our burgers he was a little over the top excited. I have to admit, I was really looking forward to trying these too and they were just as delicious as they sound. We definitely need to have my dad over for a BBQ and surprise him with these. The Great Value Beef Burgers were super tasty. I actually wasn't sure how tasty they'd be, we usually make our burgers from scratch but I was surprised at how juicy and flavourful they were, and a good size too! These were also pretty easy to make: I grilled up the burgers and peameal bacon and Austin and Max had fun assembling the toppings for us. Actually, Austin needs to get credit for the sauce too; he measured it out and stirred it together for us. It was the perfect accompaniment to the burger!
Ultimate Ontario Burger
• 1 cup cheddar cheese curds or 8 slices Great Value Old Cheddar Cheese
• ¼ cup Great Value Dijon Mustard
• 1 tbsp Our Finest Maple Syrup
• 4 Kaiser buns
• 4 pieces iceberg lettuce
• 1 small red onion, sliced
• 1 Ontario hot house tomato, sliced into 4 rounds
• 4 slices peameal bacon, cooked
Method:
1. Cook burgers on BBQ according to package directions. Top burgers with cheese curds (¼ cup per burger) or sliced cheddar cheese (2 slices per burger). Melt on BBQ with lid closed, about 2-3 minutes.
2. In a small bowl combine Dijon mustard and maple syrup to make maple mustard. Spread evenly between tops of Kaiser buns. Place lettuce on bottom half of Kaiser buns.
3. Place cooked burger on top of lettuce on each Kaiser bun. Top with onion slices, tomato slices and peameal bacon. Serve with extra maple mustard.
Quebec Maple Bacon Poutine Burger
Next up is my favourite, the Quebec Maple Bacon Poutine Burger! Now, there are a few steps to this one, but it's totally worth every minute of prep time. The delicious maple bacon is Max's new favourite burger. He asks if we can eat these for dinner every night now. Haha. I have a feeling we will be barbequing these up all summer long! The Great Value Beef Burgers (20 pack) are such a great deal for our family of 5, they're only $15! I buy the thick cut bacon there too, the Great Value brand of food products are always a really good price and great quality. This burger had Max and me hooked after the first bite…I mean, maple bacon, gravy and cheese curds? What's not to love?! This is a great recipe to surprise guests with at your next barbecue. It's so unexpected and I guarantee that everyone will love it.
Serving Size: 8
Prep Time: 15 minutes
Total Time: 30 minutes
Ingredients
Maple Bacon
1 lb Great Value Thick Cut Smoked Bacon
½ cup Great Value Table Syrup
½ tsp Great Value Ground Black Pepper
 Caramelized onions
3 tbsp Great Value Butter
1 tbsp granulated sugar
½ tsp Great Value Table Salt
2 medium yellow onions, sliced thinly 
Burger
1 (398ml) can or Great Value Poutine Sauce
8 frozen Great Value Burgers
200-300g of cheese curds thinly sliced
8 Great Value burger buns, toasted if desired
1 bag of Great Value Plain Chips
Great Value Prepared Bold Deli Style Mustard
Method:
1. Preheat oven to 375°C
2. For the bacon: line a baking tray with aluminum foil and top with a baking rack, (or cooling rack). Lay the bacon strips in a single layer and season with pepper. Baste the bacon with maple syrup and bake for 25-30 minutes, until crispy, turning halfway through to baste other side. Remove the rack and allow the bacon to cool.
3. While the bacon is cooking, prepare onions. Heat butter in medium skillet over medium low heat. Add onions, salt and sugar and cook for 20-25 minutes until onions are golden brown and soft.
4. Just before serving, bring the contents of the poutine sauce to a low boil and keep hot, stirring frequently.
5. Meanwhile, heat grill to medium-high. Grill burgers according to package directions. During the last minute, top with the sliced cheese curds. (Slicing them in advance will assure that they melt perfectly and don't stay cold in the middle).
For the assembly:
Spread the bottom of each bun with mayonnaise, then lettuce, top with the cheeseburger, and onions. Spoon some hot poutine sauce over a few potato chips and top with a grainy mustard spread bun. Enjoy!
Looking for more Canadian burger inspiration? Well, Walmart has got you covered with three additional recipes! Check them out; they're sure to get your taste buds tingling:
Luscious ruby red cranberries grown in BC are in season in the fall. And fortunately, dried, frozen, and canned versions make it possible to enjoy their tart goodness year-round. Fruit and vegetable influences are strong on BC menus. Here, love of cranberries and vegetarian influences, merge in a cranberry hummus.
Ingredients:
• 1/2 cup Great Value Sweetened Dried Cranberries
• 1 can Great Value Chickpeas, drained and rinsed
• 4 garlic cloves, minced
• 1/4 cup freshly squeezed lemon juice
• 3 tbsp Great Value Peanut Butter*
• 1 cup canned Great Value Whole Berry Cranberries
• 1 tbsp Great Value Dijon Mustard
• 4 Great Value Hamburger Buns
• 1/2 tsp Great Value Table Salt
• Great Value Ground Black Pepper, to taste
• 4 pieces of leafy greens
*tahini or almond butter can be substituted for peanut butter
Method:
Cook burgers on BBQ according to package directions.
1. Place dried cranberries in a small bowl and cover with boiling water. Allow to stand for about 10 minutes to soften. Drain water. Chop cranberries. Set aside.
2. In food processor or blender, blend chickpeas, garlic, lemon juice, peanut butter, whole cranberries and Dijon mustard until smooth.
3. Spread hummus on burger bun or use atop grilled patty. Garnish each burger with chopped cranberries and leafy greens.
Sauerkraut is a nostalgic and familiar ingredient in the Maritimes, and is made on Tancook Island, NS. And is eaten primarily with sausages but also great on burgers. When paired with peanut butter, these tangy, sweet, nutty flavours work surprisingly well together.
Ingredients: 
• 3 tbsp juice from the sauerkraut jar
• 3 tbsp Great Value Mayonnaise
• 1/2 teaspoon Sriracha sauce or to taste
• Salt and pepper, to taste
• 4 Great Value Hamburger Buns
• 4 tsp Great Value Peanut Butter
• 1/2 cup Great Value Sauerkraut, drained
• 8 slices cooked Great Value Bacon, optional but highly recommended
• 4 pieces of romaine lettuce or a tangle of arugula or baby spinach
Method:
1. Cook burgers on BBQ according to package directions. While the burgers are grilling, whisk together the juice from sauerkraut with the mayonnaise. Add Sriracha, salt and pepper and whisk well until smooth.
2. Place cooked burger on top of the bun and spread a layer of peanut butter, followed by a spoonful of Sriracha dressing.
3. Top burger with sauerkraut, bacon and finish with romaine, arugula or baby spinach.
Alberta produces some of the world's best beef and pork. Mustard seeds grown in many a farmer's field are a natural condiment. In Saskatchewan, ingredients like wheat and lentils stock markets all around the world. canola oil and bacon drizzled with honey – The Ultimate Prairie Burger delivers the best flavours from the west.
Garlic Lentil Puree
Ingredients:
• 1 ½ cups cooked split red lentils
• 1 clove garlic
• 2 tbsp Great Value Mayonnaise
• 1 tsp Great Value Honey
• 3 tbsp Great Value Canola Oil
Method:
1. Place first 4 ingredients in a food processor or blender and pulse several times to puree.
2. Continue to puree and slowly pour in canola oil until mixture becomes nice and smooth, about 1 minute.
3. Transfer to small bowl and set aside until ready to assemble burgers.
Mustard Carrot Slaw
Ingredients:
• 3 medium carrots (peeled)
• ½ small red onion (thinly sliced)
• 1 tbsp Great Value Mustard
• 1 tbsp Great Value Apple Cider Vinegar
• ½ tsp Great Value Sea Salt
• ½ tsp Great Value Ground Black Pepper
 Method:
1. Using a vegetable peeler, shave the carrots into thin, long strips. Once you reach the core of the carrot, slice as thinly as possible with a knife.
2. Place carrots in a medium bowl along with remaining ingredients. Stir to combine.
3. Let marinate in fridge for at least one hour before serving.
Burger Assembly
Ingredients:
• 4 Great Value Hamburger Buns
• 4 slices of cheese, mild Gouda or Havarti, optional
Method:
1. Cook burgers on BBQ according to package directions.
2. Smear garlic lentil puree on bottom and top halves of 4 burger buns.
3. Add cooked patties, cheese, followed by carrot slaw
I'd love to hear what you think of these tasty recipes! Let me know your favourite in the comments below and share how you're celebrating Canadas 150th birthday! Happy Grilling!
Note: This post is sponsored by Walmart Canada as part of the Walmart Great Value Beef Burger program. In exchange for this post, I have received perks in the form of products and/or compensation. All opinions on this blog are my own.