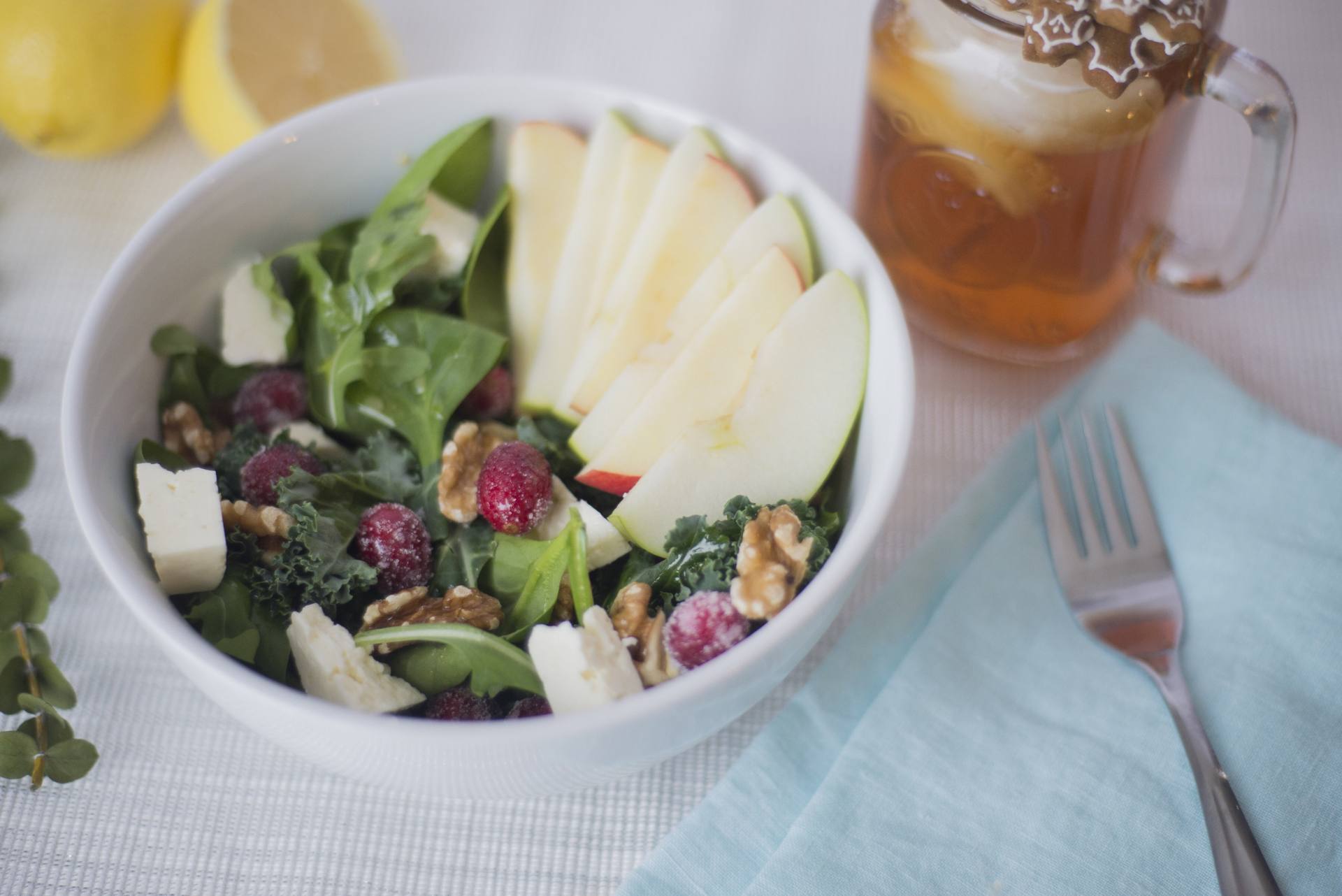 This post was sponsored by Pure Leaf Canada
This week we have so many holiday parties lined up. It's getting hard to keep up! I'm going to need to find a good pair of drawstring pants soon…sigh. Are you getting tired of those heavy holiday meals too? I enjoy a good turkey dinner but it's nice to switch things up a bit and keep those meals balanced over the holidays. I can't be the only one who's not a fan of those extra pesky pounds that come along with the holiday eating.
I recently found a mouth watering winter salad to work into our holiday dining plans…and let me tell you…it's unbelievably delicious! Your friends and family will be so satisfied with this and it's healthy, a win win really. I found this Apple Cranberry and Walnut Salad recipe through Pure Leaf. I've just started getting into tea and I'm loving their lemon tea. It's real brewed tea with tea leaves that are picked at their freshest and packed with lots of flavour. If you're just getting into tea drinking then I highly recommend this one to start! Check out the winter salad recipe that goes with it here:
Pure Leaf Pairings Apple Cranberry and Walnut Salad
Ingredients
Sugared Cranberries
½ cup water
½ cup sugar
1 (12oz bag) fresh cranberries, washed
½ cup sugar
Lemon Dressing
¼ cup olive oil
3 tbsp fresh lemon juice
1 tbsp honey
1 tsp Dijon mustard
¼ tsp kosher salt
¼ tsp freshly ground black pepper
Salad
8 cups mixed greens (arugula, spinach, kale)
1 red apple, cored and sliced
1 green apple, cored and sliced
1 cup toasted walnut halves
½ cup cubed Feta cheese
Directions
1) To prepare the sugared cranberries, combine water and ½ cup sugar in a medium saucepan. Bring to a gentle boil over medium heat stir until sugar dissolves, 4 minutes. Remove from heat and stir in cranberries to coat well. Remove cranberries from liquid using a slotted spoon and place on a wire rack. Let air dry for 1 hour. Roll cranberries in remaining ½ cup sugar until well coated. Let dry on waxed paper for 1 hour.
2) For the lemon dressing, in a small bowl whisk olive oil, lemon juice, honey, Dijon mustard, salt and pepper. Set aside.
3) To assemble the salad, in a large serving bowl combine mixed greens, sliced apples, walnuts and Feta cheese. Toss with lemon dressing just before serving and top with sugared cranberries.
Serves 4
This was my first time trying sugared cranberries and…omg, are they ever good! The salad was so fresh, it really does pair perfectly with the Pure Leaf Lemon Tea. I can't wait to try some of their other recipes!