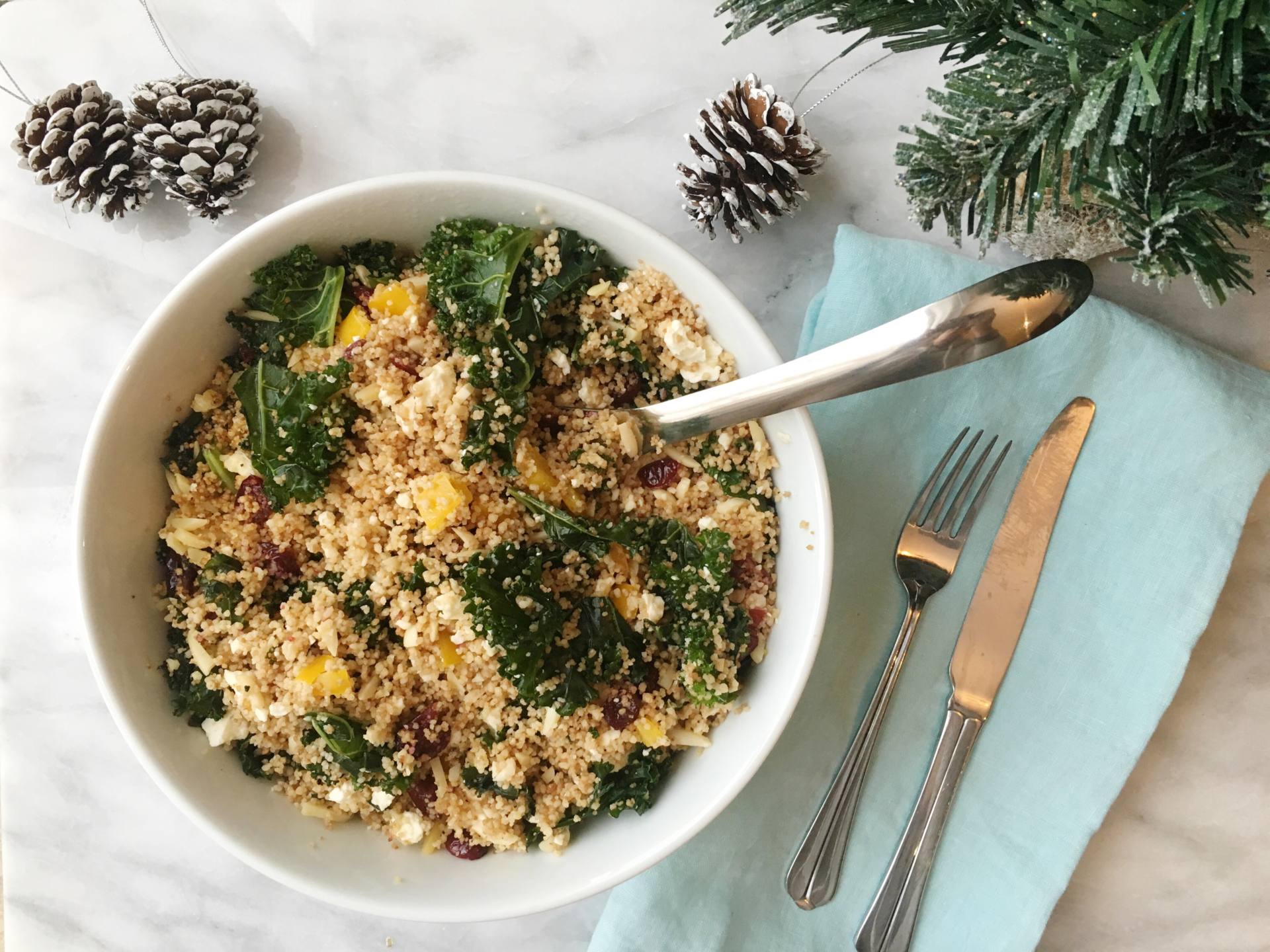 The holidays are officially in full swing which means lots of parties filled with family and friends. It really is the most wonderful time of the year! There is always so much going on that (at times) it can be a little stressful, especially in the kitchen. We usually end up attending multiple holiday dinners with friends and family which we love but that also means we end up slaving the day away in the kitchen. Don't get me wrong, we love to cook, but over the holidays when you have so many plans it's not ideal to spend your day in the kitchen.
I was doing my grocery shopping on Walmart.ca (seriously how convenient is their Grocery Pick Up) for our friends holiday potluck and found this easy Walmart Live Better Recipe – Couscous and Kale Salad. It sounded like the perfect accompaniment for a holiday meal with friends so I thought i'd give it a whirl…I'm so glad I did! With so many heavy meals over the holidays it's nice to have something light and fresh, not to mention delicious. This recipe using Walmart fresh ingredients did not disappoint! You should try it for your next get together over the holidays:
Couscous And Kale Salad
Ingredients
2 cups water
1-1/3 cup couscous
1/2 cup dried cranberries
1/3 cup extra-virgin olive oil
3 tbsp balsamic vinegar
1/2 tsp salt
pinch black pepper
5 cups chopped kale, about 1/2 small bunch
1/2 cup sliced red onion
1 yellow pepper, diced
1/2 cup slivered almonds
1/4 cup crumbled feta cheese
Directions
Boil water in a kettle or medium pot.
Heat a large, wide frying pan over medium-high. Add couscous. Stir frequently, and lightly shake pan until couscous is evenly toasted, about 5 min. Remove from heat. Slowly pour in boiling water while stirring. Cover and let sit, 5 min. Fluff couscous with a fork and stir in cranberries.
Whisk oil with vinegar and salt in a large bowl. Season with pepper. Stir in couscous mixture, kale, onion, yellow pepper, almonds and feta.
This dish is so easy to make and will be a huge hit with your friends. When you're already short on time over the holidays it's nice to have a quick and delicious recipe on hand to avoid an entire day of cooking. Some of my blogging friends also made some delicious potluck dishes using fresh ingredients from Walmart! You can check out their recipes for inspiration here: Potluck Side Dish Recipe: Black-Eyed Peas & Rice, Cranberry, Pear and Bacon Stuffing, Olive Oil and Oregano Potato Salad, Green Bean, Mushroom and Red Onion Casserole. What are your favourite fresh ingredient side dishes?