A couple of weeks ago I attended the Blogpodium conference and had the opportunity to meet some pretty amazing people. Among all of the fabulous talent was  Sabrina Smelko, the blogger behind Hands and Hustle. Although we didn't get a chance to meet at the conference I really enjoyed reading her blog recap about the event the following day. At the end of the blog post Sabrina mentioned that she'd like to host a community series called "behind the blog" where every day over the course of a week two bloggers write about their typical day. You know, the not so glamorous blogger stuff. I really liked the idea of joining this serious because it gives you a real glimpse into the life of a blogger, not their "edited" life. Today, The Party Girl (written by Ashley, Fernanda and Victoria) and I will be sharing our typical day – behind the blog. Please see the bottom of this post to check out the other blogs participating in this series!
Q. Be honest: What time do you wake up and what's a typical breakfast?
Well, my baby Max has been waking me up around 5:00AM lately, usually I wake up with him around 6:00…little rascal! If I'm lucky I manage to squeeze in a cup of tea before rushing my son Austin to school at 7:45. Mornings here are very busy! When I finally get around to having breakfast I always go for avocado toast with tomato. Yum! Every other day I add an egg (over-easy) on top or else I have a breakfast sandwich if I'm in a hurry.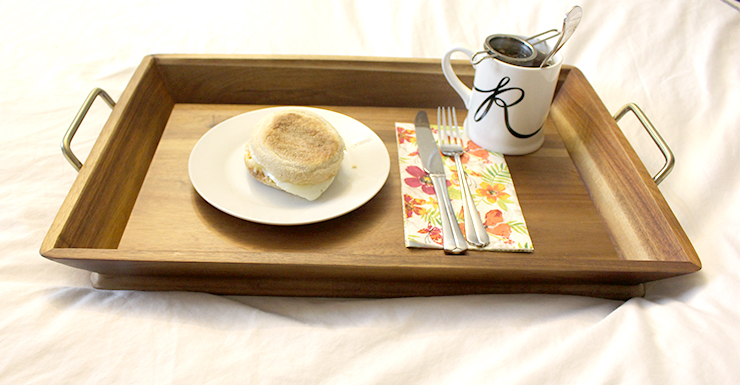 Q. Do you have a day job? If so, what do you do? How do you find the balance between blogging and work? What are the pros and cons? – If blogging your full-time gig, please explain how that came to be.
I do have a day job but I'm currently enjoying maternity leave, yay for babies and time off! When I do go back to work I'll be heading back to my account management position (sales) where I'll be selling computers and other IT equipment to school boards across North America. I haven't had to balance blogging and work just yet but I know it'll be tough, I see late nights in my future. I don't mind though, I'm passionate enough about blogging that I am determined to make it work!
Q. Where did you grow up (what city/town, do you have siblings, can you share any stories about your upbringing)? And where do you currently reside?
I grew up in Whitby, ON and moved to the quaint town of Cobourg when my parents separated at age ten. I've always been a city girl at heart so moving to a small town was definitely an adjustment. Funny, I actually live in the suburbs outside of Toronto now and not in the city so maybe I grew to appreciate the small town living.
The second I finished high school I was beyond thrilled to be heading to College in Toronto. I've always been a very social girl so being in a city surrounded by so many people with something to do every night really appealed to me. Probably more so than school haha. I felt trapped growing up in a small town (I know some people love it but it's not for everyone) and the city was just what I needed. I attended Seneca College for Marketing as well as the Fashion Merchandising Program.
After completing Post Secondary I decided, on a whim, to move to Whistler, BC. When I say on a whim I mean that I was chatting on the phone with my friend (who lived there) joking around about moving there and two weeks later I was on a plane. Best decision I've ever made. I truly believe that you should never hold back when it comes to travelling, its great for personal growth and something I really needed. I met Cory, my man in Whistler, had babies and the rest is history.
Q. Outline your average, typical day. Be as transparent as possible.
5:00AM – Max wakes me up (yawn) and we get our day started. Bum change, bottle and breakfast for this little man.
7:00AM – Wake Austin up to get ready for school.
7:15AM – Wake Austin up again…wonder where he get's that from? Haha….me!
8:00AM – Max and I walk Austin to school.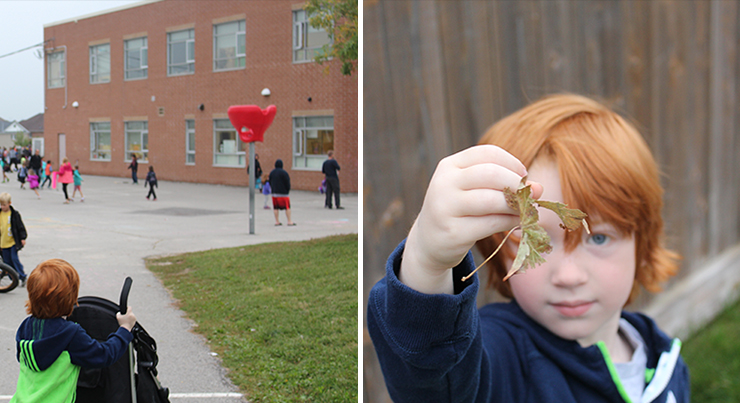 (Austin loves pushing his baby brother to school)
8:30AM – We arrive home from dropping Austin off. Between now and lunch I typically give Max a bath, diaper changes, go for a walk, and put Max down for his morning nap.
11:00AM – While Max is napping (hopefully for an hour) I rush to make self lunch before he wakes up. If he happens to sleep longer I check emails and try to get blog housekeeping done.
12:00PM – Feed Max his lunch, bum change and bottle.
1:00PM – Time to go to the park and keep this busy baby entertained. Max loves going on the swing, that smile never gets old!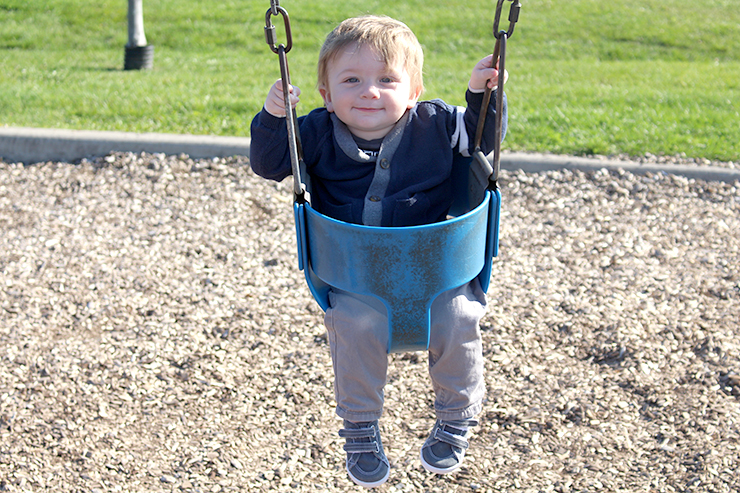 (Mommy, I'm ready!)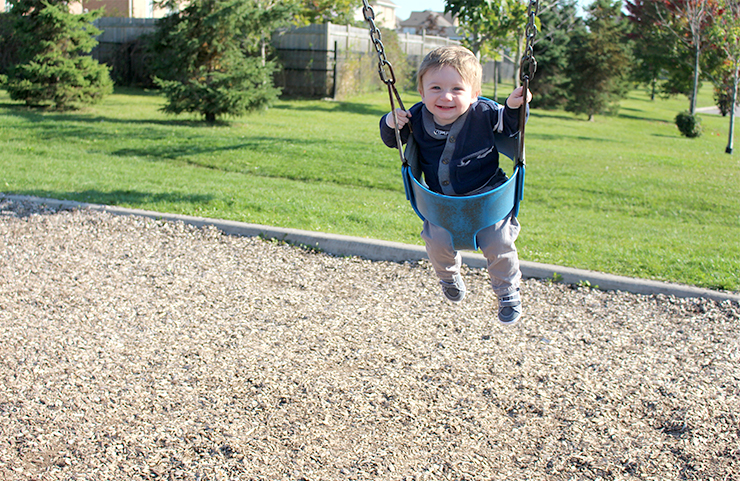 (Weee! Max…your smiles melt my heart!)
2:30PM – Pick Austin up from school
3:00PM – Read books from school and then start prepping for dinner.
5:00PM – Dad (Cory) is home and it's almost time to eat. We usually chat about our day and enjoy a bit of family time before sitting down at the table.
6:00PM – Dinner is served, some of our favourite meals to make are: Greek chicken tacos, butter chicken (from scratch), spaghetti bolognese or chicken avocado salad.
7:00PM – Now it's wind down time for the boys, Austin has a bath followed by snuggles on the couch and bed time stories.
8:00PM – When the boys are finally asleep Im online from now until 11:00PM writing blog post, handling my social media accounts, and responding to emails. It may not sound like a busy day but trust me, with a baby it's go go go. Unless they are napping you don't get much time to do things for yourself but its SO worth it!
Q. What's your dream job/career? How are you working towards that?
I love my day job but my dream career would be blogging full time. I love that blogging allows you to be creative and in a way that's being completely true to yourself. It allows you the freedom to work for yourself which I love and who doesn't love the fun perks of being a blogger. Going to fun events, researching and reviewing new products and building relationships with other creatives! I mean, it's not all fun and games…there are deadlines and it really is a lot of work, but it's fun work!
Q. What would be your dream dinner-party guest-list? Explain why you chose each person.
Oprah Winfrey – I don't think this one needs much of an explanation – it's OPRAH! She's an amazing and truly inspiring human being!
Adam Levine – Well, every dinner needs some eye candy and Adam Levine is a babe…I saw him in concert at the MMVA's and hadn't cared much for him before that moment…his stage presence was incredible and I've been drooling ever since.
Kate Moss – She is a major fashion icon and I would love to hear her life story.
Jillian Harris – I just love Jillian Harris. She was previously on the Bachelorette and is now on the hit Canadian show Love It or List It – Vancouver. Oh and did I mention she has a fashion and lifestyle blog that I can't get enough of? Jillian has a quirky personality (similar to myself) and there's something about her that is so sincere and I really admire that. I think we'd get along famously.
Q. What's one thing you'd like to start, one thing you'd like to stop, and one thing you'd like to continue.
Start – Eating healthier. I love food and often make terrible choices, like pizza. It's ok in moderation but I eat it a lot. I used to secretly pick up a slice right after work and eat it on my hour long commute home…then have dinner without mentioning my secret pizza. This all ended when a co-worker ratted me out to Cory for my secret pizza eating and now it's an ongoing joke…Pre dinner pizza eating, terrible haha.
Stop – Well I guess that goes without saying…stop eating so much pizza.
Continue – Blogging. I've met so many amazing people and had the opportunity to attend great events, and work with brands I love. Blogging has been great for getting back to being 'me' and not just being 'mom' all of the time. Don't get me wrong, I love being a mommy, but it's important to still make time for yourself.
Q. What's your current obsession?
My boys, Macarons, Reality TV and anything Pumpkin Spice.
Q. Link to 5 websites/blog you can't go a week without?
I'm always online and love reading cupcakes and cashmere, Jillian Harris, Steph Sterjovski, Song of Style and Late Afternoon. They are my favourite bloggers and always have original content that keeps me coming back for more.
Q. Tag and mention 1 blogger who you'd like to partake in this feature.
I would love to see Jillian Harris participate in this series. A breakdown of her day would be fun to see! Watching her hang out with her new pup nacho and working behind the scenes on Love It or List It Vancouver, I think it would be a great read.
Thanks for joining me and be sure to check out the following blogs joining us in this community series:
Monday September 29th
Sabrina Smelko | handsandhustle.com
Brittany | mydailyrandomness.com
Tuesday September 30th
Brittany | Gallerynoeight.com
Kelly | glitterdiaries.ca
Shawn Lovering | wildandlight.com
Wednesday October 1st
The Party Girl | thepartygirl.ca
Renee | reneemleblanc.com
Thursday October 2nd
Katie Rose | wildrosebuds.com
Hilary Ramsay | houseofher.weebly.com
Friday October 3rd
Jordana | WhiteCabana.com
Vanessa/Decor Happy | www.vanessafrancis.com/blog